Shenzhen citizens can schedule their children's vaccine appointment through the city's own vaccination reservation system which started 8 a.m. yesterday, according to the Shenzhen Municipal Health Commission.
The vaccination reservation system is readily available to citizens on WeChat so they can book their appointments easily.
Appointments can be made through one of the following accounts or miniprogram: "szwjwwx" (深圳卫健委), Shenzhen Municipal Health Commission's official WeChat account, "szcdcepi" (深圳疾控), Shenzhen Center for Disease Control and Prevention (CDC)'s official WeChat account, the "shekangtong"(社康通) WeChat miniprogram, or "jkshenzhen" (健康深圳), a WeChat service platform operated by Shenzhen Municipal Health Commission.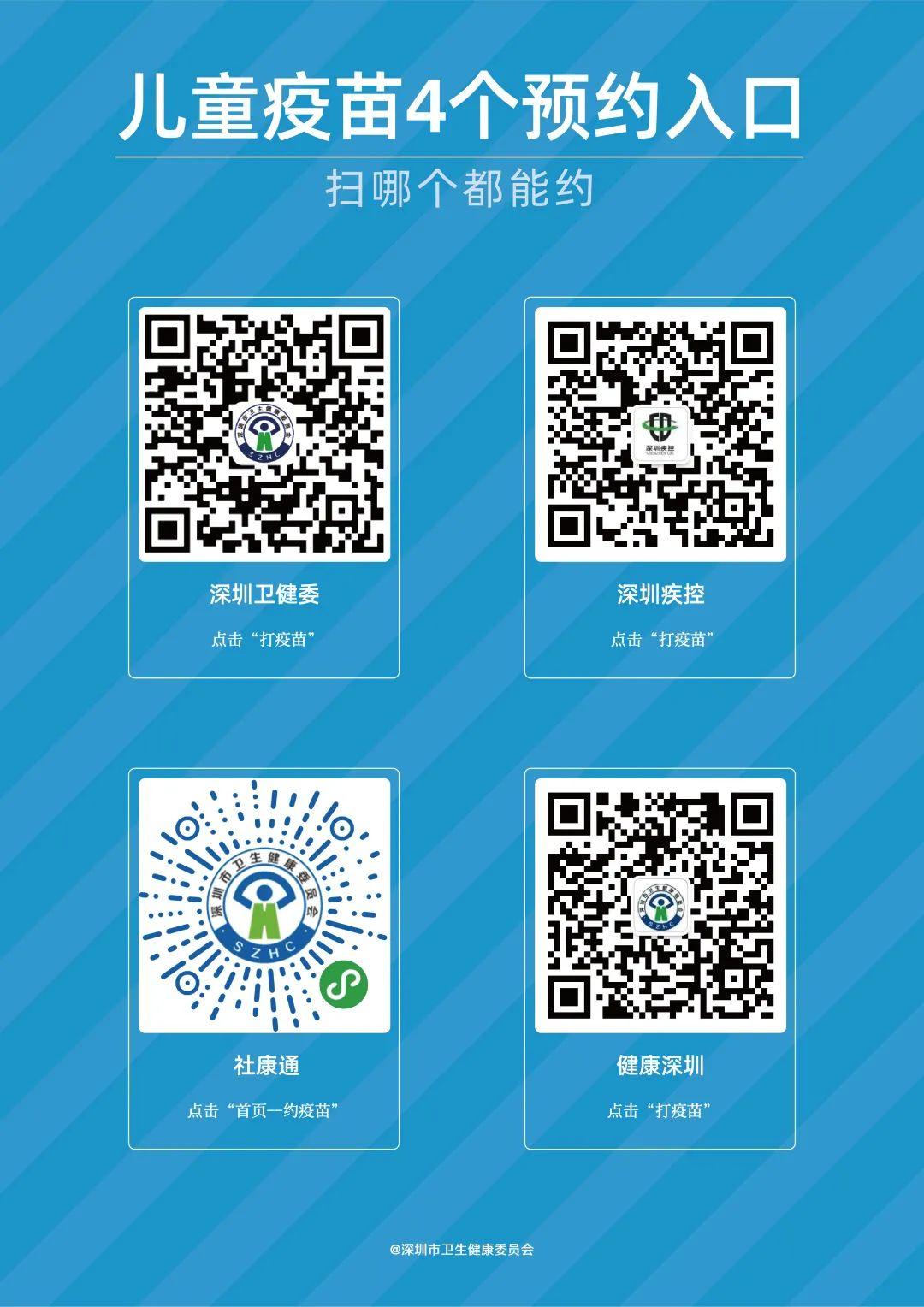 Citizens can scan the QR codes or miniprogram code in the picture to make reservations for the inoculation of children's vaccine. Shenzhen Municipal Health Commission
The city's immunization information system had previously been switched to the provincial system, but citizens criticized the move due to inconvenience.
Shenzhen revamped its own vaccination reservation system April 18, with the municipal system connecting with the provincial system through real-time data transmission.
However, the children's vaccination reservations service, which was originally planned to be launched Sunday, was postponed for two days due to data cleaning and checking of the vaccination data from the provincial system.
According to the city's health commission, previous users of the city's immunization information system can directly look up their children's vaccination records and make an appointment after the system is restarted.
New users can schedule a vaccine appointment after creating a profile for their children in the system.
"Foreigners living in Shenzhen can also make an appointment for their children for common vaccines in the city. If they haven't created a profile before, they can make an appointment online first and then go to the community health center to create a profile," Lyu Xing, a staffer with the Shenzhen CDC, told Shenzhen Daily yesterday.
The vaccines offered to children by the city's community health centers include vaccines listed in the national compulsory and voluntary immunization programs.
Vaccines under the compulsory immunization program are free to children aged 0-6 years old and encompass 13 kinds of vaccines such as hepatitis B vaccine, Bacillus Calmette-Guerin (BCG) vaccine, measles-mumps-rubella (MMR) vaccine, diphtheria-tetanus-pertussis vaccine and polio vaccine.