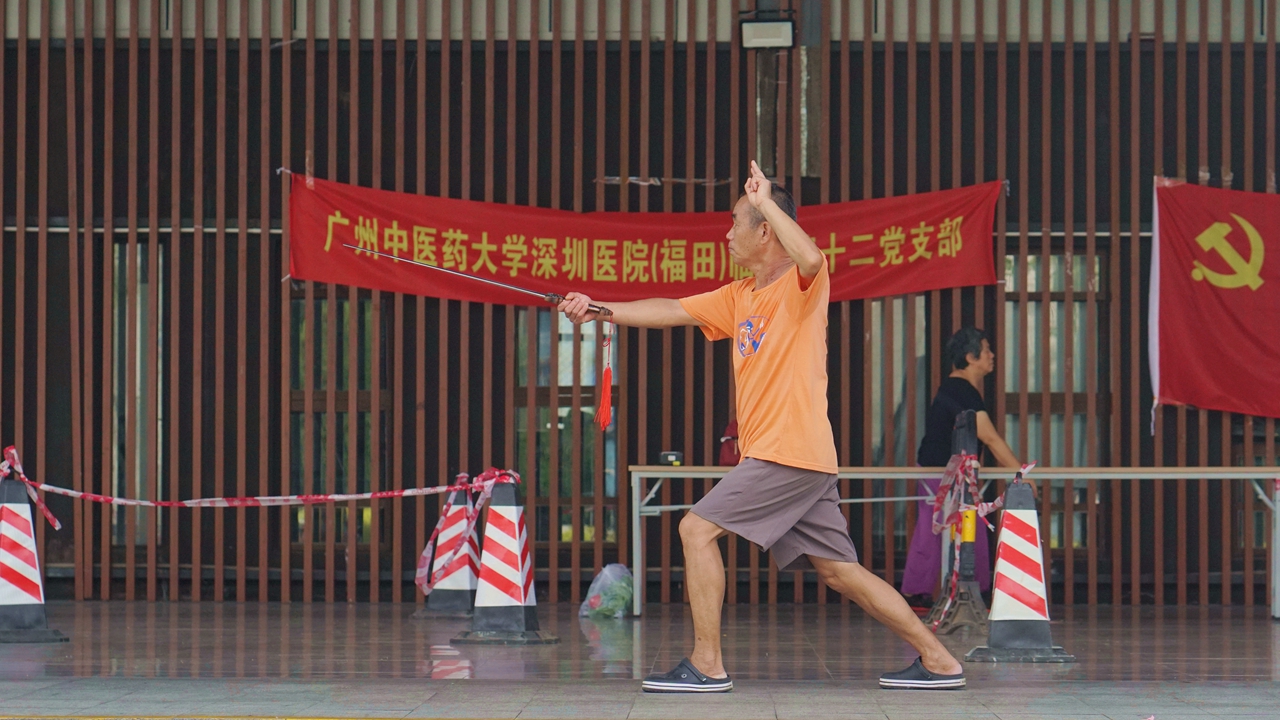 A resident exercises at the COVID-19 testing site in Lianhuayicun housing estate in Futian District this morning. Wang Haolan
The COVID-19 pandemic is in a generally controllable state in Shenzhen, and the risk of large-scale spread is low, given that the new sporadic cases recently found in the city are all key personnel in areas that are under adequate management and control, an official said yesterday.
One confirmed COVID-19 case (common type) and 15 asymptomatic cases have been found in the city since May 21, said Chang Juping, deputy director of the city's health commission, at a news conference held by the Information Office of the Shenzhen Municipal Government at the Civic Center in Futian District yesterday.
According to Chang, the new sporadic cases in Shenzhen were discovered during screening of the key related groups. The existing cases all fall within the transmission chain of the international freighter boarding operation in Yantian Port, and no confirmed or asymptomatic cases have been found outside those groups.
One confirmed case of COVID-19 was reported in Longgang District on Sunday. The case is a close contact of the asymptomatic case found in the city May 21.
According to gene sequencing, the virus detected in the 15 previously found cases were highly homologous (more than 99.99 percent) and is a mutant strain of COVID-19. The gene sequencing of case 16 is still in progress.
"The travel trajectory and the people in contact with the infected are traceable and controllable. Based on this, the possibility of a large-scale transmission is considered to be low at the moment and the pandemic is controllable on the whole," said Chang.
Chang warns that the possibility of sporadic cases cannot be ruled out as follow-up screening will be conducted extensively.
Shenzhen will continue to invest its best medical resources in treating the asymptomatic and confirmed cases, according to Chang.
"All positive cases found in preliminary screenings were promptly transferred to Shenzhen No. 3 People's Hospital for treatment, and all infections are currently in stable condition," he said.
In addition to expanding the scope of epidemiological investigation, Shenzhen has also stepped up its efforts in nucleic acid testing, carrying out large-scale testing on all employees in service industries, such as public transportation, wet markets, seafood markets, cold chains, shopping malls and supermarkets.
Next, Shenzhen will focus on screening personnel from domestic high-risk areas in the selected key areas and crowded places of the city.
Chu Qing, deputy head of Longgang District Government, said that the district will set up a number of nucleic acid sampling sites in various subdistricts under its jurisdiction to provide nucleic acid testing services for residents.
Hu Zhaoyang, executive deputy head of Yantian District Government, said at the conference that the district has completed COVID-19 vaccinations in all target groups within the district.
In accordance with its pandemic prevention and control needs, Shenzhen will conduct nucleic acid testing on all employees of retail pharmacies and employees of some catering businesses, said Shan Youliang, deputy head of the city's market regulator.