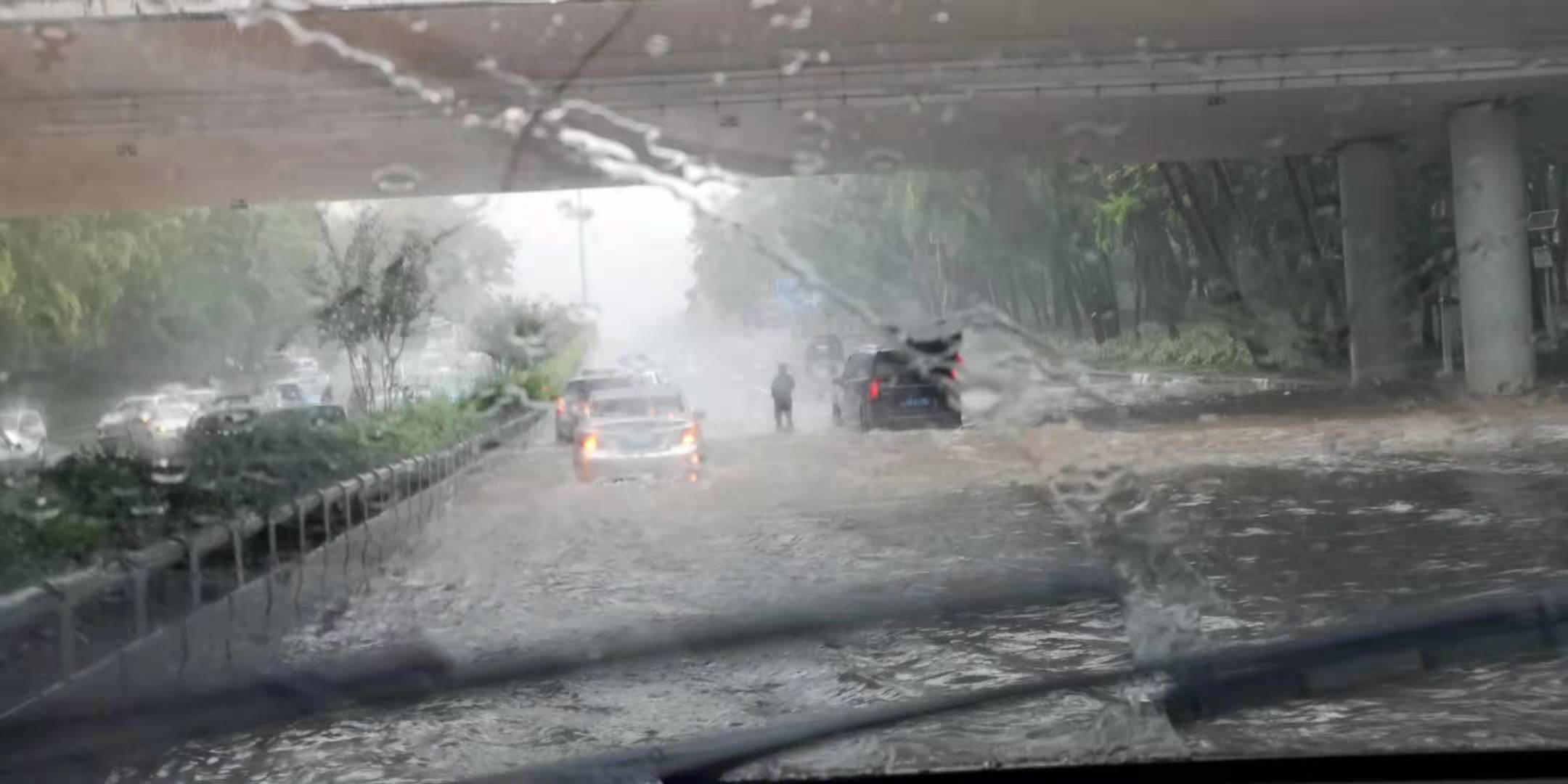 A man wades through a flooded section of Xinzhou Road in Futian District yesterday. Sun Yuchen
Heavy rainfalls will continue today but maximum wind gusts in some areas might drop to levels 6 to 7 after Typhoon Cempaka made landfall in Jiangcheng District in Yangjiang, Guangdong Province, at 9:50 p.m. yesterday, according to Guangdong Provincial Meteorological Services.
Shenzhen Meteorological Observatory has downgraded the alert level for heavy downpours from red to yellow at 3 p.m. yesterday as heavy rains eased.
Meanwhile, the city government activated a Grade-3 emergency response for flood control yesterday.
The typhoon also affected flights departing and arriving in Shenzhen Bao'an International Airport. China Southern Airlines canceled 219 inbound and outbound flights in Guangdong, including 123 in the provincial capital Guangzhou and 77 in Shenzhen, Xinhua reported.
In addition, the typhoon caused the cancellation of train G6045/6048 from Pingshan to Zhanjiang West yesterday, Southern Metropolis Daily reported.
Starting 10 a.m. yesterday, schedule adjustments were made for several trains running on the Shenzhen-Zhanjiang and Guangzhou-Maoming railways and Hainan routes.
Passengers can get a full refund for all canceled trains, according to the railway authority.
Dameisha Beach Park and Xichong resort in eastern Shenzhen were closed temporarily starting 9 a.m. yesterday.
At the same time, Yantian International Container Terminals and three ports (SCT/CCT/MCT) in Shekou have also stopped shippers from picking up empty and laden containers from the ports starting 7 a.m. yesterday.