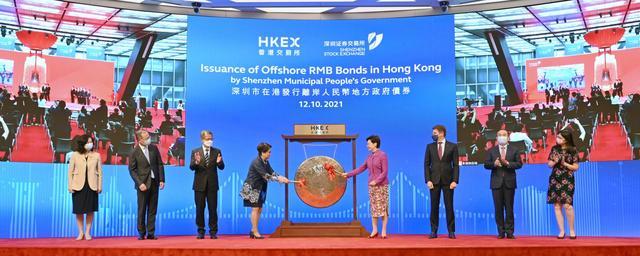 Hong Kong Chief Executive Carrie Lam Cheng Yuet-ngor (2nd R) and Hong Kong Stock Exchange chairwoman Laura Cha Shih May-lung (2nd L) ring the bell at the ceremony for the issuance of offshore RMB bonds by the Shenzhen government at Hong Kong Stock Exchange yesterday.China News Service
Shenzhen is issuing up to 5 billion yuan (US$775 million) of offshore renminbi local government bonds in Hong Kong, making it the first local government on the Chinese mainland to do so.
A launch ceremony was held simultaneously at Shenzhen Stock Exchange and Hong Kong Stock Exchange yesterday, attended by officials from the Central Government and both cities' top officials, including Hong Kong Chief Executive Carrie Lam Cheng Yuet-ngor, and Shenzhen Party chief Wang Weizhong and Mayor Qin Weizhong.
The bonds, which are registered at Hong Kong Stock Exchange for trading, are issued in tenors of two, three, and five years. The three-year and five-year bonds are green bonds.
Funds raised will be used for construction of high schools, Metro projects and water treatment projects.
Qin said the issuance will help deepen financial cooperation between Shenzhen and Hong Kong, increase the connectivity of financial markets in the two cities, and contribute to the development of the Guangdong-Hong Kong-Macao Greater Bay Area with a world-class city cluster.
Welcoming the issuance, Lam said via a video link to Shenzhen that the issuance of the bonds is a milestone in promoting the internationalization of the Chinese currency, and will help promote the deep integration of yuan bonds into global financial markets and increase the breadth and depth of the renminbi debt market in the SAR.
According to Dai Jintao, director general of the Shenzhen Municipal Financial Bureau, the issuance, endorsed by Shenzhen's remarkable economic and social development over the past 40 years, has been well received among international investors.
So far, 6 percent of bond buyers come from Europe and the Middle East, and orders by well-known institutional investors have amounted to 1.71 billion yuan, accounting for 34.2 percent, according to him.
Shenzhen was given the nod last October to issue Chinese yuan-denominated local government bonds overseas within the quotas fixed by the central agencies under the list of 40 comprehensive pilot reforms to carry out building the city into a demonstration area of socialism with Chinese characteristics.
Shenzhen's financial situation is very sound compared to other local governments in China, said Zhong Huiyong, an associate professor at the School of Finance of Shanghai University of International Business and Economies.
Should Shenzhen be successful, other cities may also issue offshore local government bonds at a later stage, which will help broaden their financing channels and relieve their financial pressure, he added.