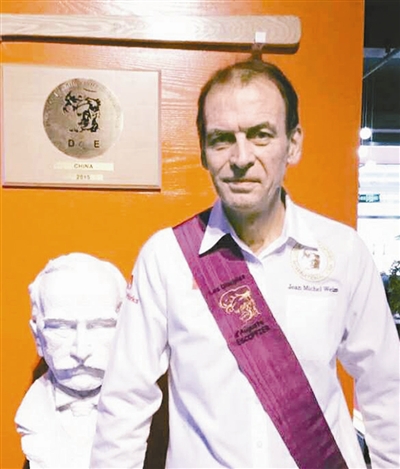 Jean Michel Weiss
Email of the writer: there_sun@163.com
When you enter Jean Michel Weiss' restaurant, L'étoile, you will immediately be attracted by its huge wine cellar and dazzling wallpaper featuring famous French landmarks.
Weiss is a 58-year-old Frenchman who first came to Shenzhen in 1982 for travel and was immediately impressed by Shenzhen as a place "completely different from my country." He settled down here after meeting his Chinese wife in Shenzhen in 2007.
Weiss started his wine business in 2008, and now he has 40 retail stores in China including three in Shenzhen. His company is the No. 4 white wine exporter in Alsace, a region in France that produces great white wine.
Besides wine, he also exports French food such as foie gras to China. Good wine needs to be paired with good food, said Weiss.
In 2015, Weiss met Michelin-star chef Christian Tetedoie, president of the Master Chefs of France and they decided to open a French restaurant in China. "I want to bring typical French food with a normal price to my Chinese friends," he said. L'étoile was opened in 2016.
At first, everybody suggested that he open his restaurant in Shanghai or Beijing. However, Weiss said that he didn't need to go to Shanghai. "Shenzhen is a gift of Deng Xiaoping. He opened Shenzhen to the world," he said. Shenzhen's greenery, people and convenient geographical position are the reasons why Weiss wants to stay here.
"We serve not only food, but also the atmosphere which is around you," he said. Weiss wants Chinese friends to feel what life in France is like. He uses wallpaper featuring famous French landmarks in the restaurant as he wants to share a little piece of France for those who haven't had a chance to go there.
Weiss said knowledge increases pleasure, which is to say you have to know how the food is made. His staff will tell customers specifically what each dish is and which tableware they should use.