Ren Jin
Email of the writer: adinglily@hotmail.com
Ren Jin, a master of Chinese jewelry design, is displaying 191 pieces of his works until Sunday at Jinzhan International Jewelry Plaza in Luohu District. The works include 28 pieces he created this year and 163 pieces from the past two decades of his career.
Ren, born in 1962, is a professor at the Jewelry School, China University of Geosciences in Beijing. After graduating with a doctorate in mineral science, he taught himself jewelry design in 1992. In 1996, he became the first person in China to write an undergraduate-level curriculum in jewelry design and admitted his first batch of students a year later. He also compiled the first jewelry design tutorial. He has taught over 10,000 students and created thousands of jewelry pieces.
"Each design that resonates with audiences is a statement by the designer that manifests his emotions and life experiences," Ren said.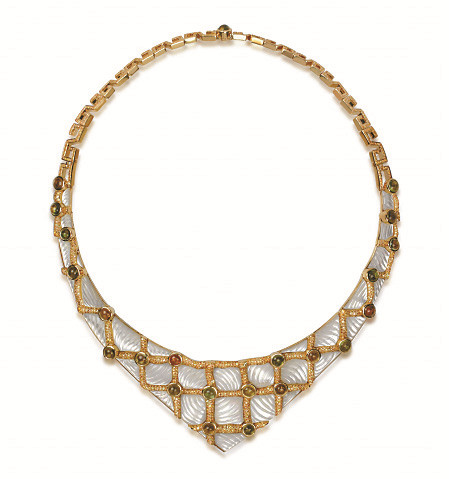 The master has often used jewelry as an expression of Chinese aesthetics; this is exemplified in 10 sets of jewelry at the show. Bearing such names as "Flying Dragon and Dancing Phoenix," "Flying Apsaras of Dunhuang" and "Landscape of the Song Dynasty," the works are rich in connotations that reference a strong Chinese cultural background. Accompanying the pieces are videos made to help audiences better understand the works.
Ren also talked about his future plans to introduce intelligent manufacturing technologies into the jewelry industry. "In the future, the ideal scenario is for people to design their own jewelry, with industrial robots helping turn the designs into real products," he said.
Luohu is home to a renowned jewelry industry cluster in China, and the district government has been supporting the jewelry industry for a long time. The government attaches great importance to the gold and jewelry industry and hopes to upgrade the industry by introducing new talents and advanced technologies.