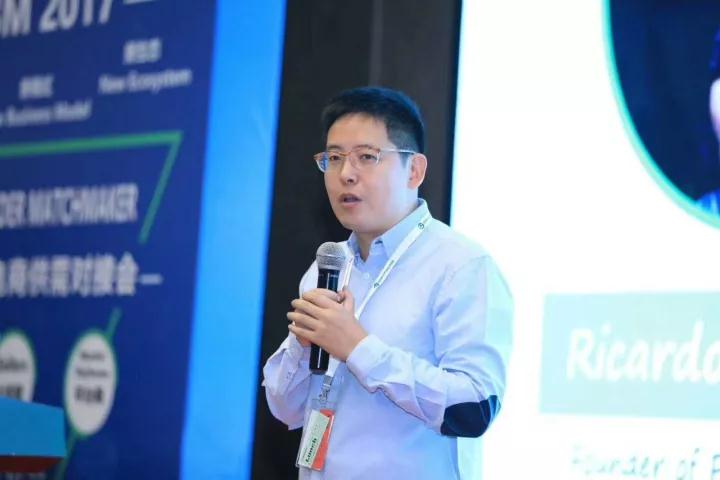 Ricardo Li
ON the stage of the Cross Border Matchmaker (CBM), an event to bring together top Amazon FBA (fulfillment by Amazon) clients held in Shenzhen a month ago, Ricardo Li, a 39-year-old Chinese expert in the e-commerce industry, shared his experiences and answered questions from foreign and domestic audience members in fluent English.
Li is the founder of Popeye Incubator, which was established in Qianhai in 2015. Before he started his own business, he was actually a former founder of e-Bay South China. He has been living in Shenzhen for almost seven years now.
Before joining e-Bay, Li was engaged in sales management work for big clients and got used to dealing with large contracts worth thousands or millions of U.S. dollars. It was e-Bay that broadened Li's horizons. When compared with the huge contracts he'd signed, e-Bay was a new world in that an order may be only worth US$1 but included services such as free packaging, refunds and allowing buyers to make negative comments.
"We had sold tens of thousands products to the whole world and then the thriving e-commerce industry emerged, which really thrilled me. In every year, we exported products worth over hundreds of millions to the world and the industry enabled practitioners to become multimillionaires," said Li.
Li did a good job in e-Bay but chose to begin anew by starting his own business. Popeye Incubator mainly provides cross-border e-commerce business incubator services, overseas marketing and channel management for China's brands as well as supply chain management and logistics services.
"I left e-Bay at middle age because I wanted to figure out whether I could help more enterprises with a new platform. At that time, I suffered the so-called mid-life crisis and just wanted to reposition my life," said Li.
The term "incubator" is abstract to the public and Li interprets it as a nanny who can support young people who want to start a new business and guide them in making profits with business knowledge.
"For us, our incubator is more like a partner. We work on the market side by undertaking tasks like marketing, operating and selling, and bringing the enterprise's brand, sales, and supply chain to a new high. During the process, we learn and grow together with the enterprises we incubate," Li explained.
Li and his team place a high value on innovation. He said, "We always try our best to find out whether there's an innovative feature of a new product. Maybe the product is rarely seen in the market, or the product can change the way people consume. We are finding products that have more competitive functions or prices. This actually complies with the call of the government to upgrade the manufacturing side."
After finding an innovative product, then comes the innovation of marketing. "Compared with traditional channels, e-commerce is indeed a kind of innovation. But now, we have found newer ways, like mass financing services. In Europe and the United States markets, we sell good ideas first. We combine mass financing and e-commerce and then go through the traditional distribution channels for integrating the product, the market and consumption services," said Li.
Besides the above innovations, he also mentioned that in order to realize the value of the incubator, the internal IT system, talent strategy and cultural and strategic direction are also important in order to achieve the promotion of brands and sales.
In Li's eyes, Shenzhen's transformation from a small fishing village to today's metropolis can be attributed to innovation and entrepreneurship.
"People from all over China come to Shenzhen with a wish to start their own business. Innovation and entrepreneurship are the lifeblood of Shenzhen and I hope that our citizens, the government and institutional organizations can continuously support innovation and give full play to our innovation advantages," said Li.
For young people who want to start a business, Li suggested that making a profit should be the top priority in order to benefit your partners and family members. After that, if you want to start a business based on innovation, you should be cautious about whether your innovation point is good enough to support your career.
"You should use the MVP (minimum viable product) to test the market first, and if it succeeds, you may attract investors or gain the support of the government," said Li.