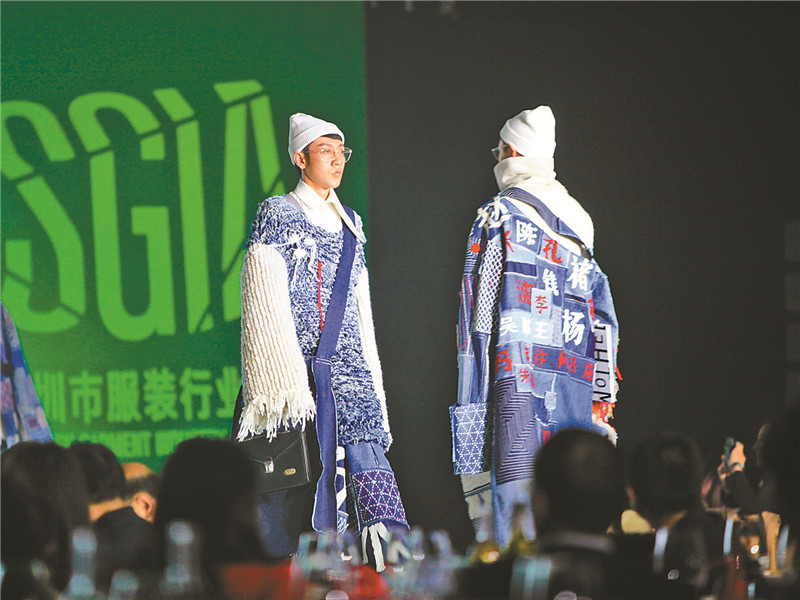 "Mother's Memory" by Yang Yue. Photos by Sun Yuchen and SGIA
Email of the writer: debra_lidan@163.com
As proof that style and sustainability can happily co-exist, an eco-friendly fashion design contest put the efforts of young designers who are trying to make this world a better place in the spotlight.
At the finals of the First China (Shenzhen) International Ecologic Fashion Design Contest, sponsored by local brand Awakening, was a refreshing runway presenting the works of 24 young and Earth-conscious fashionistas to jury and audience members Tuesday night at InterContinental Shenzhen in OCT, Nanshan District.
The 24 were shortlisted from 1,168 contestants — design students or young designers from more than 100 schools and studios across China and from Japan, South Korea, Spain, Italy, France and Britain.
"Cotton and Lotus" by Sandie Guitart.
Some innovate on traditional crafts and techniques (like experimenting with plant dyes); some pride themselves on upcycling (a dress made of leftover fabrics and tossed away garments? Yes, indeed); others use eco-friendly materials like Tyvek or proclaim their beliefs with slogans stitched onto their designs.
Walking away with the golden award and 150,000 yuan (US$22,700) of prize money was Ye Guoping from South China Agricultural University. His winning collection, called "Da Xiang Wu Xing," used natural dyes to process various fabrics recycled from used clothes before sewing them into new outfits. Incorporating abstract elephant patterns with eye-catching caps modeled after the animal's tusks, the collection was also a statement for protecting wild species and the natural environment.
Independent designer Ma Liang won the silver award with a black-and-white collection featuring tie-dyed fabrics and traditional flower patterns infused with an innovative spin. Using natural materials like cotton and linen, his designs paid homage to sustainable Chinese folk traditions.
The bronze went to Spanish Clara Corominas Sotero, a student of LCI Barcelona. Her winning collection, featuring bright yellow from turmeric dye often seen in India, used materials she collected on tours to 10 countries: Beads people threw away in Tanzania, cotton and silk fabrics from Indian, knits from her native Spain and mountaineering ropes from Costa Rica were given new life in her designs. "Yellow is the color of hope and prosperity," she said. "I upcycled things from many places to remind people that we make waste all the time, in all places."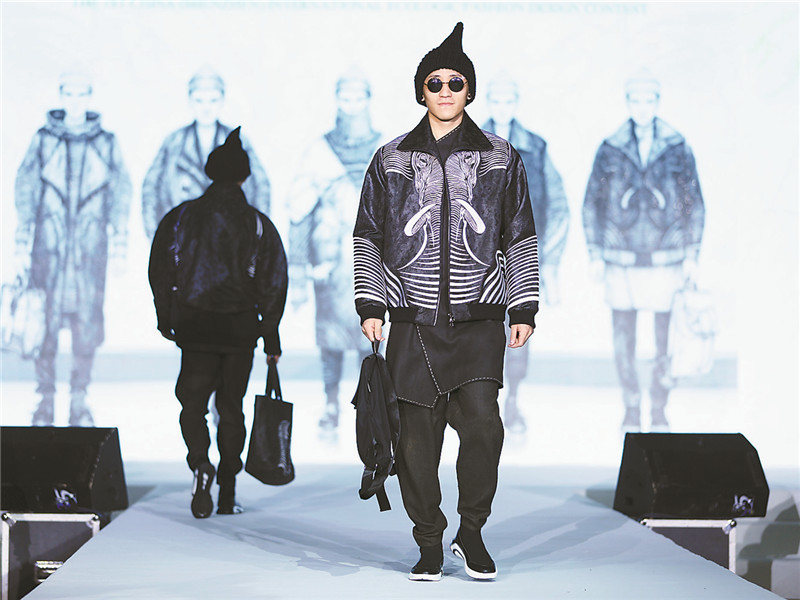 Independent designer Yao Yu was given a special prize by the contest sponsor for her collection "Monster," reworked from dirty clothes people threw away, a common practice in our current era of "fast fashion."
Japanese Sen Sakura, a student from the Academy of Arts & Design, Tsinghua University, won the best accessory design award for her collection "A Perfect Mess," a project of matching fabrics from various used clothes of miscellaneous colors. The award for best craft went to Yang Yue from Beijing Institute of Fashion Technology. In his collection, named "Mother's Memory," he altered his mother's old clothes into men's wear, flaunting more than 60 embroidery techniques in the final product.
The award for best eco concept went to Greta Moroni from Italy, who named her collection "Utopia: For a Positive World." Her garments, all made of natural fabrics, can be worn in different ways. With prints and embroideries of words that send a loud message of environmental protection, the designs focus on the possibility of designating one garment for various occasions.
Sandie Guitart, an independent designer from France, was given the award for best business value. Using hand woven fabrics from Myanmar, most undyed and some dyed with coffee residue, the collection called "Cotton and Lotus" bears an impeccably detailed design.
The 10-member jury consisted of top designers and professors of design institutes from home and abroad, including Wu Hong, dean of the Art and Design Institute of Shenzhen University and Gabriel Torres, Design and Art education director of LCI Barcelona. Online voters also designated five winners of "most popular eco designs."