Email of the writer: yangmei_szdaily@163.com
For most people, Huaqiangbei is the "Silicon Valley of China" or "China's No. 1 Electronics Street." But in the eyes of Seref Yigit, founder of Sino-Turk Power Strip Co. Ltd, the famed street is more than that, it is a synonym for "good quality" that helps promote his products all over the world.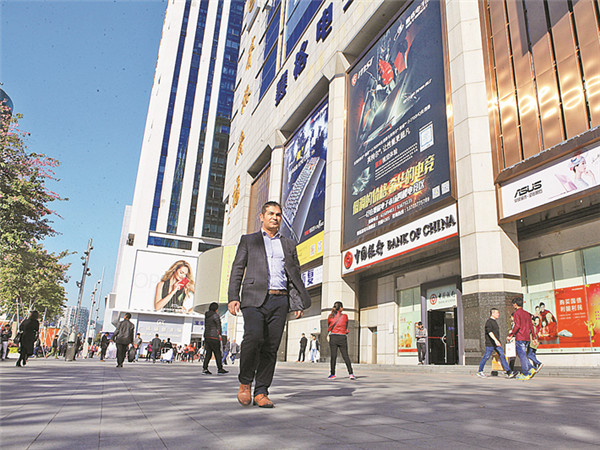 Seref Yigit. Photos by Sun Yuchen
His company is located on the eighth floor of SEG Electronics Market and specializes in producing smart USB power strips, which are exported to 48 countries, including Turkey, India, Mexico, Egypt and Malaysia, with the largest number of orders coming from India.
"Anything can be done within two days in Huaqiangbei. Actually many of my clients know Huaqiangbei more than they know Shenzhen. They trust the quality of the products produced here," Yigit said, adding, "For example, when one of the clients knew my company is based in Huaqiangbei, he immediately paid me a deposit of US$50,000 because he believed that I would definitely deliver him the goods."
When asked the reason, the 36-year-old said, "This is the rule here: Huaqiangbei has zero tolerance for cheaters and the people here won't cheat."
After three years of growth, the company has expanded with a steady number of clients.
Seref Yigit (L) introduces his product to a customer.
"It's always difficult to find the first client. But once you have one client, you'll have one hundred. It's difficult in the first year, but after these years, people come to us," Yigit said with pride.
An information systems major in university, Yigit designs the module for the power strips and has them processed in a factory in Chaozhou, east Guangdong Province, where most of the population is Chaoshan people, who are famous for doing business.
As a businessman himself, Yigit enjoys working with the Chaoshan people. "They are very traditional and clever. Most of them uphold integrity but at the same time, they are very shrewd so I have to keep a clear mind when working with them," he said.
To guarantee the quality of his products, he goes to Chaozhou every month to check. Before each shipment, he spot-checks the products.
Yigit is married to a woman from Sichuan and they have a 9-month-old son. His wife once opened a restaurant serving Sichuan and Turkish cuisine in Huaqiangbei but had to close it due to poor business.
No one would ever imagine this successful businessman used to work for the Turkish Embassy in Beijing before settling in Shenzhen.
Yigit graduated from Beykent and Bahcesehir universities in Istanbul with a bachelor's degree in global politics and information systems. After graduation, he pursued his studies further in Hungary and graduated with a master's degree in political science.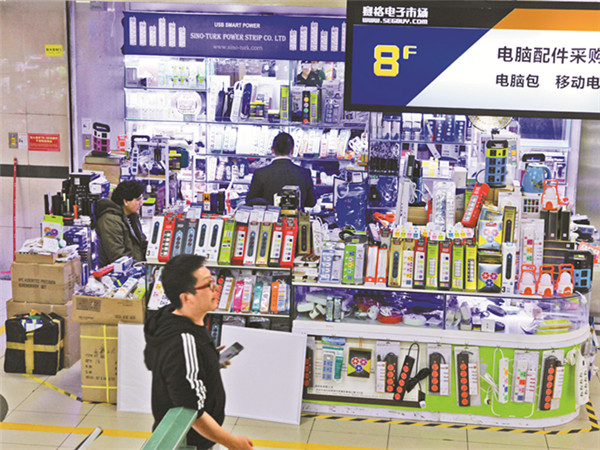 Yigit's booth at Huangqiangbei.
As a huge fan of Chinese culture and an enthusiast of Feng Youlan, a well-respected Chinese philosopher and educator from the modern era, Yigit chose to come to China after finishing his master's program. "I love Chinese culture, but in Turkey it's difficult to get firsthand information about China because Chinese books are often translated into English first and then into Turkish. And during the process a lot of things are lost," Yigit said.
"Chinese culture is extensive and profound. China has a history of about 5,000 years and it is the only one that was not interrupted. There is no complete right or complete wrong in Chinese philosophy, every right includes wrong and every wrong has the right side, so I think it's natural and peaceful, not perfect, as all humanity," he said.
When Yigit first came to Beijing in 2008, he applied to the doctoral programs at Tsinghua University and Zhejiang University. Knowing that his real interest is in philosophy of law, he successfully applied for placement at China University of Political Science and Law and studied under a professor who teaches Feng Youlan's philosophies.
"As I learn more about China, I love the country more. My experience here really broadened my horizon," Yigit said.
After graduating in 2014 with a doctoral degree in nomology, Yigit worked on complex cross-border cultural deals for the cultural department of the Turkish Embassy in Beijing. "I mainly translated things related to Turkey that happened in China into Turkish," Yigit told the Shenzhen Daily.
However, he decided to leave his work in government because of the low salary.
While working for the government, he had a part-time job as an OM (Operations Manager) at Neusoft, which is the largest IT solutions and services provider in China.
It was because of an order of 45,000 radios that Yigit left Beijing for Shenzhen. "A friend of mine asked me for 45,000 old-fashioned radios, which are hard to find, but I found one that cost US$12. Later I found a module in Dongguan which was only US$3.5," he said, "In one month, I made five times more than I made at Neusoft in five years," he continued.
"I decided to come to Shenzhen because this is the center of science and technology and a city where electronic products are developed," he said.
Beijing and Shenzhen are different in the eyes of Yigit. "In Beijing, people always care about who you are but in Shenzhen people only ask you 'what do you do?'" he said.
As a businessman from Turkey, which is one of the countries along the Belt and Road, Yigit thinks highly of the initiative. "The Belt and Road Initiative is a good way. In ancient times, it sold Chinese products all over the world; In modern times, we can take advantage of it in a different way to export China's technologies to the rest of the world," he said.
As an expat who has been living and working for more than three years in Futian District, Yigit loves it here. "Futian is the center of Shenzhen, and Huaqiangbei is the heart of Futian. New things and people with new ideas emerge here first," Yigit said. "As a saying goes, every life has a story and every story needs a magic. Huaqiangbei gives me a chance or a way to establish magic in my life."