What should I paint? How should I paint? In traditional Chinese style or Western style? Realistic or abstract? Tang Di, a retired teacher from Shenzhen Art School who is creating new works of art, sometimes feels at a loss amid the rapid-paced economic metropolis of Shenzhen known for its open-mindedness towards the outside world.
An art exchange activity, held Dec. 11-18 among Shenzhen artists and Russian professors from Repin Academy of Fine Arts and painters from St. Petersburg Fine Arts Association, is seeking answers to the questions raised by Shenzhen artists like Tang.
Visitors view a painting by Dimitry Dergunov at the Shenzhen-Russian Outdoor Sketching Works Exhibition on Saturday at Haoshang Art Center in Longgang District. Photos by Cathy Mo
The exchange event was hosted by Shenzhen University's art college with Andrey Bazanov, vice chairman of St. Petersburg Fine Arts Association, leading the Russian delegation. It included a series of activities such as outdoor sketching in Shenzhen, art seminars and exhibitions by the Belt and Road International Artists' Alliance.
An exhibition of 54 oil paintings by a dozen Russian painters titled "Urban Art Spirit — Russian Contemporary Art in Shenzhen" at J Space in OCT-LOFT, Nanshan District, focused both Shenzhen and Russian artists' attention on comparing the urban cultural spirits of Shenzhen and St. Petersburg.
"The cultural spirit of a city is the soul of the city. Through this art exchange event we would like to invite artists to make comparisons between the two cities and think about what Shenzhen's culture and art spirit are and what to do next," Li Zhuangzhi, curator of the art show and host of the exchange event, said.
A painting by Gennady Isaev and Li Zhuangzhi.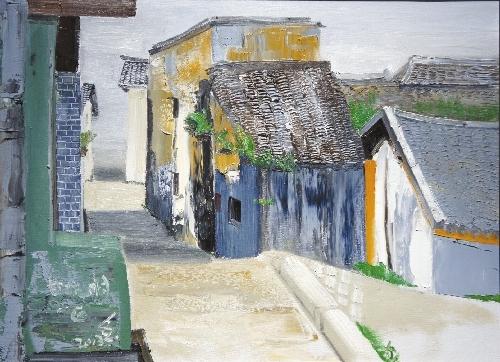 A painting by Gennady Isaev and Li Zhuangzhi.
"Like Shenzhen, St. Petersburg was once the fastest-developing economy in Russia. However, its cultural heritage has been handed down and protected very well," Li said. "I hope for the Russian artists to offer us some ideas on how to do that."
Actually, the Russians are no stranger to Shenzhen. Half of them have a feel for the city as they had previously worked for the Sino-Russian joint project at Shenzhen University, according to Bazanov.
Prior to the exchange activity, the Russian artists invited a group of 20 Guangdong painters to visit Russia between July and August, to give a "Russia in Chinese Artists' Eyes" exhibition after doing outdoor sketching of Russian scenery.
In return, both the Shenzhen and Russian artists presented their outdoor sketching works at an exhibition and seminar on "Shenzhen in Russian Artists' Eyes" at Haoshang Art Center in Longgang District after a similar outdoor event at Gankeng Hakka Town last week.
"Russia was advantageously positioned to absorb Western cultures starting from the rule of Peter the Great through the rule of Catherine II. When it came to the critical realism period of The Wanderers, Russian-styled art forms featuring strong national characteristics arose," said Li, an art PhD teaching at Shenzhen University.
"Here in the Russian contemporary art exhibition in Shenzhen, we refer to the current life the paintings depict instead of the contemporary ideas and styles," Li explained.
As to how Shenzhen should inherit, protect and develop its own culture as a young migrant city, professor Arsen Kurbanov said, "I think the most important thing for Shenzhen is to think about how to absorb, digest and localize the different cultures. The localization of foreign cultures and creations with unique Shenzhen characteristics is a subject for the city including art institutions to work on."
Compared with the rapid lifestyle of Shenzheners, the St. Petersburg artists' is slow and leisurely. The different attitudes towards life have an impact on their art work. During a seminar after their outdoor sketching in Gankeng, they found that the Russians tended not to complete a painting on the spot. They collected materials and finished the whole painting afterwards in-studio because Russian oil painting requires layer upon layer of pigment, while the Chinese tended to complete the whole thing in a short time as they wanted to keep their first impression on the scene in their paintings.
They also found that Chinese artists have more ways of expressing themselves as a result of the influx of the wealth of information since China's opening up, although they had been greatly influenced by their Russian predecessors.
"So when we visit the Sino-Russian outdoor sketching exhibition, which includes the artists' outdoor paintings and creations, we can see that the Russian painters are excellent creators due to their tradition and good mastery of techniques," Yu Xuexian, manager of Haoshang Art Center, said Saturday.
"For artists in Shenzhen, there are too many distractions. They can easily find opportunities to make money, for example, teaching at a training center, setting up an art training center, running a business or trading in the stock market," said Fang Xiaolong, chairman of the city's Luohu District Fine Art Association, who also took part in the outdoor event.
"Vanguard and contemporary Western art forms are also getting popular in China nowadays. As a local professional artist I think we should concentrate on one thing: sticking to our own the cultural heritage and creating works that bear unique characteristics of Shenzhen and Chinese culture by employing or incorporating different techniques and art languages. But I do know that is often easier said than done," he said.