It seemed that Veronica Piraccini, a professor of painting at the Academy of Fine Arts of Rome, is not only a talented artist but also a creative magician.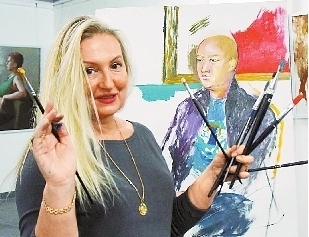 Veronica Piraccini in her demonstration class at the Dafen Village on Sunday. Photo by Cathy Mo
She opened a mere piece of white cloth, which looked plain to the eye, in a dark lecture hall in Dafen Gallery on Saturday. However the audience was stunned the moment she turned an infrared lamp on beneath it: A painting with colorful lines, dots and geometric shapes materialized.
Piraccini said she invented this "invisible" painting technique in the 1980s and by employing her unique style, she has depicted a variety of figures and expressions of their inner feelings. She also extracted a purple hue, a stable and ever-lasting material intended for painting, from the meat of a snail.
Piraccini was among the five Italian and Russian artists invited by Shenzhen artists to visit Dafen, a village in Longgang District known for producing oil paintings for home improvement traded both domestically and abroad. On Sunday, she was invited to give a demonstration painting a portrait in front of a group of painters in Dafen. To start with, she showed the audience how she arrange her oil pigments, and how she holds the palette and brushes of different length and size in her left hand. In less than an hour and a half, she completed a half-length portrait of a man in expressionistic style.
Other Italian artists also invited to give demonstrations inclulded Gerardo Lo Russo, former president of the Academy of Fine Art of Rome, and professor and art critic Ferdinando Fedele.