While thousands upon thousands of folks enjoyed the Singles' Day shopping spree Nov. 11, there was a full house of literature lovers at Shenzhen Book City who chose to seek nourishment for their minds by listening to Mo Yan, the first Chinese Nobel laureate in literature in 2012, describe how folk art influenced his novels.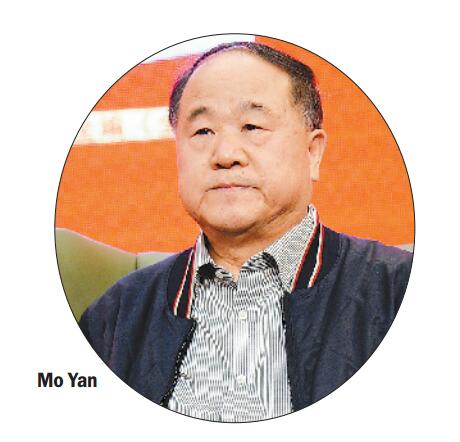 It was the Nobel laureate's 15th visit to Shenzhen. This time Mo was invited as the first keynote speaker of the 18th Shenzhen Reading Month•Shenzhen Reading Forum which kicked off Nov. 11.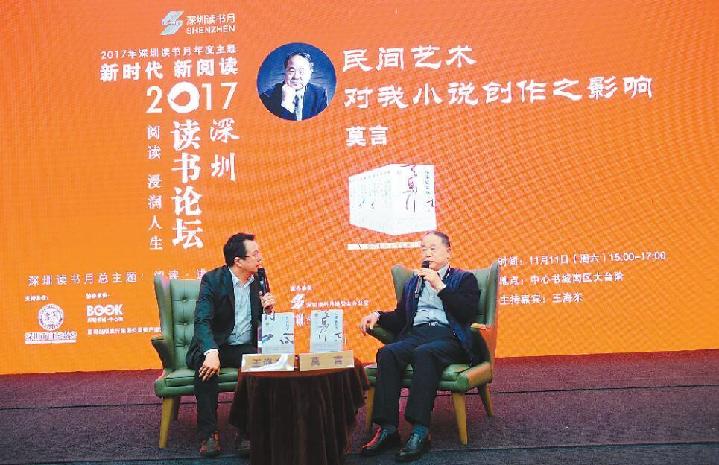 Born in Gaomi County in Shandong Province to a family of farmers, Mo is deeply inspired by Chinese culture and folklore, which has a strong influence on the creation of his works.
"When I was a child, I often grazed cattle at our commune where adults would usually gather to chat with each other. I listened to them tell stories which later became a steady source of inspiration for my novels," he said. In the eyes of the novelist, folk life consists of the daily lives of people in the lower class and the unique culture, geography, climate and landscape of his hometown.
Mo also derives inspiration from papercutting, wood printing, Maoqiang Opera, clay figurines and other folk art in Gaomi County.
For example, "Sandalwood Death," one of Mo's works, has made Maoqiang Opera widely known and popular. He believes when a man suffers from poverty, hardship and solitude, he needs to sing at the top of his voice to vent his feelings. From his point of view, the melancholy Maoqiang Opera mirrors the adversity of past lives.
"If there is a sound that can speak for my hometown, it must be the tunes of Maoqiang Opera," he said, adding that, "When I was naive and didn't know too much about life, I would act on the stage playing insignificant roles such as little bandits or soldiers of the Kuomintang. At that time, I was determined to write a novel dedicated to Maoqiang Opera."
Mo is convinced that a writer needs to seek a connection to grassroots communities in order to create folk-art works. In his mind, literary creation will lead nowhere if writers just keep imitating the West. Only if they write something that can stand for their nationality and personality will they succeed in the literary world.
Distinct from down-to-earth folk life and folk art, Mo's works are full of imagination. Mo noted that an impressive work calls for the combination of both realism and imagination. "It takes real life and imagination to make any successful work of art. Art derives from life but it is beyond life," he said.
Mo believes that imagination comes from real life. His newly-published book, "Waiting for Moses," is based on a real story of the disappearance of a local entrepreneur in Gaomi. The novel is about the wife of the entrepreneur collecting garbage to support the family while searching for her husband.
"The novel was completed in 2012, and after five years, I found it had souls and started to grow," Mo said.
He continued to explain that he later learned from the entrepreneur's younger brother that he had been living in the forests to cut himself off from the outside world. Now he has returned home. As a result, another 8,000 characters were added to the 7,000-character novel, which gives the novel much more life. "The changes in real life are always more unexpected than the novel itself," he said.
"To write about real people" is the central concept in Mo's creation. He pointed out that Chinese literature is affected by struggles between different social classes, therefore, it often goes extremes when depicting characters. "We should employ realism to write about a person instead of purely beautifying or smearing him. We should not ignore the weaknesses of heroes or the bright sides of villains," he said.
Despite the fact that Mo's works often tell miserable stories that happened in his hometown, his novels are well received by readers in the modern era. Mo attributes his popularity to the "spirit of revelry" in his works. People like him were deprived of basic necessities when they were children, however, they sang and danced on the stage. They were happy even though they were living in poverty and hardship.
"Misery and revelry are just like two sides of a coin. Revelry heals the wounds left by misery. The process is like heating up a cold machine to bring out dynamism and to keep the machine functioning normally," he said.
"The era we are living in has no lack of revelry," he continued. From his perspective, the 'Double 11' Shopping Spree is part of that revelry, with countless airplanes and containers delivering goods from all over the world to China. "The inconceivable things have come to reality and our lives are marching forward in revelry," he said.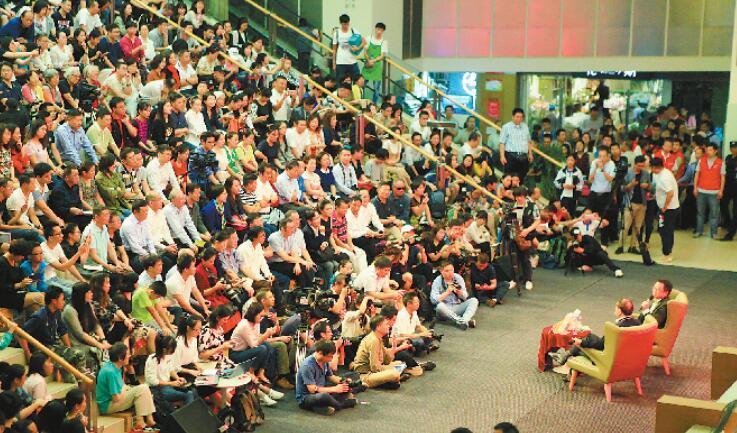 When asked whether writers will be replaced by robots, Mo was convinced that "it is unlikely since literary creation is much more complex than other human activities."
He pointed out that although literature cannot change the way people live or cure cancer, it is indispensable in people's lives.
"Science and literature are treasures of human wisdom. Neither can be neglected," Mo said. He suggested that Shenzhen also pay attention to literature and art while developing science and technology.