Shakespeare once said, "All the world's a stage." What if there is only one actor on the stage from the very beginning to the end? What if there is no special lighting or sound effects except a red carpet, some wooden staves and candles? What if the only actor is barefeet in a black costume with colored scarves to denote separate characters, uttering classic lines from "Macbeth" alone on stage? Well, this is what British actor and director William Mann presents in his one-man performances.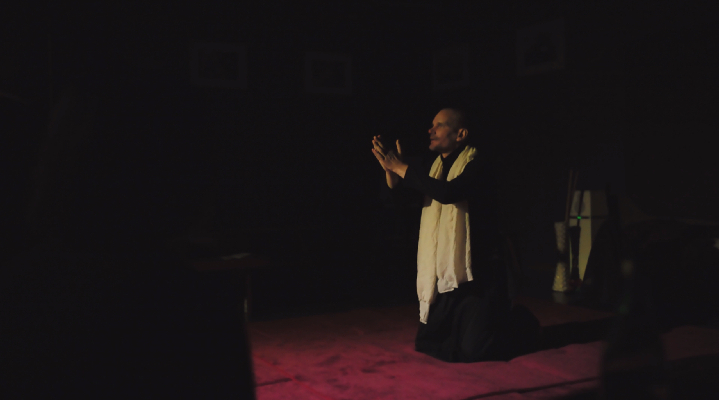 Before moving to Shenzhen in 2010, Mann had a long career as a Shakespearean actor and director in Europe, staging performances in countries such as Norway, Ireland, Italy and France. He has also devoted six years to running his China Shakespeare Company, and his passion for acting has always motivated him to bring forth new ideas.
Different from orthodox Shakespearean productions, a one-man performance surely is something out of the ordinary. Taking "Macbeth" as an example, Mann explains that his play is a bit like painting. "You can have a portrait of just one person, or you could have a landscape of many people. They are both good. But mine is Macbeth and Macbeth only. It's a portrait of Macbeth, so we see him from the very beginning to the very end. Every scene in Shakespeare with Macbeth, that is the only scene I do."
The greatest advantage of being the only performer on the stage is the originality. "It's faster. It's quicker. It's different. I'm excited about it, because I've never done it before. What I like about it is that it's new for me, so when I do it I know it's new for the audience," said Mann, who has done "Macbeth" with 11 actors, seven actors, three actors and now with only one actor. "The advantage is that you can come up with new ideas that aren't so obvious and seem impossible at first."
But such a performance is not without its challenges, in light of how multitudinous the characters can be in Shakespeare's plays. In Mann's version, every element of the play has to be refined to its core. But what about the witches and their prophecies? What about the conversations between Macbeth and Lady Macbeth? Mann explained that the secret comes down to this: Never lie to the audience, instead leave the imagination to them.
"When you have one actor, talking as three witches and you don't explain it, the audience would respect it, accept it and like it. When you have Macbeth and Lady Macbeth talking, and in your show Macbeth is always standing and Lady Macbeth is always kneeling down, you don't have to do a girl's voice, you don't even have to understand it's his wife. Treat your audience with intelligence; treat them with respect and don't give them the answer. They will provide their own answer and will be happy with it," said Mann, who is a great believer that if you are honest with the audience, the audience will be honest with you.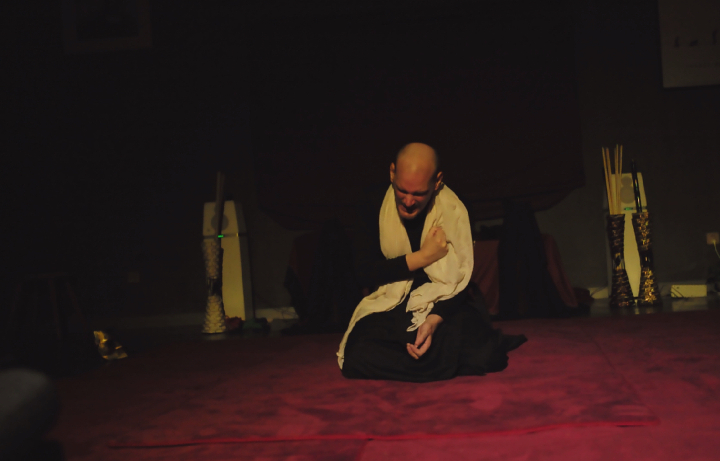 In addition, Mann has come up with a plan, to perform Shakespeare's four great tragedies as one great Tragic Cycle. The conception is that Hamlet becomes Macbeth, Othello and King Lear successively, and likewise Ophelia becomes Lady Macbeth, Desdemona and then Cordelia.
"The youngest tragic hero Hamlet is very naive, and makes a lot of young mistakes. After his experiences, he seems to become wiser and cynical. But the whole point is that it's interesting that Macbeth was Hamlet; Othello was Macbeth; and King Lear was all of them, with all the experiences. King Lear says 'I used to be a great warrior and I can kill anybody,' that's Macbeth. So he's lived all those lives," Mann explained.
Mann's one-man performances are his debut in Shenzhen. Starting from Aug. 5, he will be performing Shakespeare's four great tragedies, namely, "Hamlet," "Macbeth," "Othello" and "King Lear." The shows will be staged at T-Park, SZ-HK Film Creative Park in Futian.
Instead of being a weakened imitation of the original versions, Mann seeks to present to the audience his interpretations of Shakespeare's masterpieces with ingenuity and reinvention.