In the hustle and bustle of modern Shenzhen, one man buries himself in the art of micro-calligraphy, uninterrupted by the outside world. He is Guan Baichun, who has been practicing micro-calligraphy for more than 20 years.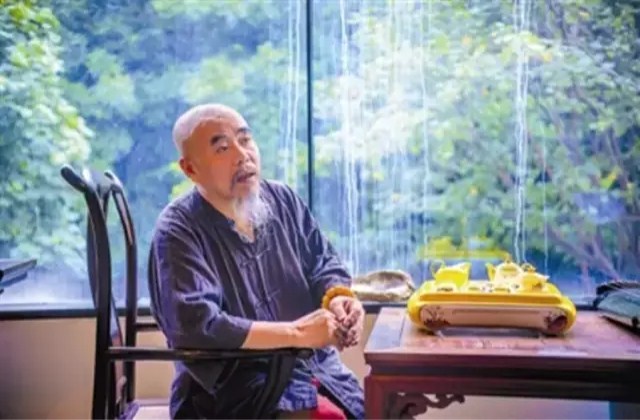 Guan Baichun is determined to pass down the art of micro-calligraphy.( Liu Xudong)
"I feel I was born for micro-calligraphy," said Guan, who quit his job as a public security officer and started his art career in 1997. "My friends didn't understand me. Some thought I was crazy to give up a decent job to become a street vendor. Some hid away from me. Others had many doubts. But I was determined."
Shenzhen, once a sleepy fishing village on China's border opposite Hong Kong's New Territories, has now turned into a metropolis which has skylines that can rival that of Manhattan. In this fast-moving city, for which the phrase "Shenzhen Speed" was coined, it is not easy to find someone who can concentrate on the creation of art with a peaceful mind.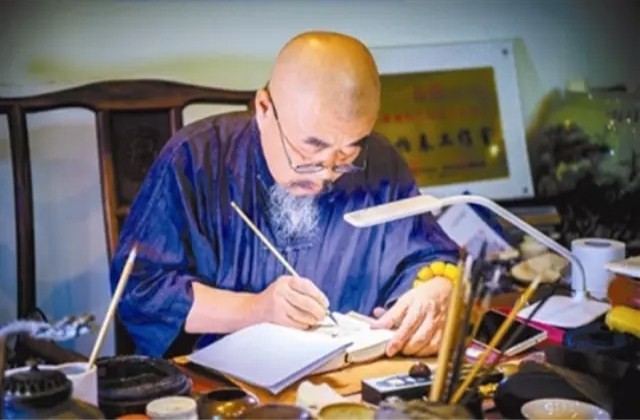 Micro-calligrapher Guan Baichun writes a poem on a book in his workshop.(Liu Xudong)
Growth, power and money have not only changed the landscape of this city but also the people. "Some of my students asked me when he could create art on my level and sell his work at a high price. I felt very worried upon hearing this. It's not good for kids to associate art with money when they are at such a young age because in this way the art will be spoiled. I don't want to mislead them," said Guan, who thinks that art should be prevented from the corruption of commercialization.
Micro-calligraphy dates back to the Eastern Han Dynasty (25-220) in China when people inscribed on natural materials such as oracle bones, bamboo slips and stones before the invention of paper. But nowadays, very few people master this art. Worrying about the potential extinction of micro-calligraphy, Guan quit his job in order to better focus on practicing micro-calligraphy. "The practice of art is like living a life. We need to keep nurturing it. Inspiration comes from everyday practice. If I don't stick to it, it might get lost to the world."
Guan's work (Song Yingwen)
Before the creation of a work, Guan normally follows three steps: read poetry, study history and contemplate the meaning of the poem in mind. Then he will wait for the inspiration. Sometimes it takes him one or two years to start the micro-calligraphy on certain stones. "The inscription itself is not hard. The hardest part is to match the right poem with the right stone and bring the stone to life," smiled Guan.
To carry forward the art of micro-calligraphy, Guan has started taking on apprentices in recent years. What distinguishes him from other artists is that the apprentices he chooses are disabled kids.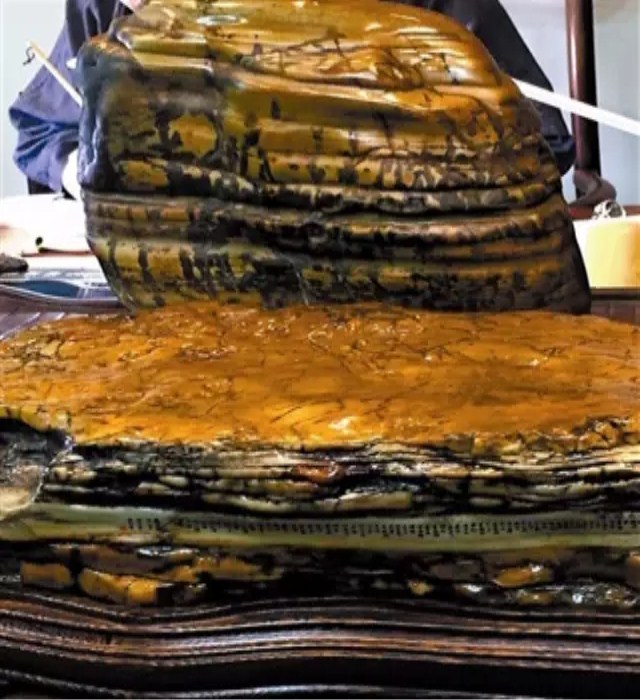 Guan's work (Song Yingwen)
In 2002, Guan traveled to Lijiang City in Yunnan Province for an art work. During his stay there, he met He Zhigang, a disabled person with great achievements. It was He who inspired him to take disabled kids as students for the art of micro-calligraphy.
"He has no arms but he is tough. He was the owner of 29 gold medals in different games for disabled persons, and he really touched me with his perseverance. From him I realized that disabled people have something that exceeds others," recalled Guan.
Guan's work (Song Yingwen)
"Teaching art to disabled kids is like giving them wings. They treasure them and fly with them," said Guan. Currently he has five students learning micro-calligraphy with him. Guan sets no limits for students who want to learn the art, as long as they want it. He teaches them for free.
Shenzhen, an innovative and pioneering city, has been Guan's home for over 15 years up till now. "When I got off the train, I was immediately attracted by the prosperity, the artistic atmosphere and the whole cultural environment of Shenzhen," Guan said of when he moved from Beijing to Shenzhen. Now his work can be seen in different countries, becoming one of the city's cultural gems.