Have you ever imagined that batik, a traditional dyeing technique using wax to make patterns on fabric, could be applied on paper, porcelain or cowhide?
Liu Zilong, an innovator of modern Chinese batik painting, combines this traditional printing and dyeing technique with modern methods in a series of colorized batik paintings.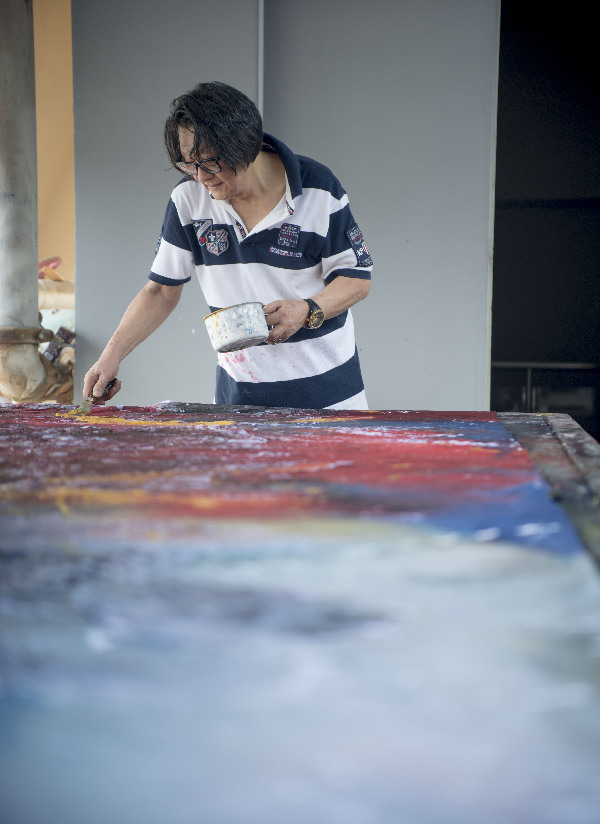 Artist Liu Zilong.
"Batik originated from China about 2,000 years ago and it is still widely used in Chinese ethnic minorities' clothing in Southwest China," Liu said.
Traditional batik entails drawing dots or lines of wax on cotton and dyeing the cloth with indigo. The areas treated with wax will keep their original colors, while the contrast between the dyed and un-dyed areas will form a striking pattern.
A batik painting by Liu Zilong. File photo
Liu made a breakthrough in the art form by replacing the traditionally-used organic indigo with artificial dyes, which served to enhance the vibrancy and lifespan of colors in batik pieces.
Improved techniques like these have innovated the ancient art and make it better suited for modern people's aesthetic tastes, Liu said. He has also applied the modern batik method to wool, silk, paper, porcelain, cowhide and other non-traditional materials.
Batik painting stands out from other art styles due to the distinct irregular lines that occur within the patterns through cracks in the wax during the dyeing process, an effect that is rarely found in paintings. "This is the soul of batik. No matter how talented the painter is, only by using wax you can create these unique lines." Furthermore, by splashing dyes on canvas, the colors change beautifully and highlight the gorgeous textures, said Liu.
We met Liu at the Liu Zilong Chinese Batik Studio in Shenzhen Polytechnic. The 76-year-old artist is productive and energetic. When he feels inspired, he paints from noon through the evening. On the afternoon of our visit, Liu was putting a finishing touch on a batik painting. His paintings tend to be very large and are made with bright colors. There was a 3-meter long and 1.5-meter wide painting by Liu's side, which he had finished the evening before.
Although Liu has been practicing art since childhood, he was only an average layman of batik before age 40. "Every child in my village has been my model," said Liu about his early days as an artist. "But later nobody wanted to be my model as it cost too much time for me to finish a painting."
In 1970 at 28 years old, Liu created a series of painted T-shirt patterns with crayons and watercolors while working as a pattern designer for exported textiles in Tangshan Knitting Factory. These patterns later served as prototypes for his colorized batik paintings.
In 1981 at 40 years old, Liu was recommended by Tangshan Knitting Factory to study at the Central Academy of Art and Design due to his outstanding performance at work.
It was his teacher Ross Gao, a famous Chinese-American fiber artist and professor of the University of Wisconsin who taught as a guest teacher at the Central Academy of Art and Design, that led Liu to batik painting. Gao appreciated Liu's unique sense of color and suggested that Liu combine his talent with traditional Chinese folk fiber art.
Liu believes his take on colorized batik painting to be a one-of-a-kind painting style.
However, colorized batik painting needs the support of the government and the public, he said. Liu feels regretful that Chinese batik lacks competitiveness on the world stage. "Indonesia is currently the best in the world in terms of quality and design," he said.
He appeals to young people to consider pursuing colorized batik painting as their occupation.
Now, a team of students is learning colorized batik painting at the Liu Zilong Chinese Batik Studio. The students also established a student batik association to advocate and develop the historical art form. Liu also suggests holding more colorized batik painting exhibitions in Shenzhen to better popularize it.