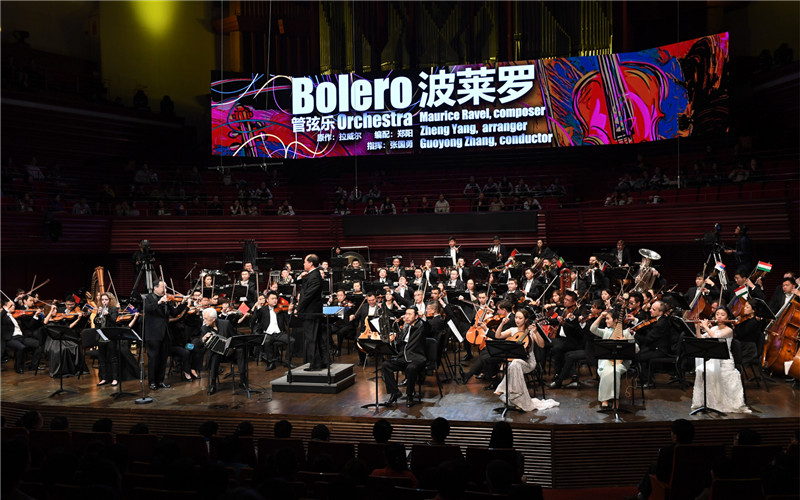 Musicians perform at Shenzhen Concert Hall during the 2018 Belt & Road Shenzhen International Music Festival. [Sun Yuchen]
Email of the writer: zhqcindy@163.com
With a special orchestra consisting of musicians from China and 14 other countries and regions performing at the Shenzhen Concert Hall, the 2018 Belt & Road Shenzhen International Music Festival officially opened Friday night.
From Friday to April 29, over 700 renowned musicians and artists from home and abroad will perform 18 high-end concerts for local residents. World-famous artists, including Mikhail Pletnev, Lin Cho-liang, Ye Xiaogang and Nikolai Demidenko, are gathering in Shenzhen for the music carnival.
Friday night's opening concert featured diverse performances by artists from different cultures.
"Festival Overture," composed by Guan Xia, a renowned Chinese composer, was played by the special orchestra to kick off the concert.
Taiwan violinist Lin Cho-liang performs at the opening ceremony of the music festival. [Zhang Qian]
Lin, a violinist born in Taiwan, soloed the widely known theme song of the movie "Schindler's List" composed by John Williams and "Zigeunerweisen" composed by Pablo de Sarasate. Lin was one of the most-anticipated artists at the opening concert.
Renowned Argentine bandoneon player Walter Rios and French trumpeter Luciene Renaudin Vary also played solos at the opening concert.
Vary performed "Summertime" and "My Favorite Things" from classic musical "The Sound of Music" for the audience. Young as she is, Vary's basic skills were solid and her adept technique was impeccable, earning her an enthusiastic round of applause at the opening concert.
Chinese musicians and artists, including baritone singer Wang Yunpeng from Shenzhen, Chinese folk song artist Lei Jia, and performing artist Pu Cunxin, graced the stage with stunning performances.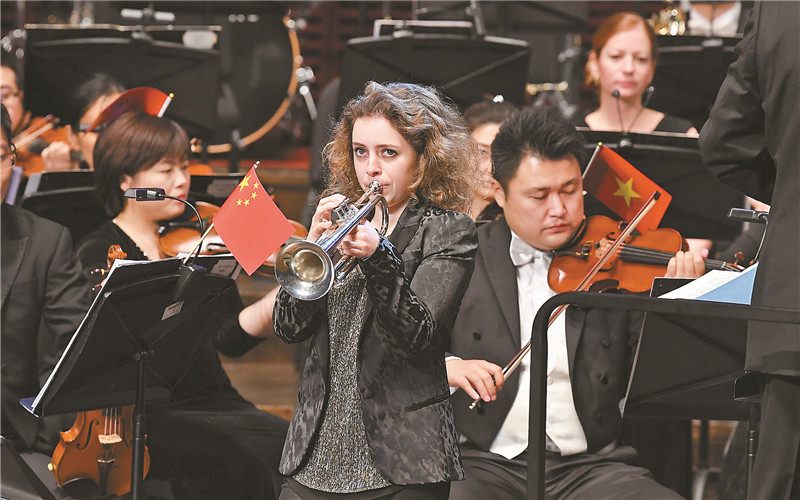 French trumpeter Luciene Renaudin Vary plays solo at the festival. [Zhang Qian]
A young baritone musician from Shenzhen, surnamed Wang, presented two renowned songs at the opening concert.
"I have been performing in the United States and Europe throughout the year. It is really a precious opportunity to come back and I can't wait to share my music with the audience," said Wang.
He believed the audience would enjoy the kaleidoscopic concert, as musicians from different countries and of different music styles would create a bond connecting everyone. Apart from the opening concert, Wang also performed at the Concert of Shenzhen Youth Artists yesterday.
Shenzhen Mayor Chen Rugui, Ye Xiaogang, vice president of China Federation of Literature and Art Circles and president of the Chinese Musicians' Association, and other officials from Shenzhen and Guangdong Province attended the opening ceremony to inaugurate the music festival.
Apart from Chinese officials, foreign guests were also invited to Friday's concert. Francesco Bandarin, special adviser to the director-general of UNESCO, Laura Egoli, consul general for Italy in Guangzhou, José Lessa, consul general for Brazil in Guangzhou, and Khalil Shirgholami, consul general for Iran in Guangzhou, were also present at the opening concert.
Bandarin told the Shenzhen Daily before the concert that it was his second invitation to the music festival. Bandarin said he has witnessed how the cultural event has grown in many ways.
"There are many big names on the program of this year's opening concert, like Argentine bandoneon player Rios and Chinese conductor Zhang Guoyong," said Badarin.
Badarin said that culture plays a significant role in the development of a city's soul and Shenzhen is investing a lot in building its own character with a global vision.
In a letter of congratulations to the musical festival, Badarin stated that "[the music festival] will set a model for the cultural development of emerging cities and make greater contributions to the cultural exchanges and development of countries and regions along the Belt and Road and the world as a whole, a long-standing program supported by UNESCO."
This year's festival remains an inclusive feature with multiple forms of music from home and abroad, including classical, traditional, jazz, symphony, solo and instrumental. Tickets will be priced much lower than market-driven concerts, with the lowest price at 100 yuan (US$15.79) and the highest at 980 yuan.