Email of the writer: 654789759@qq.com
Thanks to a Chinese-U.S. joint program on clean energy research, Derek Cowburn, founder and CEO of LumenCache, visited Shenzhen for the first time in 2016.
Lured by the manufacturing industry in Shenzhen and excited to learn about it, Cowburn applied and was accepted to HAX, one of the world's largest hardware accelerators based in Futian, Shenzhen. He came to live and work in the city that same year.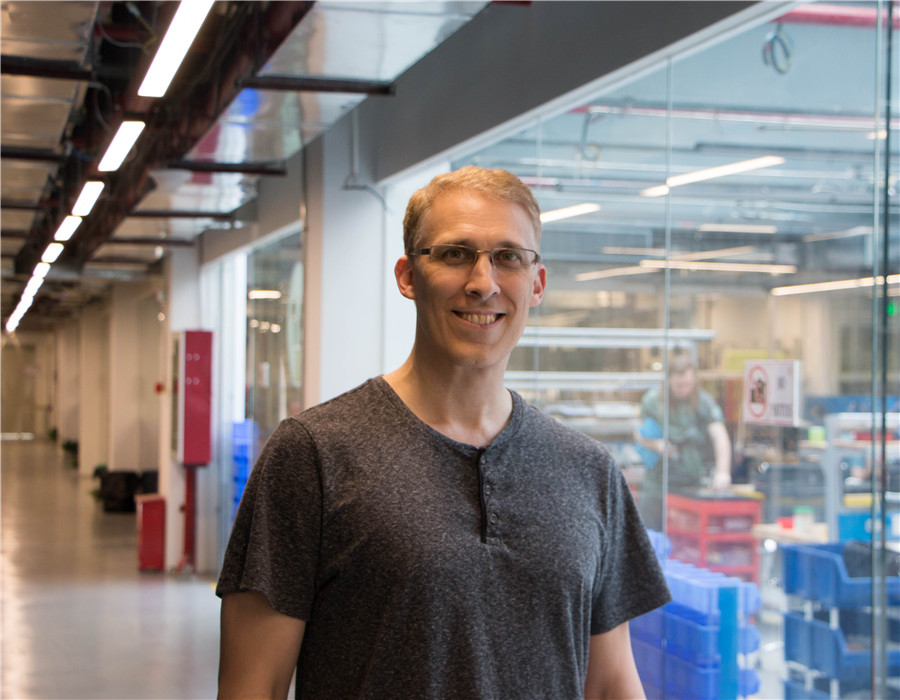 Derek Cowburn works in Huaqiangbei, Futian.Photos by Lin Jianping
Cowburn created a hardware product that replaces the way we power the inside of buildings. His platform replaces traditional high-voltage AC power distribution in buildings with a new standard more appropriate to the low power needs and digital capabilities of electronic devices, such as LED lights.
"The piece that I am working on is the DC networking. Instead of using alternating current we have been using for 130 years, we use direct current which is what our electronics, solar panels, and batteries use," explained Cowburn.
Expert in smart building
Distinct from the other companies that HAX typically takes in, most of which are early-stage hardware startups, Cowburn's team is quite experienced in the field of smart building.
"My career started out building automation systems, the computers that run and operate buildings. I was an intern at a pharmaceutical campus in 1988 and was surrounded by really bright people in the smart building field. There were 4,000 scientists, engineers, and businesspeople on this campus. They did manufacturing and research. The building controls were more complex than the controls that made the drugs," recalled Cowburn.
Ten years later he moved on to do consulting for a large accounting firm with big data sets. Cowburn, who has a very strong computer background and a mechanical engineering degree, ended up buying New Jersey's largest building controls company.
"I had about 15 people at the time and we were doing about 2 million dollars a year. First year 5 million, the next 7 million... we developed very quickly. In fact that company was ultimately purchased by Schneider Electric," said Cowburn.
He has always been frustrated about the way the world is heading. "Right now most companies have all these wireless products, which are very easy for startups to make. The problem is they never quite meet the reliability mark and they are not as efficient as a wired solution," said Cowburn.
The engineer explained that a wired device only needs energy when it needs to talk, while a wireless device has to keep sending data to communicate with the other pieces. "So if you look at a wireless bulb, it typically consumes about half a watt when it is off. Because it has to listen and talk all the time to wait for someone to hit the light switch or to hit the smartphone," explained Cowburn.
"Our system doesn't need to do that, which got the interest of Lawrence Berkeley National Laboratory and the Chinese housing ministry because they realized that our product can improve efficiency," said Cowburn.
Light up the Himalayas
Being an expert in the field for a long time, Cowburn does a lot of public speaking and was introduced to Paras Loomba, founder of the Global Himalayan Expedition, which is a group seeking to provide access to clean energy, education and wireless connectivity through solar power to help improve the living standards of rural populations.
This January, Global Himalayan Expedition brought the Cowburn's product up to the villages in the Himalayas and lit up the villages in a more efficient way.
Loomba is from India and the two first talked two years ago. Cowburn kept telling Loomba to wait for his second generation product, but Loomba couldn't wait anymore and finally said to Cowburn, "I don't want to wait anymore. I just want the product that you have."
"So we sent him the products that we already had, and the product that we have is the prototype. That's another reason that we have been very busy here [in Futian] since Chinese New Year, because we are releasing a new version of the first product," said Cowburn.
"They took LumenCache up there. Loomba was so impressed and said to me that normally they get to about 30 meters of wire before the light starts to dim, however, our system goes 100-plus meters and no dimming problem occurs. So they asked me for more products," Cowburn said with pride.
Joining hands with the Chinese Government
One of the things that Cowburn is passionate about is helping the environment. "Part of the reason that drives me to do this is because I feel strongly that the product that we have can help lower the energy requirements for buildings, to meet China's requirement of having 20 percent savings by 2020."
Over the two years that Cowburn and his team have been here, they have been introduced and given opportunities for government grants. "There are many opportunities for foreigners to bring their experience and knowledge here. I think it's almost ideal for people like myself, someone who is already much more experienced," said Cowburn.
In October 2017, they received a grant from the Nanjing city government to develop AI applications for their platform. "We got the first piece of the grant, which is helping us to get the hardware into buildings. As soon as we are done with that, we can start to develop the software and start implementing it. We had to build a whole new hardware standard for building wiring before AI can truly succeed."
They are also cooperating with the city of Zhaoqing, which contacted them through the incubator TechCode. The latter found out about them and asked them to do a roadshow for the city officials of Zhaoqing, which they did.
"The vice mayor, Chen Xuanqun, who I thought was an engineer because she was so insightful and had a good technical understanding of what we are doing, said to the managers of the construction office for China Fortune Land Development Co. (CFLD): 'Why don't we do a pilot project with this technology? This is really incredible. You can make your buildings smarter and you can operate them better'," said Cowburn.
CFLD is now cooperating with the team to help promote their product and present it to other cities.
Additionally, their system has been installed in the demonstration area of Singyes Solar in Zhuhai, Shenzhen International Low-Carbon City in Longgang District will employ it and the architect of the Impact Hub meetup space in Futian is also working with the team.
A lover of shared bikes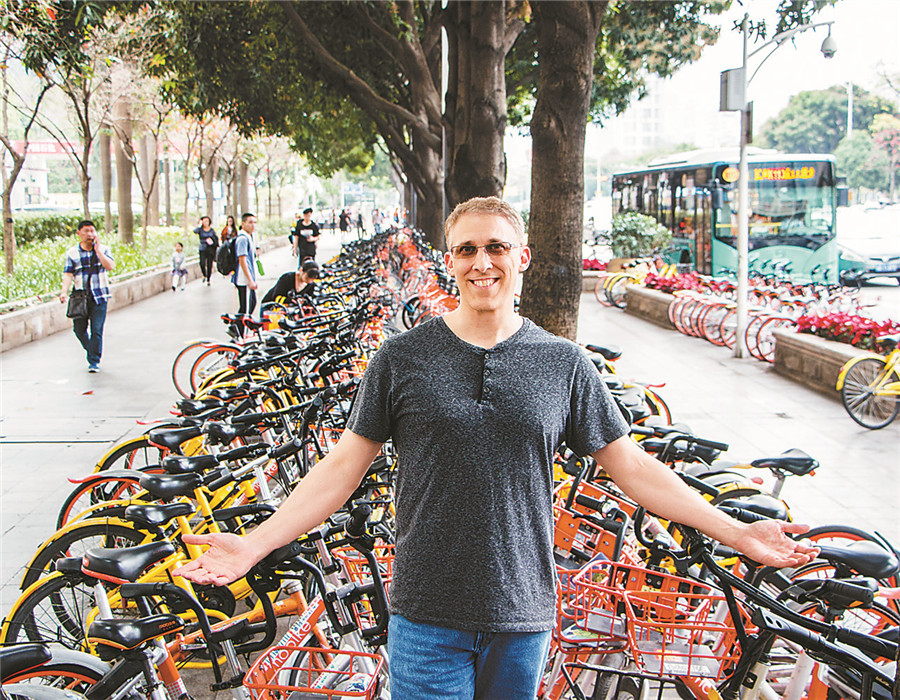 Living near CocoPark and working in Huaqiangbei, Cowburn loves riding shared bikes to work every day, covering the 4-kilometer trip while watching the rich life in the district.
"I spend what little free time I have riding around to see the different areas. I love riding or walking through really crowded areas, because I can look at all the faces of the different people, their eyes, their smiles," said the positive American.
For Cowburn, it's incredible that everybody looks happy here. "Even with my limited language, I love meeting people here. There are so many people and so many things going on all the time in Shenzhen. There are so many people eager to be part of something really industry-changing."