Email of the writer: JeniZhang13@163.com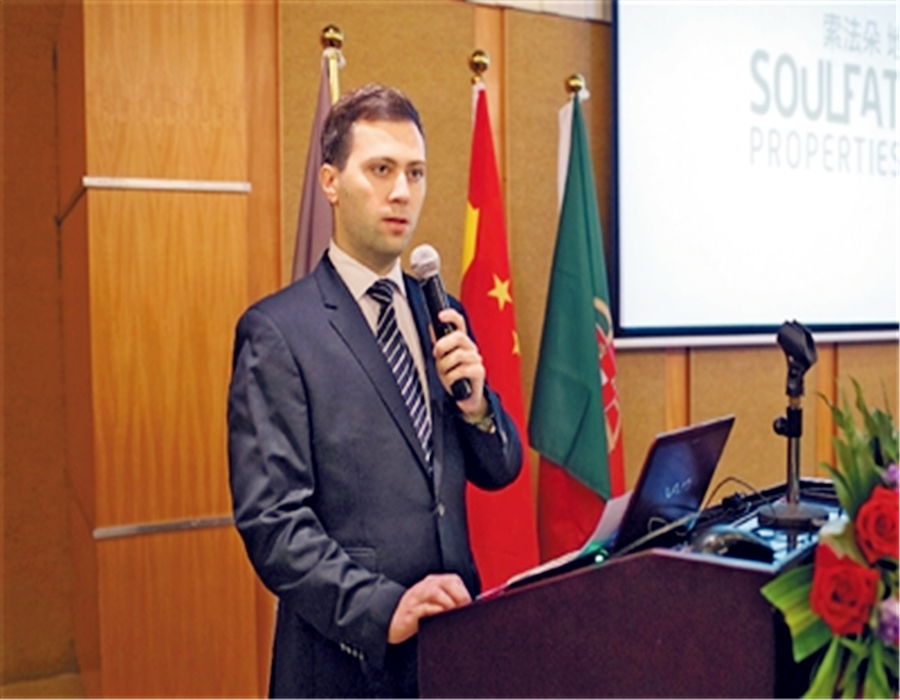 Nuno Batista gives a speech at a seminar in Dongguan, Guangdong, focusing on overseas investment. Courtesy of Nuno Batist
Nuno Batista, a 29-year-old entrepreneur from Portugal, has found the ideal environment to give full play to his entrepreneurial skills in China, which has led to the founding of several businesses in education, design, multimedia and finance.
After graduating from university with honors in 2009, Batista lived abroad in Spain and Thailand, before finally settling in China. He has worked for different companies across China, from a top 100 global architecture design firm in Beijing to China State Construction Engineering Corp. in Shenzhen.
At present, he is the founder and CEO of Soulfato Group, an international consulting firm based in Futian District, as well as a business adviser for the Business Council of the Portuguese Embassy in Beijing.
Setting up business in Futian
What initially attracted Batista to Shenzhen was a job opportunity offered by China State Construction and Engineering Corp. at one of its branches in Shenzhen in 2012. He worked as a business development director leading a team of about 200 people, and described it as a good working experience. After that, he wanted to focus more on career development and decided to start his own business.
He believes that Shenzhen is more business-oriented and is becoming a new Silicon Valley of the world. The economy here is more dynamic. It is the first special economic zone in China, and the government has a lot of incentives for startups and businesses, said Batista. He added that the city is a great hub for international talents. Especially in terms of accessibility, as the city is located in the Greater Bay Area, making it convenient to go to Hong Kong, Macao, Guangzhou and other cities.
His experience working in different areas has also boosted his confidence. "I like to be on the management side, as I've done different kinds of jobs before. I started working as a graphic designer, then a human resources manager, until I reached the position of general manager, where I help companies make the best decisions with the materials they can provide me. I believe my strength is dealing with people and also on the business development side," he said.
As a four-time nominated finalist of the Entrepreneurship Prize of the Portuguese Diaspora, which distinguishes the best Portuguese businessman of the year, Batista was once received by former Portuguese President Cavaco Silva.
"The distinction basically focuses on my contribution to bringing the two countries together and recognizing I'm here in China not only developing my own business but also the relationship between the two countries. And I believe giving good services to the local community is the most important aspect," he said.
Real-time business school
When Batista graduated from university, he was offered an overseas internship in Thailand. When he came to China, he took it more as an adventurous experience. And before long, he decided to stay.
"I just knew China was the right place for me. For instance, the speed of the business and the opportunities. I'm not talking about English teaching, but the business-wise side. It was what motivated me to stay in China," he said.
Though the way of doing business is very different in China than in Europe, Batista is very grateful for what China has offered him. "I think China is a real-time business school. We're learning the rules and the latest trends. I'm certain that in the future all of the business schools and the model books will talk about what is happening here and I think Shenzhen is a very good case study and role model city for future generations," he said.
By comparison, he said that in Europe people are used to corporate meetings in the office. But in China, especially when dealing with Chinese white-collars, the formal procedures are still there, but the personal side also comes with it. Most of the businesses, as he sees it, have to make time after working hours, for either having dinners with clients or going out for drinks or going to KTVs, which people are not really used to in Europe.
"But overall it is a very interesting experience. It's more like how they feel about you and how you perceive their interests. And you take that extra step by taking a client to the dinner and talking about your personal lives and maybe common hobbies. These details help to build up trust in the business relationships in China," he said.
Right place, right time
For Batista, he was fortunate to be in the right place at the right time. "It's lucky that I'm a Portuguese living in China, being able to ride on the business waves and witness the ever-increasing cooperation between the two countries. So, this is something that I focus on," he said.
For the last five years, Portugal has been one of China's biggest overseas investment partners with acquisitions of shares in several key State-owned companies, from energy to insurance companies.
On the one hand, his company offers services to Chinese high net worth individuals and corporations in the areas of immigration investment and business consulting. On the other hand, it also helps overseas entrepreneurs in establishing their businesses in China, from marketing and branding plans to their corporate setup and incorporation process.
"I think the most rewarding projects are those in which we help entrepreneurs, who have great ideas, start their businesses in China. They don't know much about how to get financing or to promote their business in the Chinese market. And it's very rewarding to see these companies thriving, growing, and expanding after one or two years. It's like seeing our little babies grow up and be successful," he said.
On the other side, especially with regard to the real estate sector, Batista's company helps Chinese entrepreneurs or wealthy individuals with investing overseas and diversifying their assets. "Right now China's economy is growing very fast. Many wealthy Chinese businessmen would like to expand their investments not only in China, but also in the global market. So we also give consultancy on investment opportunities to people who want to invest overseas, especially in Europe," he said.
Vision for the future
As the company does not have any advertisements, currently most of Batista's clients come through references or by word of mouth, which he thinks is good for the company and can help lay a solid foundation of trust.
"My goal is to build the company to where it can be self-sustainable," said Batista.
With regard to future plans, he is optimistic about the company's development. "We are growing year after year. Fortunately we hope to keep growing. When I first started my business in Shenzhen, it was a home office, and I had an assistant working in my house. In the second year, we had a small office with six people. Later, we expanded to an office of about 150 square meters. And this month, we are moving to a new and bigger office in Futian CBD, and we are planning to recruit more employees by the end of the year," he said.