Email of the writer: nicolezyyy@163.com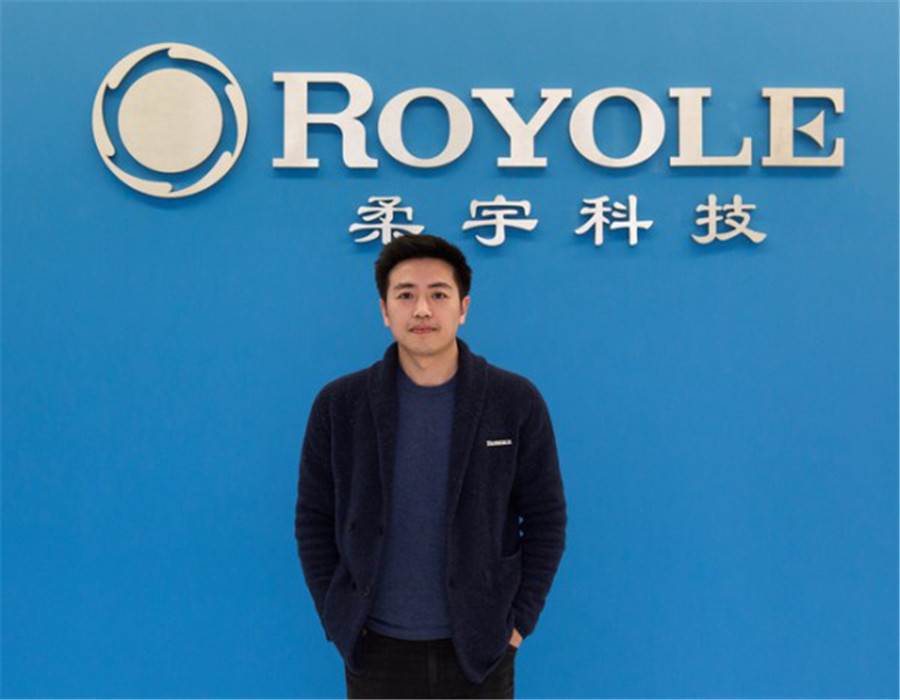 Bill Liu
In 2006, while lying on a lawn at Stanford University in the United States, Bill Liu came up with the idea of inventing a thin, foldable display.
Ten years later, Liu's company, Royole, has grown into a unicorn startup valued at over US$3 billion, with its game-changing flexible display technology stunning the world.
Liu founded Royole with his Stanford friends in 2012 with the mission to improve the way people interact with and perceive the world. His team has grown from five members to more than 1,500 technologists and professionals from 15 countries across the globe over the past five years.
With three branches in Fremont, California in the United States, Hong Kong and Shenzhen, Royole achieved a market valuation of 20 billion yuan last year.
Liu earned his master's degree from Tsinghua University when he was 23, and then received his doctorate in Electrical Engineering at Stanford University three years later.
He worked for IBM Corp. in New York for another three years, before starting Royole in 2012.
Starting a business is never an easy task. Liu slept on the floor of friends' houses in Shenzhen and Silicon Valley for three months after the company was founded. He worked for over 18 hours a day and frequently traveled between Shenzhen and the United States when the company was in its infancy.
"When I started the business with my partners in Shenzhen in 2012, I truly fell in love with this city. I've gotten acquainted with friends from all walks of life and witnessed the continuous improvements made by the city," Liu told Shenzhen Daily in an email.
According to Liu, Shenzhen and Silicon Valley are both immigrant cities and they are alike in many ways, such as the weather and innovation environment.
But he said Shenzhen is also different from Silicon Valley because the city has set up an irreplaceable innovation eco-system, with a fully fledged industrial chain covering almost every element needed to manufacture high-tech products.
"This is the unique advantage of Shenzhen and it can be found nowhere else in the world, even in Silicon Valley," the 34-year-old CEO said.
Liu said 2017 is a crucial year for Royole. The company proposed the concept of "Flexible+" in August, which aims to build flexible electronics into a platform technology solution so as to connect the flexible electronic technology with other industries and products, as well as apply it to every walk of life.
"After years of exploration, we've realized that a flexible display or flexible sensor is not only a single product, but also a window for us to see a larger 'forest' outside," he said, adding that it will require a joint effort by Royole and other companies to drive the technological innovation and eventually change people's way of perceiving the world.
Specializing in developing next-generation human-machine interface technologies and products such as flexible displays, flexible sensors and flexible electronics, Royole has so far filed for more than 1,500 core technology intellectual property rights.
The company introduced the world's thinnest full-color AMOLED flexible display, with a thickness of 0.01 millimeter and a bending radius of 1 millimeter, in 2014.
One year later, Royole launched the world's first foldable 3-D mobile theater as well as its first mass production line of flexible sensors and flexible electronic devices in Shenzhen.
With a total investment of US$1.7 billion, the company's International Flexible Display Campus — the world's first Quasi-G6 fully flexible display production line — is expected to be put into operation in Shenzhen within the year. The annual capacity of the new production line is expected to reach more than 50 million flexible display units.
In September, Royole raised a total of US$800 million in its Series D round of funding. According to Liu, the funding will help the company invest in R&D, production and marketing in order to accelerate every aspect of the company's growth.