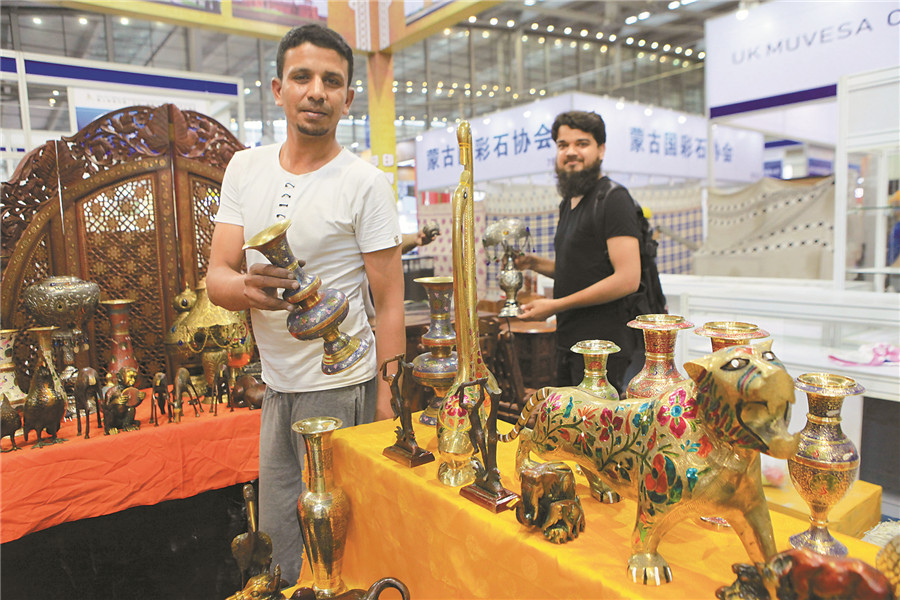 Indian businessmen display their products at the Shenzhen Convention & Exhibition Center in Futian District yesterday, the main venue of the 14th China (Shenzhen) International Cultural Industries Fair, which will kick off today. Sun Yuchen
Email of the writer: ximhan@126.com
More than 40 countries and regions under the Belt and Road Initiative will participate in the exhibitions, cultural exchanges and trades at the Shenzhen Convention and Exhibition Center, the main venue of 14th China (Shenzhen) International Cultural Industries Fair to be held between today and Monday.
Among them, Sweden, Latvia, Finland, Norway, Iceland, Denmark, Sri Lanka, Romania, Canada, Mexico and Argentina will attend the fair for the first time, the fair organizer said at a news conference yesterday.
The foreign delegations and exhibitors will display their traditional arts and crafts, creative designs, and culture and tourism destinations as well as give performances for visitors.
The University of Latvia, the largest university in the countries around the Baltic Sea, will represent Latvia in attending the fair. Argentina will display trade, culture and investment cooperation achievements it has made with China, while Canada will introduce the Sino-Canada Film Festival.
For this year's fair, 2,308 exhibitors from 42 countries and regions and 21,386 overseas buyers will attend the activities at the main venue and 67 subvenues across the city.
In Hall 1, the comprehensive exhibition hall, exhibitors will manifest achievements of China's cultural industries and a cultural exhibition marking the 40th anniversary of China's reform and opening up will be held.
The 30,000-sqm Hall 1 is the largest exhibition hall at the Shenzhen Convention and Exhibition Center. Exhibitors from 31 provinces, autonomous regions and municipalities as well as Hong Kong, Macao and Taiwan will participate in the exhibition. A total of 28 listed cultural companies, including Fantawild, and 32 State-level cultural industrial parks will attend the fair.
Gansu, an important node of the Belt and Road Initiative, will showcase its distinctive culture: the Dunhuang culture, Yellow River culture and ancestral culture. It will display over 100 cultural products for visitors. Fujian Province will display its intangible heritages, such as paint line carving and skills in making Jianzhan (Jian cups) that dates back to the Song Dynasty.
The 7,500-sqm Hall 5 will highlight the development and innovation of digital culture and industry, focusing on Culture Plus Digital Creation and Culture Plus Science. VR, AR and holographic imaging will be introduced in the hall.
The 15,000-sqm Hall 9, the arts and crafts exhibition hall, has attracted 310 exhibitors from 12 countries. Around 10,000 exhibits covering 10 categories, including carving and sculpture, dyeing, artistic porcelain and glass, embroidery and painting metal arts, will be on display. The exhibition of arts products by 100 Chinese famous arts and crafts artists is a highlight of the hall. Nearly 100 artists from 16 provinces and cities will present their signature pieces to visitors. The pieces cover 10 categories, including sculpture, porcelain, embroidery, dyeing, painting and interior drawing.
Local traffic police have set up a bilingual service to help visitors, including foreign nationals coming to the main venue, with their questions or if they are in an emergency. They can call 8445-1468, 8445-1469 to reach the on-site police office or 8333-3333 for the traffic police command center.
As the only international cultural industries fair and the largest in China, ICIF has become a calling card for Shenzhen and a trade platform for China's cultural products and projects.
The city now has more than 50,000 cultural and creative enterprises including 3,155 at a designated scale. A total of 900,000 people work in the industry.