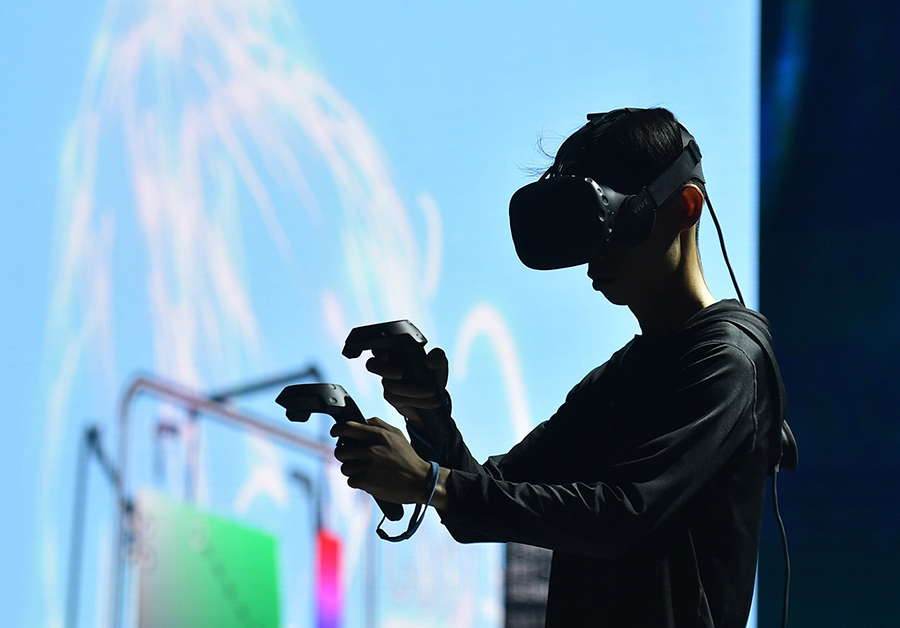 An artist shows how to make a painting using virtual reality technology at the Global Innovator Conference in Shenzhen in September 2017. [Photo/Xinhua]
City ramping up efforts to attract high-level skilled professionals
It was a summer night on May 6, 1979, when a group of more than 200 youngsters from Nanling village made a desperate dash across the Shenzhen River with the hope of beginning a new life in Hong Kong.
More than 500 villagers from Nanling left their homes for Hong Kong between 1956 and 1979 due to poverty. With per capita annual income of less than 100 yuan, they risked their lives to cross the river to Hong Kong, where people at the time earned more than 10,000 yuan a year.
But four decades later, instead of fleeing, people are flocking in. Nanling has been urbanized and emerged as one of the country's most affluent villages. The villagers collectively own an industrial park, which houses more than 40 enterprises, in addition to numerous office buildings, shopping centers and hotels. Each villager, as a shareholder, earns an annual bonus of more than 150,000 yuan ($23,520).
Similar stories can be seen in other farming and fishing villages in Shenzhen, which borders Hong Kong to the south. Their rags-to-riches transformation came after the Chinese mainland announced its reform and opening-up policies in 1978 and designated Shenzhen as the first of its Special Economic Zones, which enjoyed more market-oriented and flexible economic policies to attract foreign investment.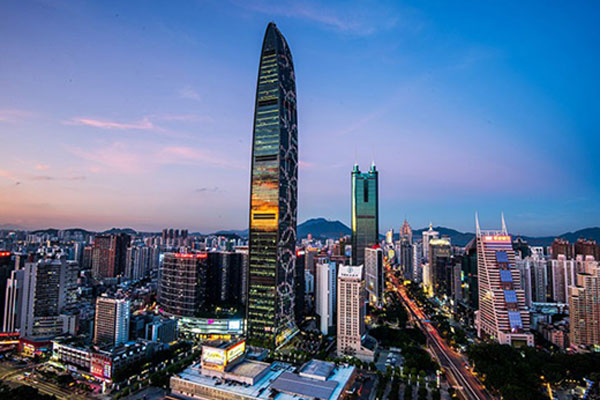 A view shows Shenzhen's landmark skyscraper, Kingkey 100, in South China's Guangdong province. [Photo/VCG]
As a front-runner in reform and opening-up, the city used to rely on processing trade mainly for Hong Kong. After enjoying a high economic growth rate of nearly 40 percent per year from the 1980s to the early 1990s, due to limited land resources and rising labor costs, the city gradually turned its focus to developing high value added industries such as information technology, biotechnology, new materials and high-end equipment manufacturing. Now it has become a magnet for technology startups and the headquarters of famous high-tech companies such as Huawei Technologies Co Ltd, Tencent Holdings Ltd and one of the world's largest drone makers, DJI.
But how will Shenzhen continue to be the front-runner in the coming decades?
"When other places are also competing to become the front-runner, you must think outside the box," said Wang Weizhong, Party secretary of Shenzhen.
"We should not just train our focus on the 1,997 square kilometers of Shenzhen. We must look at Shenzhen from a broader view," Wang said.
To be sure, the local government aims at building Shenzhen into a core engine, in terms of both technology innovation and financial support, driving development of the Guangdong-Hong Kong-Macao Greater Bay Area and, by 2035, into a global technology innovation hub.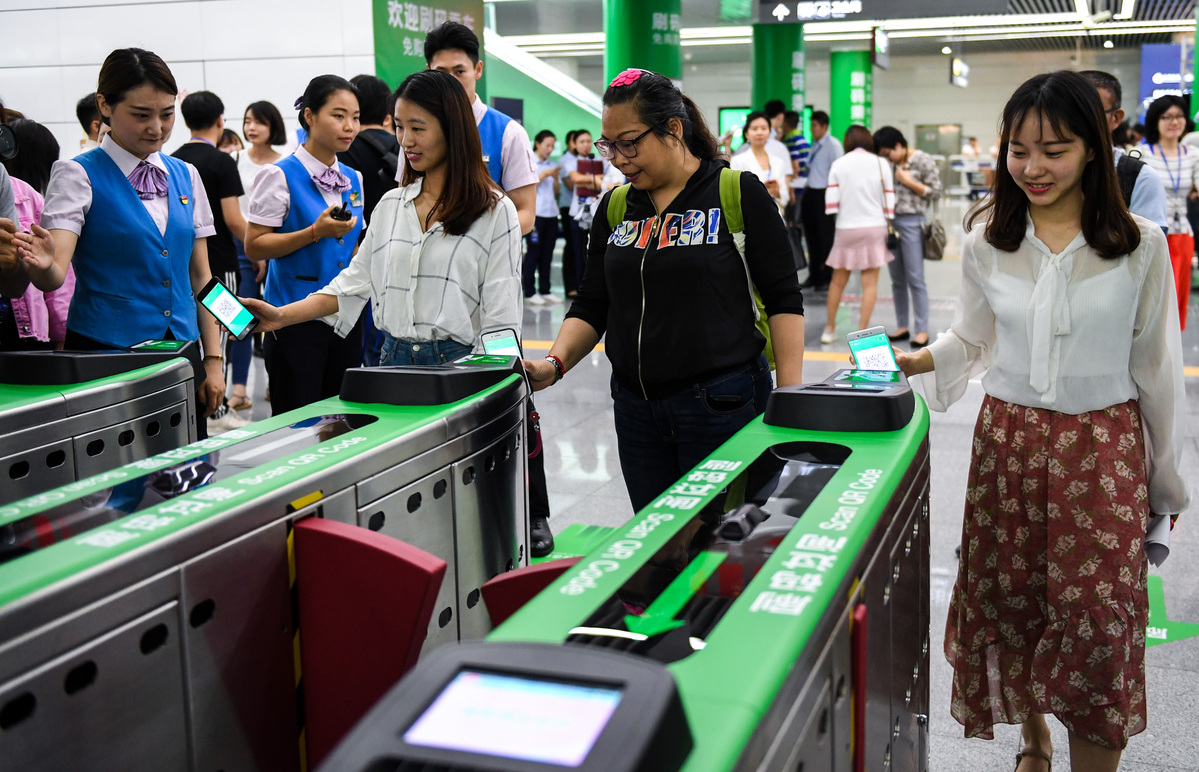 Passengers scan QR codes on their smartphone screens to pay for their subway train ride in Shenzhen, in southern Guangdong province, on May 8, the day when mobile payments were expanded to cover the entire subway network.[Photo/Xinhua]
The Bay Area is part of the central government's mega plan for coordinated regional development, along with the Beijing-Tianjin-Hebei area and the Yangtze Economic Belt. The Bay Area, consisting of 11 cities and regions with a combined population of 67 million, generated GDP of over $1.5 trillion last year, surpassing that of the San Francisco Bay Area and overtaking that of Russia.
In fact, the ambition of Shenzhen also epitomizes the country's emergence from being economically underdeveloped four decades ago into the world's second-largest economy through its opening-up. As a beneficiary of opening-up, the country is playing an increasingly important role in global governance and is dedicated to building an open world economy and pursuing common development with other countries.
In order to stand at the front line of the technology hub, Shenzhen has been ramping up efforts in attracting high-level skilled professionals from home and abroad and providing financial support for tech startups.
The "Peacock Initiative", for example, is a program launched in 2011 to attract high-level professionals to the city. Under this initiative, a maximum of 100 million yuan will be provided for each team aiming to make scientific breakthroughs.
Earlier this year, Shenzhen vowed to build 10 labs led by Nobel Prize-winning scientists to make breakthroughs in industries such as chemistry, medicine, photo-electricity, graphene, micro-nano, robotics and 5G telecommunication. The city already has attracted Nobel laureates, including Robert H. Grubbs, Shuji Nakamura and Barry Marshall, who are pioneers in energy, materials, optics and medicine.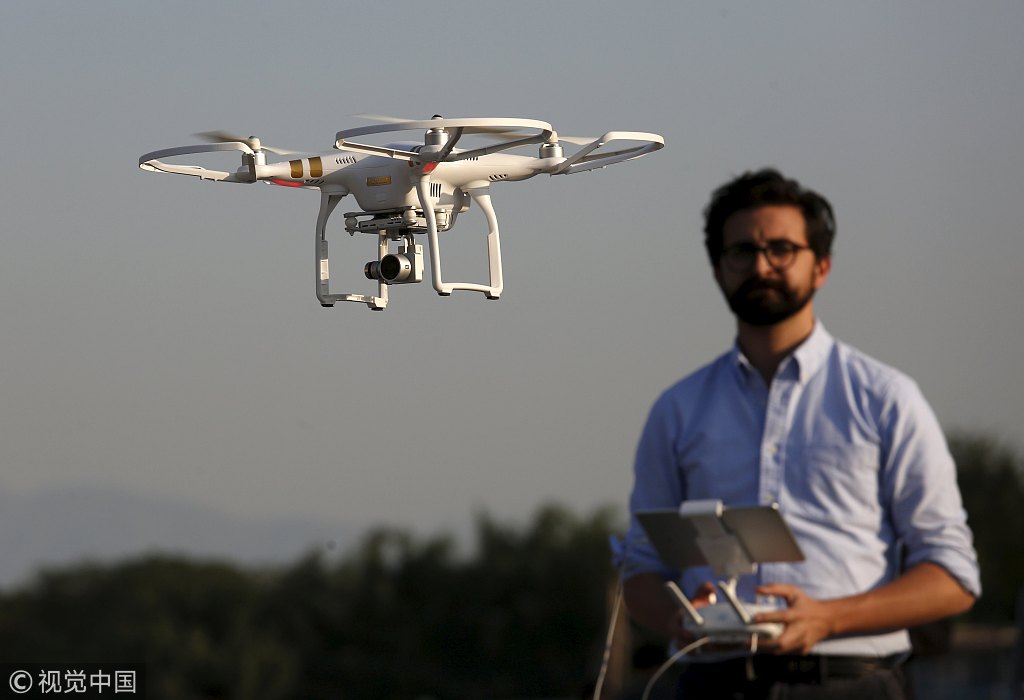 Michael Perry, Director of Strategic Partnerships of DJI, flies a drone in Shenzhen, December 18, 2015, two days before the opening of DJI's first flagship store. [Photo/VCG]
"The spirit of innovation is deeply rooted in Shenzhen. It is a vibrant city where a single idea can be quickly formed and where you can just concentrate on technology innovation itself without worrying too much about other things," said Shen Jianbo, co-founder and executive director of Smart Dynamics Co Ltd, a startup focusing on designing and developing service robots.
Shen founded the company in Shenzhen in 2015 with a few friends after abandoning their decent jobs.
"Besides financial support, the local government offered us, including our family members, incentives ranging from housing to medical care. What else should we worry about?" Shen added.
In addition to attracting skilled professionals, the city also is investing heavily in original innovation by promoting angel investments.
"An important reason Silicon Valley in the US and Israel became world innovation hubs is that they gathered a lot of angel investments. However, Shenzhen lacks angel investments even though there are nearly 50,000 venture capital and private equity companies and institutes here," said Wang, the city's Party secretary.
To this end, the city government established earlier this year a fund of funds of 5 billion yuan focusing on angel investments. A fund of funds is an investment strategy of holding a portfolio of other investment funds rather than investing directly in individual securities.
"It takes a lot of patience and investment for original innovation. It is not something you can see immediate return. But you need to have a long-term view and take the first step. The sooner, the better," said Wang, who served as vice-minister of science and technology between 2010 and 2014.
The affluent Nanling village is eager to jump on the bandwagon of developing high-tech industries.
The village set up a fund of funds of 500 million yuan at the beginning of May from its collective income to invest in strategic and emerging industry startups in areas such as 5G telecommunication, chip design and manufacturing, artificial intelligence and life science.
"We have been thinking about what would be our next opportunity for development, given limited land resources and rising labor costs. When everyone is in a rush for better development, how I wish I could take off my shoes to run even faster," said Zhang Yubiao, Party secretary and a native of Nanling village.
"By nurturing startup companies, I hope that one day I can bring my fellow villagers to ring the opening bell at a stock exchange," Zhang said.