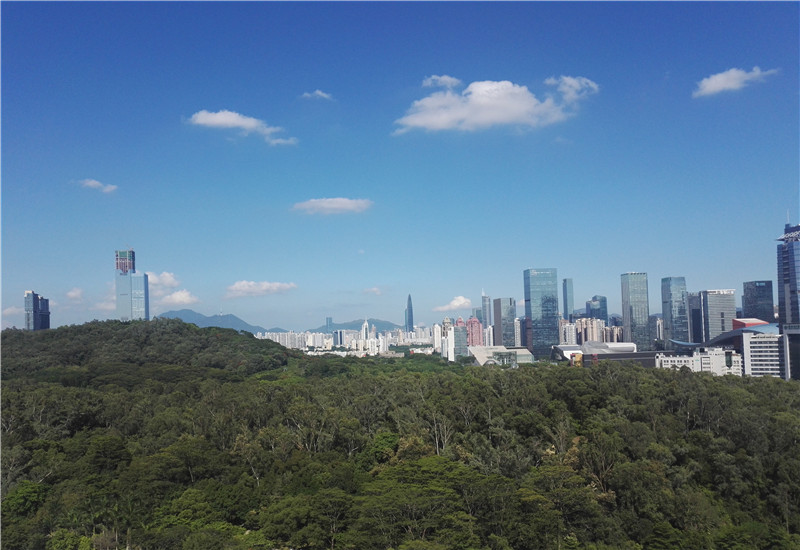 The blue sky over Lianhua Hill on May 25. [Chen Xiaochun]
Shenzhen is trying to control the average concentration of PM2.5 to below 26 micrograms per cubic meter this year, according to the Blue Sky Sustainable Action Plan released at the latest Government Gazette.
To meet this goal, the city government has set specific goals and requirements for districts.
Starting May 1, all newly-added light cargo vehicles must be electricity-powered.
By the end of this year, 20,000 diesel-powered light vehicles used in logistics services will be eliminated, and 10,000 diesel-powered vehicles that are not involved in business services will be replaced by electricity-powered ones.
In July, the city will pilot Green Logistics Areas in its districts to ban diesel-powered cargo vehicles around the clock. The areas are: Futian CBD, Reminnan Road in Luohu, Shenzhen Hi-tech Industrial Park in Nanshan, Yantian CBD, Haixiu area in Bao'an, Longcheng area in Longgang, North Railway Station area in Longhua, Pingshan Sports Center area in Pingshan, Guangming Square area in Guangming and the central area of Kuichong in Dapeng.
Starting July 1, nonlocally registered cargo vehicles will be banned on roads except expressways, and roads to Shenzhen airports, container ports and the Hi-Green farm produce market from between 7 a.m. to midnight.
Also starting July 1, vehicles with gasoline emissions at the National I standard will be banned on all roads from between 7 a.m. to 10 a.m. and between 3 p.m. to 8 p.m. At the end of 2018, such vehicles will be disqualified from renewing their license plate registrations. Before the end of the year, the present 7,500 fuel-powered taxis will all be electricity-powered.