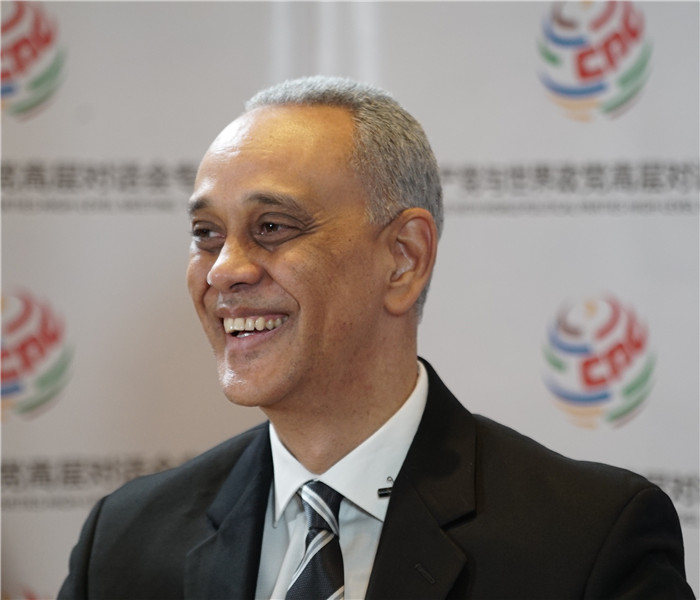 Manolo Pichardo
Email of the writer: 654789759@qq.com
Manolo Pichardo, president of the Permanent Conference of Political Parties of Latin America and the Caribbean, said that the establishment of diplomatic relations between China and the Dominican Republic represents an opportunity at an interview during the thematic event of CPC in Dialogue with World Political Parties High-level Meeting yesterday.
"We can increase the commercial exchange that already exists, which covers many areas. We can also explore other areas of our economy. For example, the Dominican Republic enjoys a lot of tourism; the truth is we live by tourism. And from China there are more than one hundred million tourists going out to explore the world who might go to Latin America as well, using the Dominican Republic as a bridge. I think this is an important bridge for strengthening the bilateral relationship between the two countries," said Pichardo, who is also a member of the central committee of Dominican Liberation Party.
Pichardo said that there are other economic sectors that the two countries can work on. He explained that the Dominican Republic is one of the largest exporters of organic cocoa, avocado and banana. The country also exports medical instruments.
"We can also utilize China's investment in different fields such as in infrastructure. We can learn from China's experience in development, in instrument manufacturing and in technology," added Pichardo.
Pichardo said that they wished there would be a higher level of connectivity between China and Latin America.
"There are six hundred million inhabitants in Latin America. So a smooth visit between China and our region is important. For this reason, we hope there could be a direct flight from the Dominican Republic so that it can become a hub that gathers all the people who go from Latin America to China, and Chinese people who want to visit Latin America," said Pichardo.
Pichardo thinks highly of the reform and opening up of the Communist Party of China. "China has become the second-largest economy in the world and may become the largest one in the upcoming years. This is a good lesson for countries in Latin America and countries that want to facilitate development that engages all its people. China is really impressive."
China and the Dominican Republic established diplomatic relations May 1 this year.