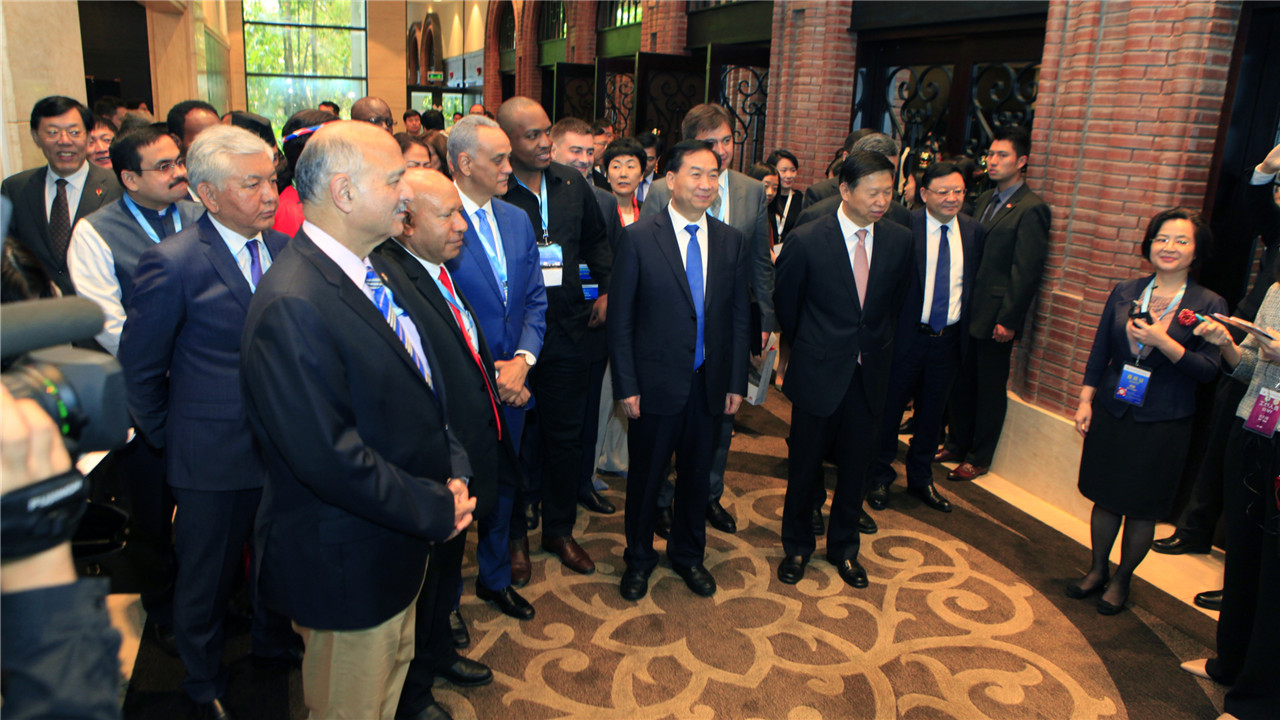 Li Xi (5th R), secretary of the Guangdong Provincial Committee of the CPC, Song Tao (4th R), minister of the International Department of the Central Committee of the CPC, Shenzhen Party chief Wang Weizhong (3rd R) and foreign visitors visit the Exhibition Marking the 40th Anniversary of Guangdong's Reform and Opening Up and High-Tech Expo at the InterContinental Hotel in Shenzhen yesterday. [Sun Yuchen]
Email of the writer: ximhan@126.com
As a pioneer, vanguard and experimental zone, Guangdong has played an important role in providing valuable experiences for China's reform and opening up, and it is unfolding itself to the world as a more open, confident and vibrant province, according to Guangdong Party chief Li Xi yesterday.
He made the remarks at the thematic briefing, "Stories of the CPC — Guangdong's Achievements in Practicing Xi Jinping Thought on Socialism with Chinese Characteristics for a New Era."
As part of the ongoing thematic event of the Communist Party of China (CPC) in Dialogue with World Political Parties High-level Meeting in Shenzhen, the briefing was themed "Reform and Opening Up Holds the Key to the Destiny of Contemporary China."
Li said Guangdong's development relies heavily on the strong leadership of the CPC. From 1978 to 2017, Guangdong's GDP realized an average annual growth rate of 12.6 percent, and in 2017, its GDP reached 8.99 trillion yuan (US$1.43 trillion), among the top in China for 29 consecutive years, Li told over 500 delegates of more than 200 political parties from over 100 countries at the meeting.
Li said the thematic briefing, organized by the International Department of the CPC Central Committee, was a good chance for foreign visitors to learn about the CPC and China's reform and opening up, and feel the changes in China.
Li shared Guangdong's story through three examples: the development of Qianhai & Shekou Area of China (Guangdong) Pilot Free Trade Zone, Mi Xuemei, a female factory security guard who has been elected as a national legislator, and the transformation of the polluted Huayang Lake in Dongguan into an ecological zone.
The Qianhai-Shekou area marked its 3rd anniversary last month.
More than 160,000 enterprises have registered and 60,000 enterprises have started operations in the area. The area is becoming a model for the transition from fast economic growth to high-quality development. At present, more than 100 projects are under construction, according to Li.
Mi came to Guangdong in 1997 and worked hard, first as a security guard and eventually as a supervisor of a factory. She was elected as a deputy to the National People's Congress, China's top legislature, this year.
"Tens of thousands of people like her have been participants in and witnesses to China's reform and opening up, having settled down in Guangdong," Li said.
Guangdong is the origin of China's reform and opening up, and Shenzhen is the icon of the achievements of the policy, he said.
Shenzhen Party chief Wang Weizhong said in a speech that Shenzhen's achievements since reform and opening up, especially after the 18th National Congress of the CPC, are the epitome of China's all-round achievements and the profound and fundamental changes that have taken place in China.
In the new era, Shenzhen will stick to the guidance of Xi Jinping Thought on Socialism with Chinese Characteristics for a New Era and continue to play its role as a vanguard and experimental zone of China's reform and opening up.
Nguyen Xuan Thang, a member of the Secretariat of the Central Committee and chairman of the Central Theoretical Council of the Communist Party of Vietnam, said in a speech that the world benefits from China's reform and opening up. China's experience in leading Chinese people to explore the path suitable for its development could be used as a reference for the international community, he said.