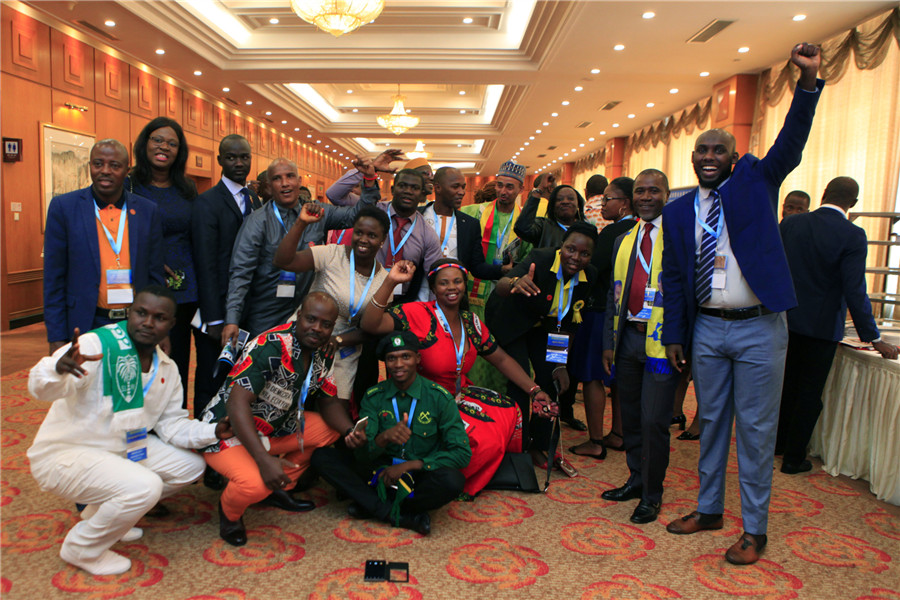 Representatives of political parties from African countries pose for a group photo at Wuzhou Guest House yesterday. They were there attending the fourth China-Africa Young Leaders Forum which closed yesterday. [Sun Yuchen]
Email of the writer: yangmei_szdaily
The fourth China-Africa Young Leaders Forum came to a close yesterday afternoon at Wuzhou Guest House, with leaders of African parties showing their determination to build a greater Africa and strengthen the partnership between China and African countries.
Deng Deng Hoc Yai, minister of the Ministry of General Education and Instruction of the Republic of South Sudan, began the closing session by saying that the forum had provided a great opportunity for young African leaders to communicate with each other so that they can work together to achieve common prosperity.
He stressed that youths are the future of countries. "Young people need to be empowered and entrusted to drive Africa forward and to achieve prosperity for African countries, China and the world at large," he said.
He believes that a strong partnership between China and Africa will solve many of the challenges facing Africa and provide more opportunities for a bright future.
"I believe together we can fight against war, hunger, poverty, extremism and disease. And I also believe Africa will rise with the support of China," he continued.
He called on all of the African people to take advantage of the great opportunities available now to develop sectors such as infrastructure, agriculture, mining, financial services and tourism.
He said that the African youths are ready to use their skills, energy, enthusiasm and creativity to work for China and the world.
Lastly, he called on the young African leaders to build a better Africa by working with China. "Together, we can transform Africa and support China and continue the ambitious reform under the wise leadership of President Xi Jinping," he said.
Juste Bernardin Gavet, first secretary of the Congolese Rising Force, who was the second speaker at the closing session, praised the event as a great platform for young people seeking cooperation for progress. "Young leaders and elites are the heroes of the future. I hope we can implement the fruits of the forum in our countries and serve our countries," he said.
In his address, Mpho Gift Modise, secretary of Youth Union of Gauteng, South Africa, stressed the important roles of women and called on African people to work hard to reach gender equality.
He also expressed his gratitude for China's longstanding support of Africa. "We should not waste the support from China and be united to shape Africa's future and realize our dreams," he said.
Wrapping up the closing session, Guo Yezhou, deputy head of the International Department of the CPC Central Committee, said the two-day forum, part of the ongoing thematic event of the Communist Party of China (CPC) in Dialogue with World Political Parties High-level Meeting, had reached four consensuses.
"First, the path for development shapes the destinies of countries," he said. "Second, China and Africa should continue to strengthen cooperation and reach consensuses. Third, the goal of building a community of common destiny for mankind urges all African and Chinese people to realize their dreams and achieve the 2030 UN Agenda for Sustainable Development. Fourth, the forum woke up the minds of young Africans, inspiring them to shoulder greater responsibilities and missions to create a better world."