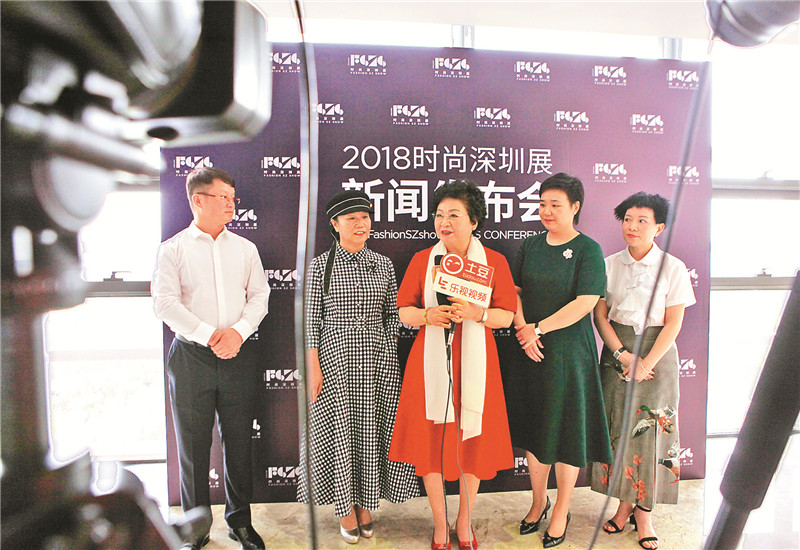 Shen Yongfang (C), chairwoman of the Shenzhen Garment Industry Association, during an interview yesterday. Sun Yuchen
Email of the writer: ximhan@126.com
The 18th China (Shenzhen) International Fashion Brand Fair will be held at the Shenzhen Convention and Exhibition Center from July 5 to 7, the organizer, the Shenzhen Garment Industry Association, announced at a news conference yesterday.
The influential garment fair in the Asia-Pacific region will use all nine halls of the exhibition center, covering 100,000 square meters.
More than 1,000 fashion brands from 20 countries and regions and 100,000 buyers will attend the three-day event, and more than 30 shows and forums will be held during the fair, according to the organizer.
The fair will be renamed Fashion Shenzhen Show after this year's event, indicating the industry's new positioning with brands, designs, business transactions and leading trends.
"Fashion Shenzhen Show will focus on the new trends in the industry, technology, design and upgrades in consumer consumption. It will integrate advanced resources in the fashion industry and lead the innovative development of the industry through strategies driven by originality and quality," said Shen Yongfang, chairwoman of the Shenzhen Garment Industry Association, at the news conference.
The fair will be divided into 10 themed exhibition areas, and exhibitors will cover the whole industry chain from manufacturing to consumers, including women's wear, men's wear, children's wear, designer brands, leather, fashion accessories, handbags, watches and clocks, and fabrics.
At the fair, garment makers, fashion accessory producers and leatherwear producers will seek opportunities to complement their resources and advantages to promote the upgrading of the industry.
Hebei Province will set up its independent exhibition area at the fair where garment manufacturers from Hebei will show the features of their industries, such as wool, leather and fur production, through business promotions, shows and forums.
The Show Room will introduce designers and their brands to visitors. More than 1,000 designer brands will be showcased and well-known designers from the U.K., France, Italy, Germany, the U.S., Australia and South Korea will introduce their designs.
The China (Shenzhen) International Fashion Brand Fair was first held in 2001 and became an important platform for fashion trade and exchanges.
Statistics showed the production volume of the Shenzhen garment industry reached 200 billion yuan (US$31 billion) in 2016. There are around 200,000 people working in the industry and around 2,000 garment brands, including 200 renowned brands like Marisfrolg, Yiner, Ellassay, Jessie, Eachway, Lizzy, La Pargay, Naersi, Seaon Wind, Kaltendin and Versino.