Apple is considering adding "smart shock absorbers" inside upcoming iPhone models to prevent glass displays from smashing, even when there is no case on the phone.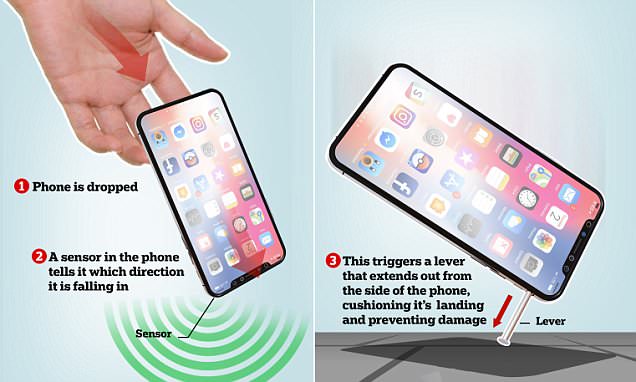 The shock absorbers are designed to spring out from the side of the iPhone seconds before it smashes into the ground to cushion the blow and prevent any damage.
Apple has detailed the method in a recent update to a patent entitled "Drop countermeasures for electronic devices."
According to the patent, Apple will use motion sensors inside the smartphone to detect when it has been dropped and begin preparing for an impact.
Proximity sensors on the outside of the device will be used to spot a "potential impact surface."
The data from these sensors is fed into a processor which performs lightning-fast calculations to work out which part of the iPhone is about to hit the ground. When it has determined which part of the phone is at risk, the handset will spring out an "actuated member" to absorb the blow or change it direction to save the glass.
Apple says the system can be deployed in mobile phones, tablets, computers, personal digital assistants, media players and other electronic devices.
The shock absorber system is very similar to a prototype smartphone case which deploys springs strategically positioned around the device to dampen any impact.
The designer Philip Frenzel, a student from Aalen University in Germany, calls his invention an "airbag" for smartphones. After picking it back up, the user can simply fold the hooked springs back into the case so that it is ready for its next accidental drop.
Frenzel won the top award from the German Society for Mechatronics for his phone case, even though the design is still a prototype. (SD-Agencies)