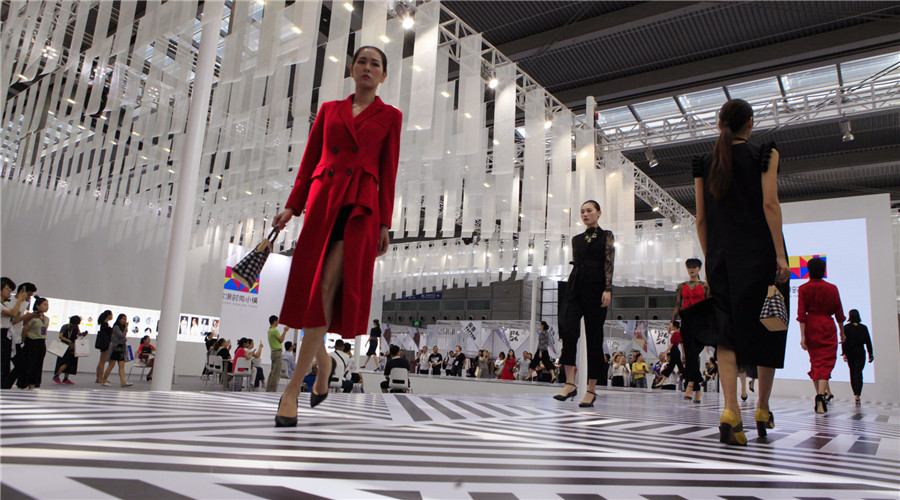 Models in action during a fashion show staged in Hall 1 of the Shenzhen Convention and Exhibition Center on Thursday. Photos by Sun Yuchen
Email of the writer: ximhan@126.com
The Fashion Shenzhen Show, the newly named successor of 18th China (Shenzhen) International Fashion Brand Fair this year, opened at Shenzhen Convention and Exhibition Center yesterday, offering more than 1,000 fashion brands from 20 countries and regions.
In three days, the organizer, the Shenzhen Garment Industry Association, estimated more than 100,000 buyers will attend the fair, which is said to be a highly influential garment fair in the Asia-Pacific region.
Headed by Li Qian, vice governor of Hebei Province, a delegation of more than 100 enterprises from Hebei Province occupied most of the exhibition area at 7,500-square-meter Hall 3 to show their industrial features such as wool, leather and fur production.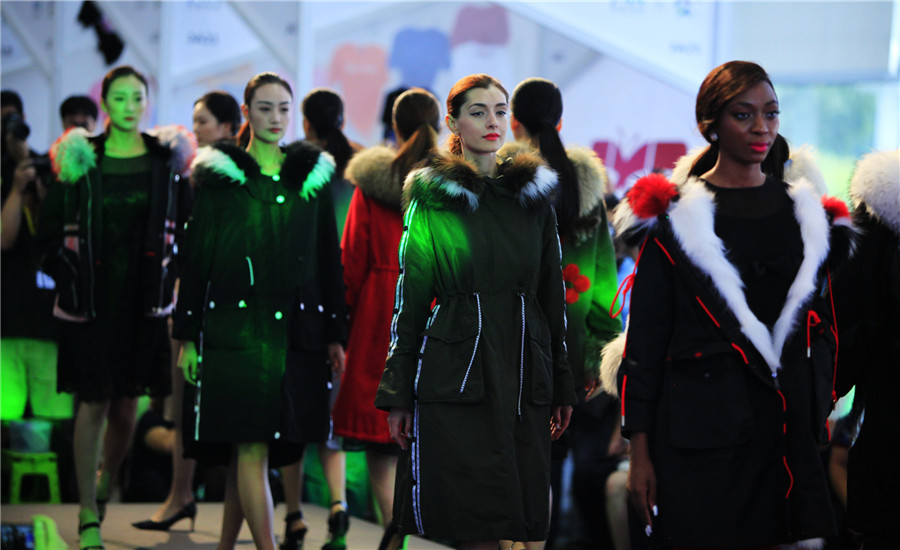 Models showcase parkas designed by a fashion company based in Hebei Province in Hall 2 of the convention center.
At the opening ceremony, Li said the enterprises will show the creation designs and development advantages at the fair and seek opportunities to complement their resources and advantages with Shenzhen and promote the upgrading of the industry.
The Dalang Fashion Town will organize multiple fashion shows a day to show designs of pioneering designers.
At an interview yesterday, Ding Yousheng, head of the Industrial Cluster Office of Yudu County in Jiangxi Province, hoped to find cooperation with Shenzhen garment brands and get more orders for the factories in his county.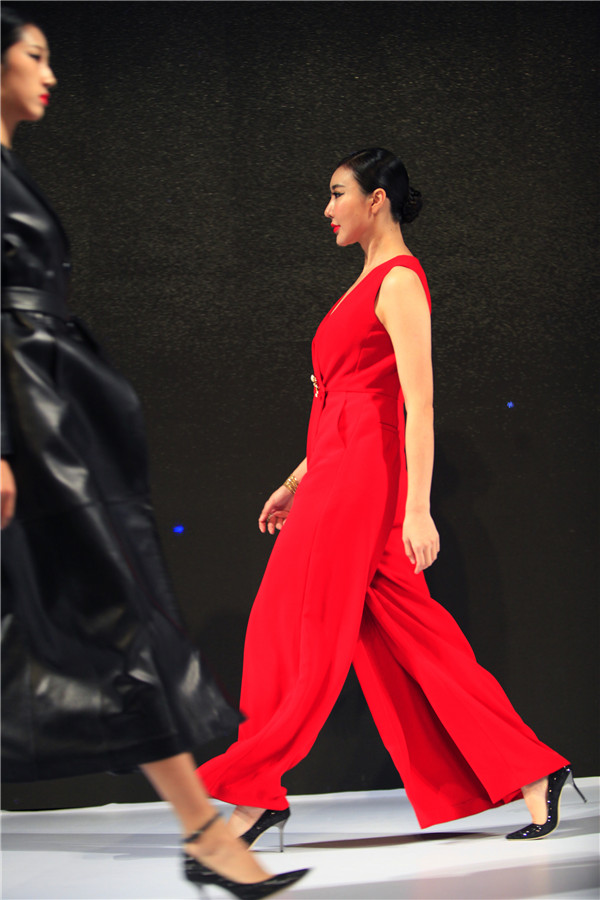 A model shows a jumpsuit by a Shenzhen company.
In May last year, Yudu County signed a strategic cooperation with Shenzhen Garment Industry Association to speed up the industrial park in Yudu Garment Feature Town. The town has more than 2,000 garment factories, including household workshops.
The county is building an industrial cluster involving 100 billion yuan (US$15.15 billion), according to its development plan for 2017-2020. A county known for women's garment, Yudu will organize a series of promotional activities that will showcase their brands and attract investments.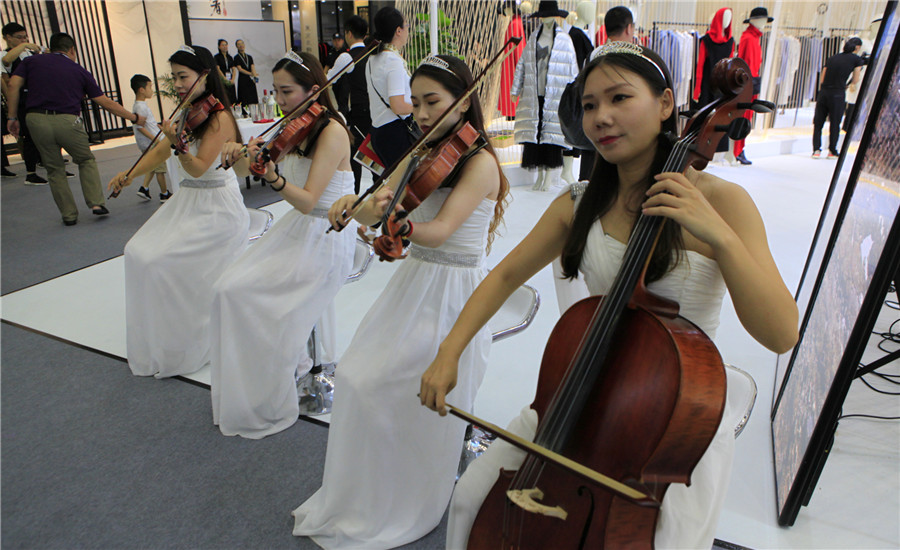 A performance in Hall 1 of the convention center.
During the fair, more than 30 shows, forums and parties will be held for the industrial exchanges. More than 600 designer brands will be showcased and well-known designers from the United Kingdom, France, Italy, Germany, the United States, Australia and South Korea will introduce their designs.
The China (Shenzhen) International Fashion Brand Fair was first held in 2001 and became an important platform for fashion trade and exchanges.
Statistics showed the production volume of the Shenzhen garment industry reached 200 billion yuan (US$31 billion) in 2016. There are around 200,000 people working in the industry and around 2,000 garment brands, including 200 renowned brands like Marisfrolg, Yiner, Ellassay, Jessie, and Eachway.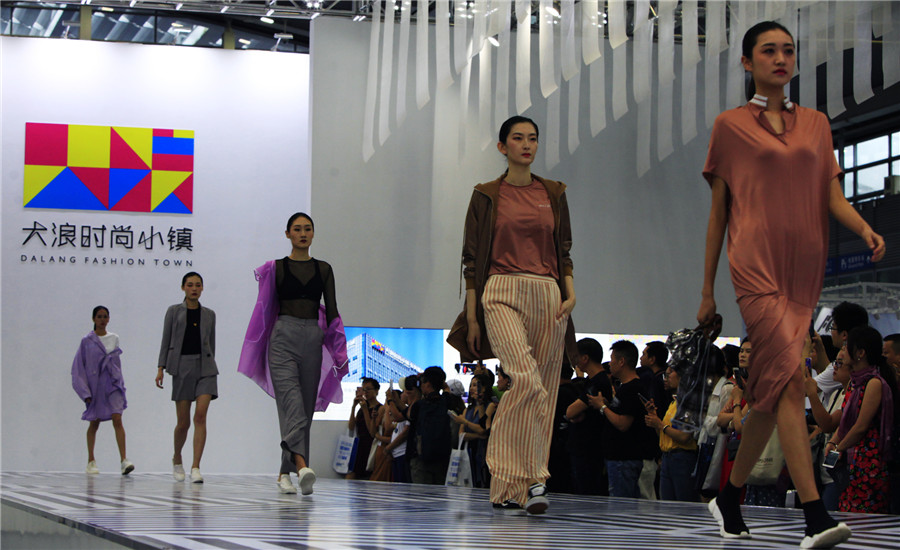 Models show clothes made in Dalang Fashon Town.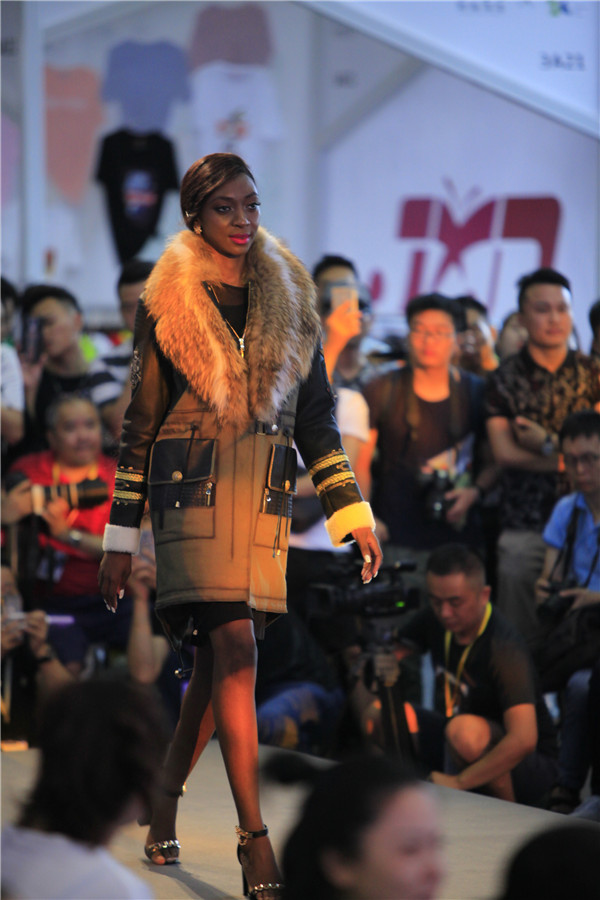 A model in winterwear.