Living in a typical Hakka house at Guanlan Printmaking Village, also officially known as China Guanlan Originality Printmaking Base, famous Japanese print artist Harumi Sonoyama has a disciplined approach to life. Well-known for realist techniques and photo-like print works, Harumi spends most of his time working at his workshop in Guanlan unrelentingly.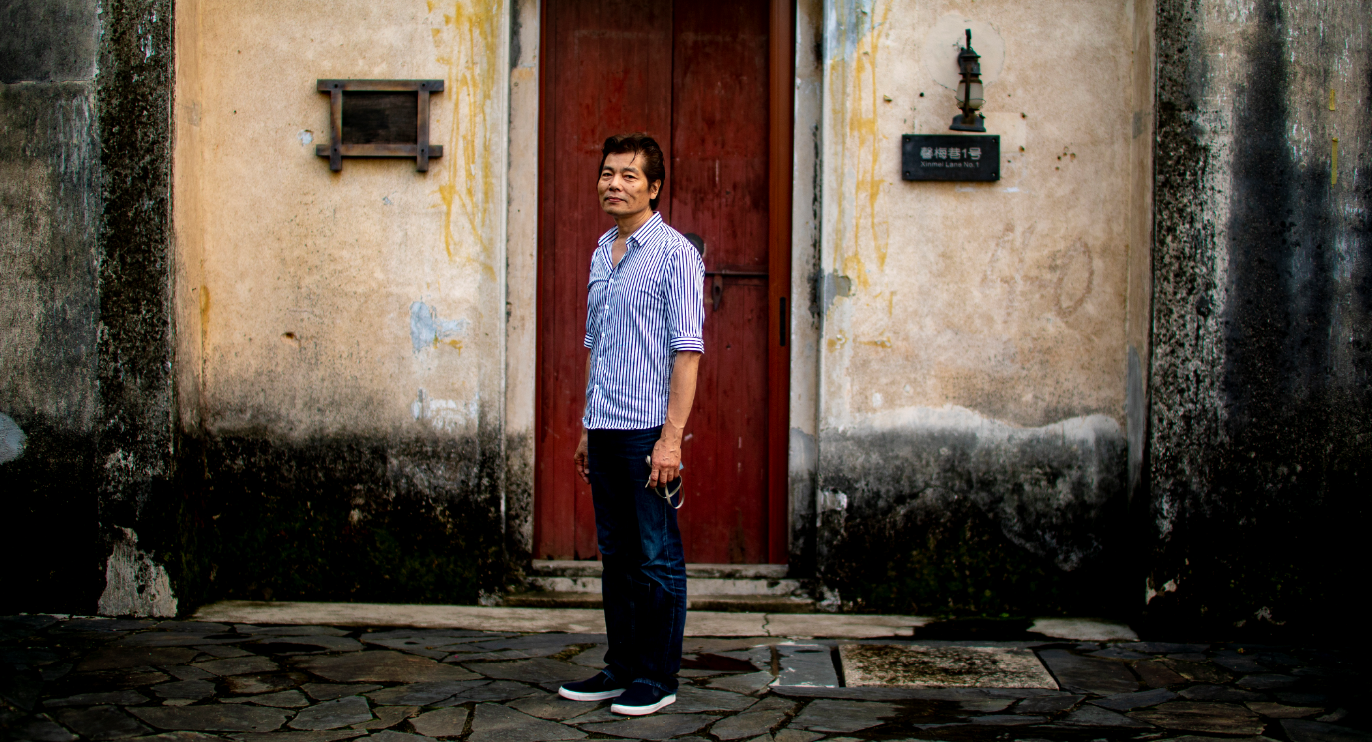 Japanese print artist Harumi Sonoyama has been working as a resident print artist at Guanlan Printmaking Village since 2009. Liu Xudong
Contemporary print mainly refers to any visual art form that is created by using engraved or otherwise prepared plates to stamp an image onto a surface. Depending on factors such as the materials or engraving tools used, techniques employed, and the artist's personality, print art can come in various forms.
Harumi still uses the most traditional of printmaking techniques — the stone and copper plates — in his work. Guanlan is his starting point for exploring the inner spirit of painting.
Guanlan Printmaking Village is one of the ancient Hakka villages in Shenzhen. These old dwellings are now transformed into print masters' residences and workshops. Having maintained their original Hakka style, these quaint-looking houses are beautiful and practical.
A modern printmaking workshop complex, covering an area of more than 1,000 square meters, is the lithographic center of Guanlan printmaking base. The first floor of the workshop is divided into four areas according to printing methods: stone plates, copper plates, wire mesh and wood plates. It is top-notch in terms of scale and equipment.
The Guanlan Printmaking Village is now a fully functional place that has become a rising center for China's printmaking industry.
Harumi received an invitation from the Guanlan printmaking base as a resident print artist in 2009. He feels very happy and lucky to live and work there. For him, life here is very peaceful and natural as the village features typical Hakka townhouses with white walls, gray tiled roofs, babbling brooks, leafy trees and quiet nooks. "I can concentrate on my creations in Guanlan," said Harumi.
"The colors I use here mark a huge difference compared to my creations in Tokyo," said Harumi, showing his unfinished work "Guanlan No.1" as an example. "These bright colors expressed my pleasant mood during the process of creation while in Guanlan and that I feel freer here," Harumi explained.
The Guanlan printmaking base has gathered nearly 1,000 artists during these years. Harumi enjoys discussing creative ideas with foreign artists. "Everyone has different creative ideas, backgrounds and experiences," said Harumi. "I have gained much from connecting with them."
Many well-known foreign artists are invited to train technicians here in order to pass their skills on. The technicians then observe and participate in the process of creation with the foreign artists, which is the most valuable asset in art education.
The China Guanlan Originality Printmaking Base tries to get recognized by international counterparts, according to Guo Qingwen, deputy director of the art base.
"The China Printmaking Museum, which opened in 2014, is a world-leading printmaking exchange platform. Guanlan printmaking base has set the Chinese standard, also called 'the Guanlan standard,' which specifies printmaking workflow, the recognition of judges, and the concepts behind works," says Guo.