"BLACK technology," which has nothing to do with witchcraft but refers to technology that impacts the future and the world, has become a buzzword in China's science and technology field.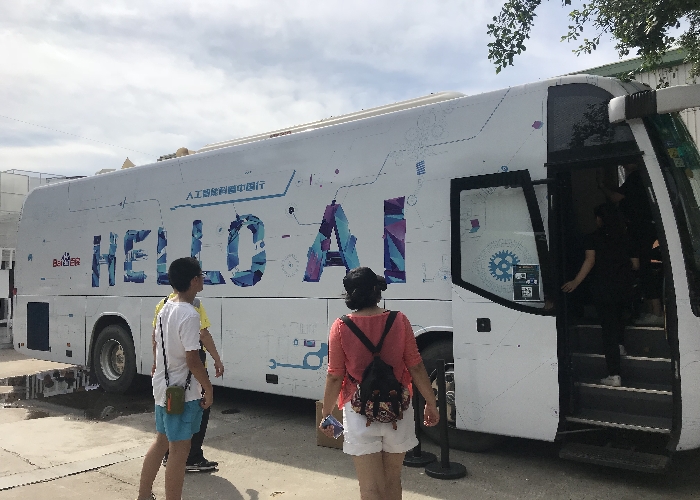 Baidu's AI bus at Zero One Technology Festival. Photos by Yang Mei unless otherwise stated
At the first Zero One Technology Festival held at Shekou i-Factory, over 100 technology companies brought visitors a feast of black technologies by showcasing their latest technological products, applications and services.
An AI-powered suitcase called "Ovis" developed by a Beijing company ForwardX attracted the crowd's attention. The smart suitcase is a carry-on that follows its owner's side autonomously, freeing users' hands in places with smooth floors.
According to the company's marketing manager Jia Zhaocheng, the suitcase has sensors and cameras. Before each use, the owner just needs to stand in front of the built-in camera to allow the suitcase to scan them. Equipped with computer vision technology, Ovis can autonomously capture and identify its owner by measuring his height and the length of his joints.
In situations like road bumps and big crowds, users can switch it to the manual mode by grabbing the sensor embedded into its handle, and the suitcase will function like an ordinary one.
"We are targeting the global market and we have had customers from 27 countries buying our products within one month," Jia said.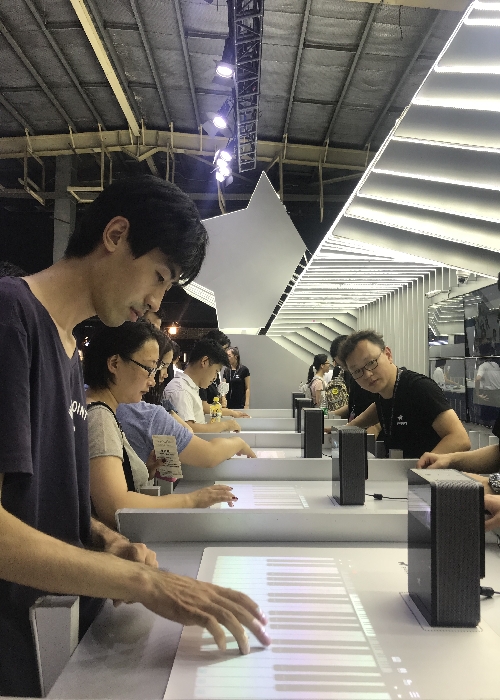 A visitor tries his hand on Puppy Cube S.
"Puppy Cube S," developed by Guangzhou-based Puppy Robotics Technology Co. Ltd., can turn your tables, walls and floors into computer desktops on which users can give presentations, play games or watch movies thanks to a built-in wireless projector. Equipped with Wi-Fi, bluetooth and a stereo, the product functions like a computer and users can download apps, according to Yang Weiliang, the company's channel manager in South China. "It weighs only 1.6 kg, so it's very convenient for people to take around," Yang said.
A man uses the "air hand-washing" technology to wash his hand.
Black technology also helps make a better environment by changing the way people live. A sink faucet developed by Beijing Mooyee Technology Co. Ltd. can save 90 percent more water compared with traditional water-saving taps. "With our atomization technology which has low pressure and high efficiency, it takes no more than 200 millimeters of water to clean people's hands within 20 seconds and the effect is the same as traditional taps. Our taps can be installed on any hand-washing sink," said Zheng Xiaotong, co-founder and marketing manager of the company, adding that the apparatus mainly targets public places.
The world's first large-scale smart living carnival, the technology festival provides visitors with access to cutting-edge and diverse futuristic technologies, covering a variety of fields such as smart homes and smart health care. Thematic forums and new product release conferences were also held during the event.