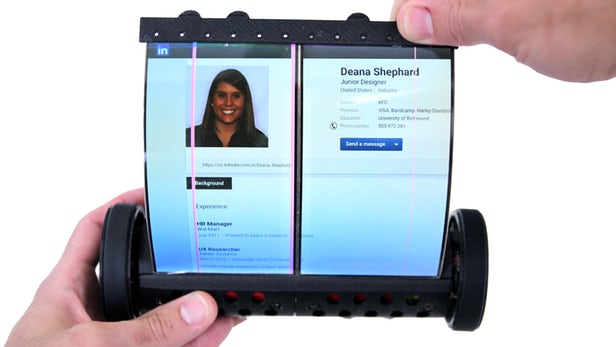 Scientists have created what they call the "world's first rollable tablet PC."
Dubbed the "MagicScroll," it is a flexible touchscreen that rotates around 3D-printed cylindrical body, or can be popped out to become a flat display.
The working prototype was developed by a group of researchers from the Human Media Lab at Queen's University in Canada.
MagicScroll, which is meant to resemble the form of an ancient scroll, wraps around a cylinder and rolls out to become a full-fledged tablet PC that measures 7.5 inches.
When users want to place a call, they just roll the screen back into its cylindrical form factor. "As a phone, the cylindrical form factor allows for a better ergonomic fit for single-handed use," the researchers explained.
And if users want to see something up close, such as Google Street View, the screen is easily popped out of the casing to view sites like a true webpage.
The screen has 2K resolution, generating crisp images and video.
MagicScroll's creators say the prototype device is small enough to fit in a pocket.
"We were inspired by the design of ancient scrolls because their form allows for a more natural, uninterrupted experience of long visual timelines," said Roel Vertegaal, director of the Human Media Lab.
MagicScroll also features a camera that's controlled using gestures, similar to Nintendo's Wiimote.
The rotary wheels include robotic actuators that can move or spin in place, like when the device receives a notification.(SD-Agencies)