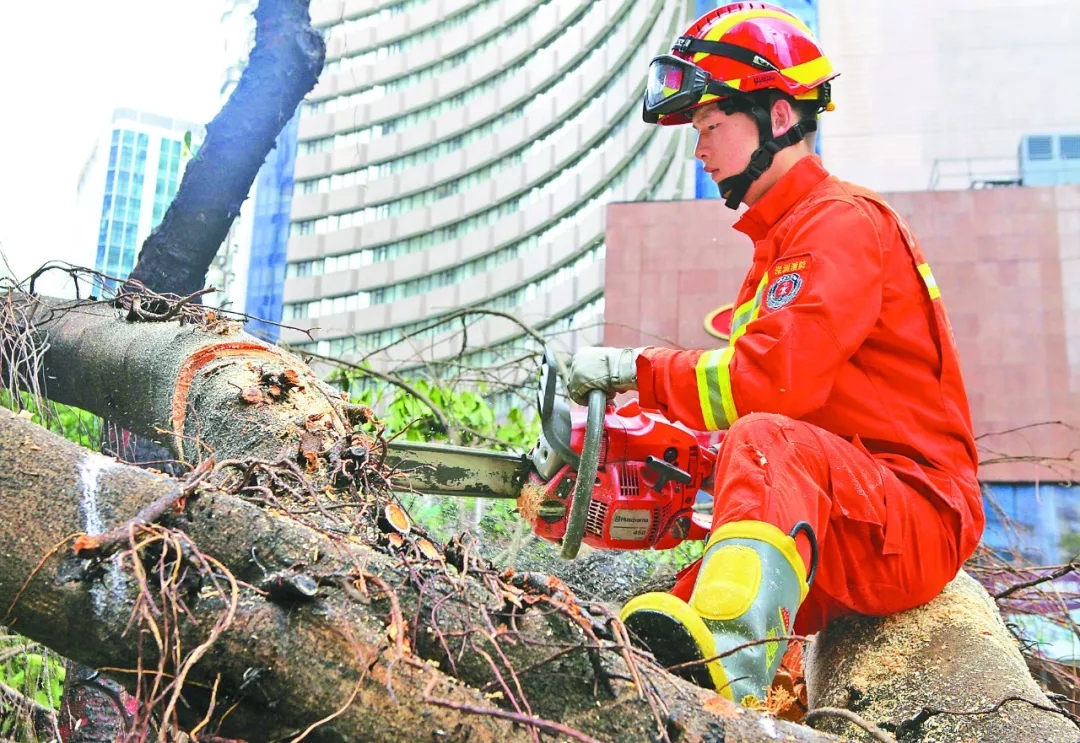 A firefighter saws a tree felled by Typhoon Mangkhut on Guomao Street in Luohu District in a citywide effort yesterday to clear roads after the typhoon battered the city Sunday. Sun Yuchen
More than 20,000 urban cleaners and rescue workers were on the roads across the city yesterday clearing the damage caused by the strongest typhoon in 35 years.
Shenzhen Urban Administration estimated that 11,600 trees were uprooted or felled and 4,000 trees were broken when Typhoon Mangkhut wreaked havoc on the city from Sunday morning into the night.
Firefighters remove a felled tree branch on Shennan Road East in Luohu District yesterday. Sun Yuchen
"We are facing a massive workload in erecting or cutting trees and branches and transporting them," said Feng Zengjun, deputy director with Shenzhen Urban Administration, in an interview yesterday.
The work of clearing the broken and uprooted trees to ensure the flow of morning traffic yesterday had already begun in the wee hours of yesterday, soon after the rain and wind's strength started to wane.
"By 11 a.m. trees had been cleared from trunk and branch roads, and we estimate the whole task will be completed in 2-3 days," Feng said.
The city's air, rail and road traffic gradually returned to normal yesterday morning.
At around 6:52 a.m., a flight from Beijing landed at the Shenzhen airport, marking the return to normal operation.
Shenzhen Metro also resumed operation on eight lines at 6:30 a.m. The wholesale markets, supermarkets and wet markets also opened for business early yesterday morning.
The parks, including commercial theme parks, remained closed yesterday while debris was cleared, and ferry services are expected to resume today.
During the Mangkhut period in Shenzhen, the city didn't receive any major casualty or damage reports, a source from Shenzhen disaster and flood prevention headquarters said.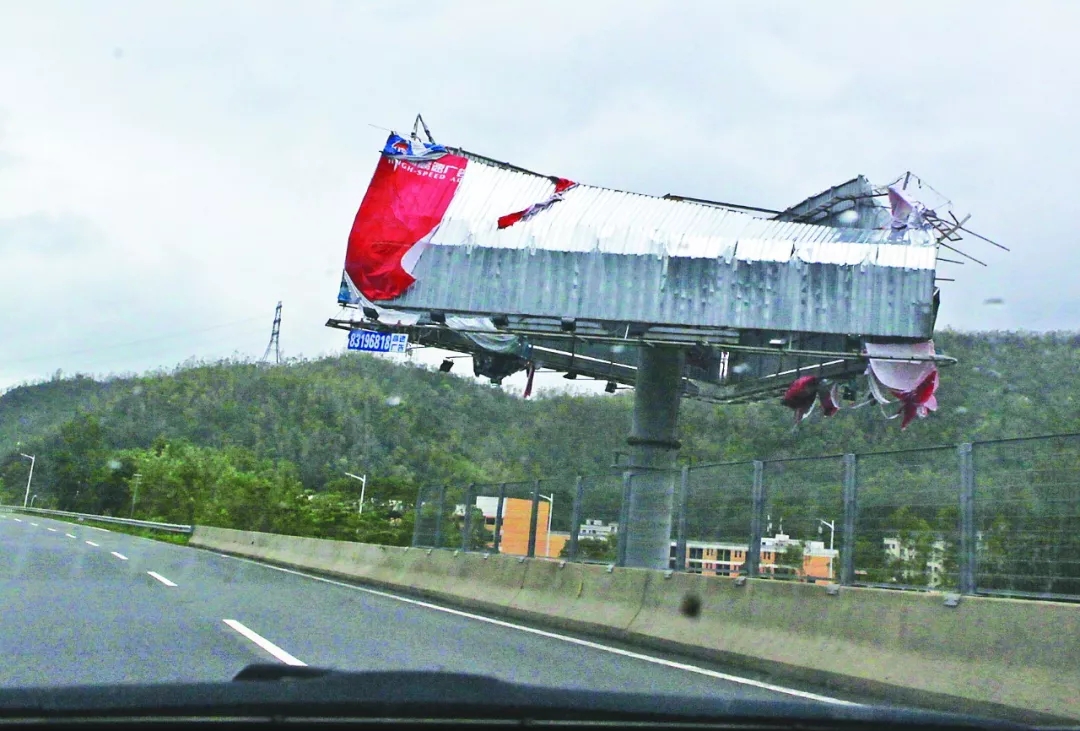 A collapsed billboard on the side of Yantian Road in Yantian District yesterday. Sun Yuchen
The storm, which lasted all day Sunday, caused damage to 104 public venues, 97 transport signs, 122 outdoor billboards, 68 lamp posts and 94 vehicles, the source said.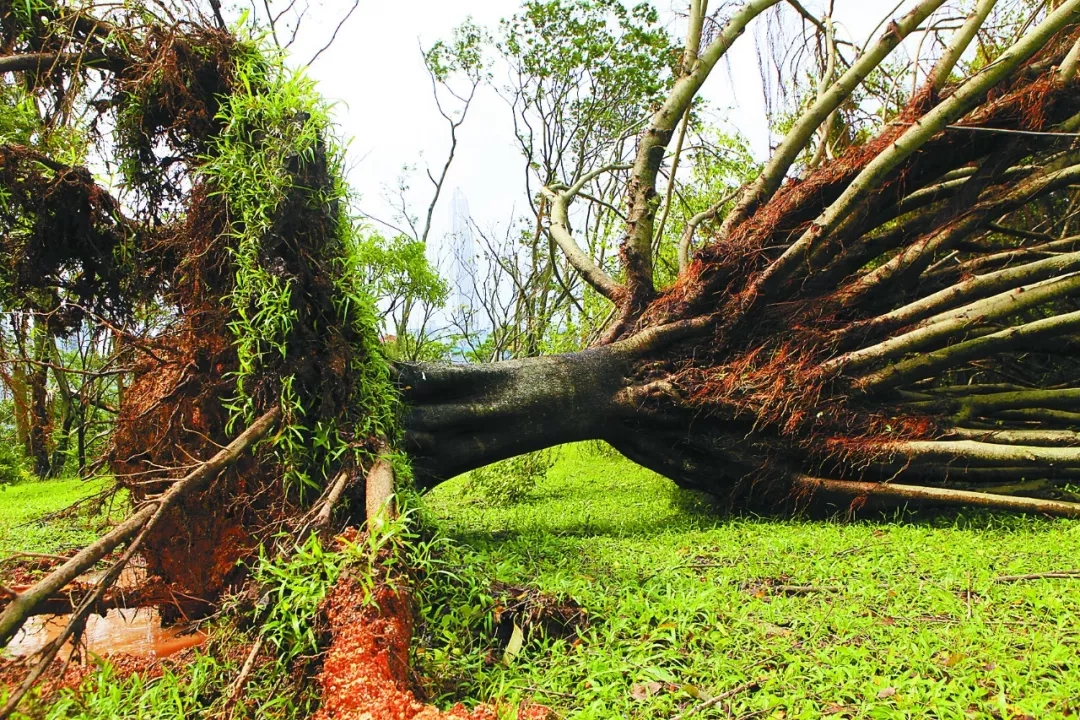 An uprooted tree in Lianhua Hill Park in Futian District. Sun Yuchen
Sources from Shenzhen Insurance Association showed that insurance companies had received a total of 9,547 car damage reports by 11 p.m. Sunday and the total damage was estimated at 83.99 million yuan (US$12.35 million).
Even though there were no fatalities, 11 communities in Dapeng New Area were flooded by back-flow water and more than 1,500 people were evacuated.
The heavy rain brought by the typhoon also flooded 80 locations with water between 0.2 and 0.5 meters deep, resulting in secondary disasters, including subsidence at seven road sections and wall collapses at five construction sites.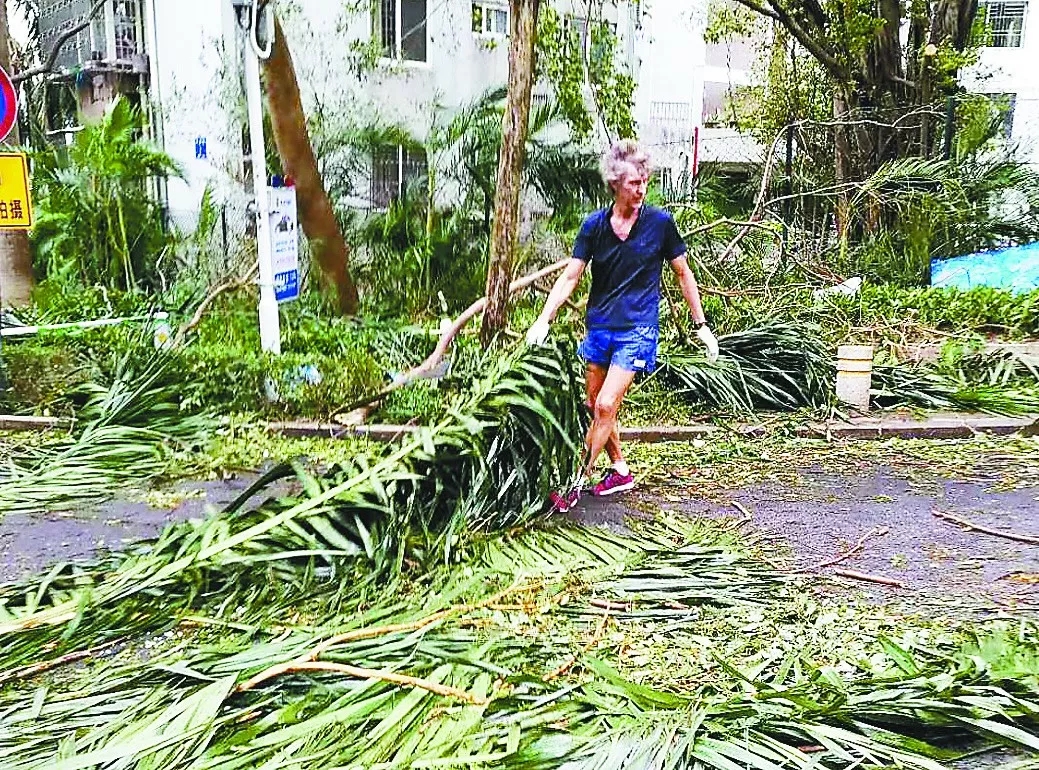 An expat helps clear the road of felled branches in OCT in Nanshan District yesterday. From social media
Some containers were blown around in the container yards of Yantian International Container Port, Dachan Bay Port and the port of China Merchants.
Four people have been confirmed dead in Guangdong since Super Typhoon Mangkhut ravaged the province. More than 500,000 people in the province were affected by the strongest typhoon to affect China this year. Three people were killed by falling trees in Guangzhou, while the other died from collapsing construction materials in Dongguan, according to Guangdong's disaster relief authorities.
At least 213 people were injured by the typhoon in Hong Kong as of 5 p.m. Sunday, according to the Hospital Authority.
According to the National Meteorological Center, Mangkhut had entered the Guangxi Zhuang Autonomous Region, and was moving northwestward at a speed of 20 km per hour as of yesterday morning.
In Guangxi, the lives of about 69,400 people were affected, and about 45,000 people were relocated, according to the regional civil affairs bureau.