Currently, Bao'an is the origin of the largest number of intangible cultural heritage practices in Shenzhen, including one national-level, nine provincial-level and 15 municipal-level items ranging from folk culture to traditional music, dances, sports, techniques, art forms and folk customs. Among them, papercutting is an important part.

With a pair of small scissors, a piece of thin paper dances between the fingers in Chinese papercutting. After some seemingly casual cuts, one beautiful papercut after another materializes.
He Hong is the third-generation inheritor of He Family Papercutting. Born into a papercutting family, she is a direct descendant of He Zhizhang, a renowned poet during the Tang Dynasty (618-907). He started learning papercutting techniques from her father at 5 years old. She has since also learned other techniques from other teachers.
He Hong is a third-generation inheritor of He Family Papercutting. File photos
During the decade of her teaching career as a primary and middle school teacher, He dedicated herself to the teaching and promotion of the art of papercutting. Over 150 art works by her students have won first prizes and special awards.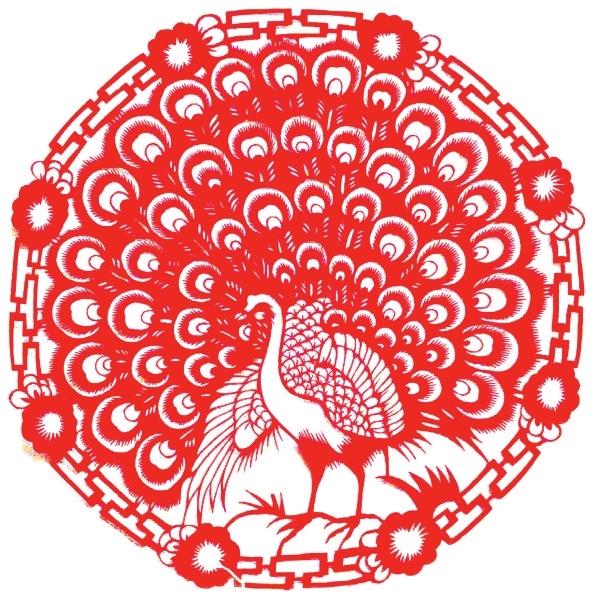 Paper-cutting works by He Hong.
Originating from Baotai Village of Qianshan Township, Anfu County, Jiangxi Province, He Family Papercutting is a folk art with a unique aesthetic. According to He, Anfu is an ancient county enjoying a long history of over 2,200 years. Since the Song (960-1279) and Yuan (1271-1368) dynasties, the art of papercutting has spread among the people there.
After the middle period of the Qing Dynasty (1644-1911), Baotai Village became well-known for its developed papercutting techniques. The He family of Baotai Village later moved to South China and blended the styles and techniques from both the north and the south.
Each generation of the He family have worked on the hollow-out papercutting technique, resulting in works that present an aesthetic beauty distinct from other styles.
Since settling down in Bao'an in 1991, He has been carrying out exhibitions, sales and the teaching of papercutting. As a folk artist, she has traveled to the United States, Turkey, Singapore and the United Arab Emirates to deliver lectures.