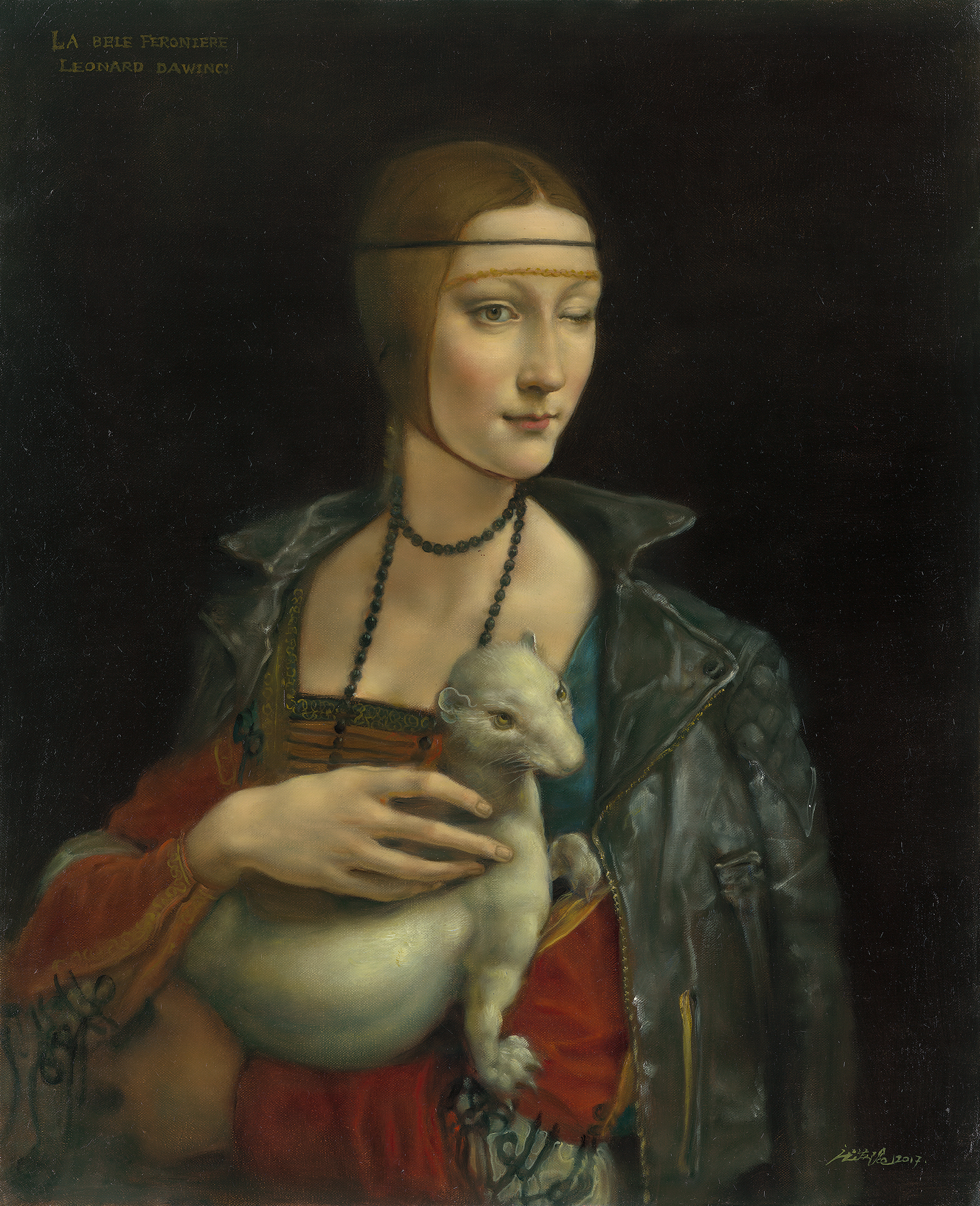 Oil painting "Lady With an Ermine." Courtesy of J Space
Viewers at a solo exhibition in Shekou by renowned Chinese contemporary oil painter Pang Maokun may be shocked and then amused at the first sight of his re-creation of the famous "Lady With an Ermine" by Leonardo da Vinci, in which Cecilia Gallerani wears a leather jacket and winks to spectators, and of Italian Baroque master Caravaggio's "Narcissus," in which the handsome youth wears a pair of VR goggles and leans with both hands over a pool of water as he gazes at himself and falls in love with his reflection.
But upon looking closer at Diego Velazquez's 1650 painting "Portrait of Innocent X," in which the painter painted himself sitting cross-legged right beside Pope Innocent X, and that of Jan van Eyck's "Arnolfini Portrait," in which the artist himself is a spectator in the background watching Giovanni di Nicolao Arnolfini and his wife in the 1434 painting, visitors may start to ruminate over the metaphors in the artist's artworks.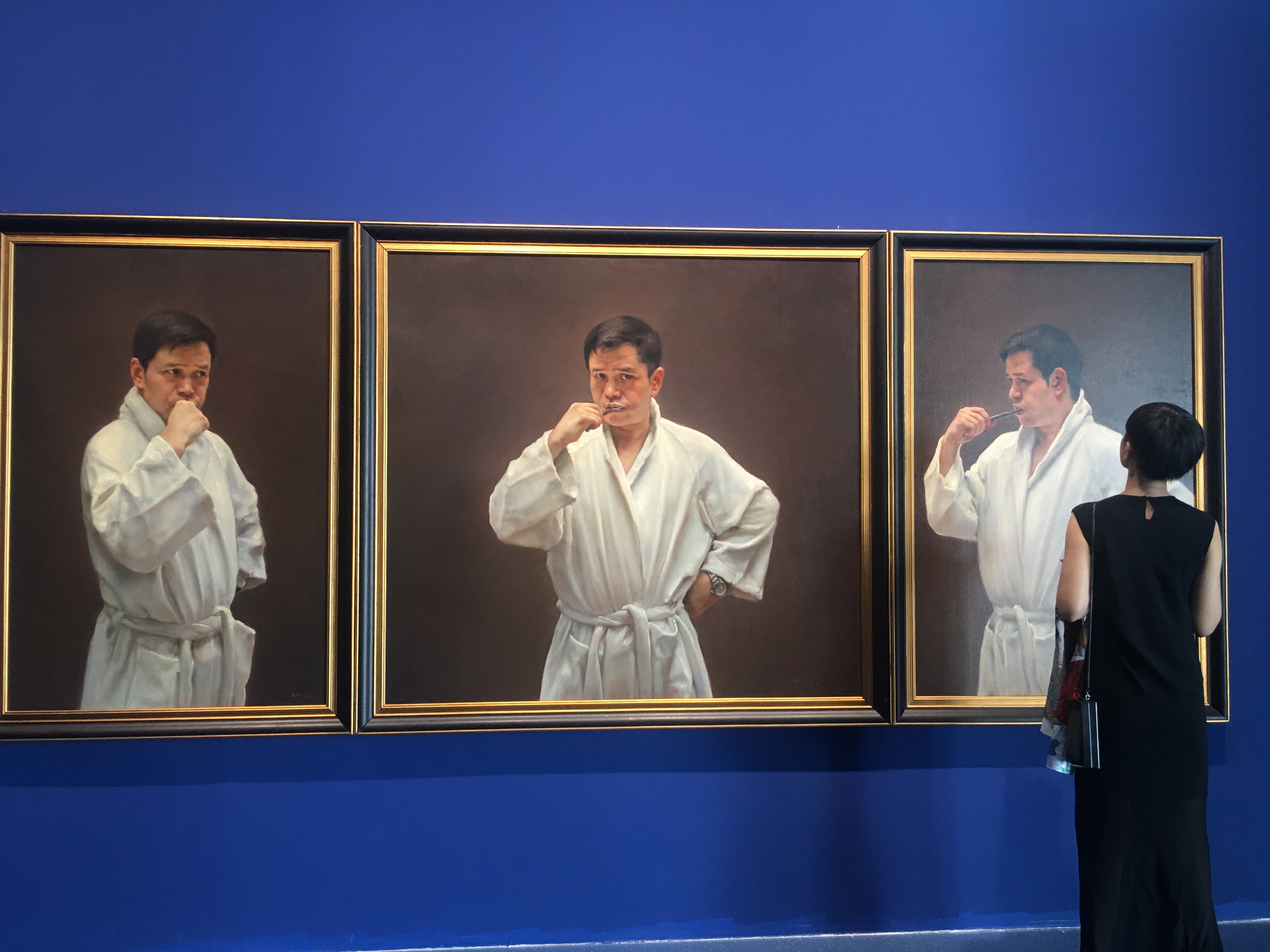 A visitor looks at a painting by Pang Maokun at the "Fugue and Replacement" exhibition at the Sea World Culture and Arts Center. Cathy Mo
"Fugue and Replacement," an on-going exhibition featuring more than 40 portraits of oil painting and drawing created in recent years by Sichuan Fine Arts Institute president Pang, made an impact on viewers with the painter's modifications of the perception of well-known scenes and his infiltration of them with a provocative and ironic effect. It creates "a familiar yet strange sense," as art critic Huang Du put it in an article entitled "Folded Portraits."
"This painting series was on display three times separately in Florence, Italy and in the Chinese cities of Beijing and Changsha. Entitled 'Folded Portraits' or 'Fugue and Replacement,' it's all about the same theme: to bring together the internal conjunction of history and present in order to create something new," Pang told reporters during an interview at the opening of his exhibition in Shekou, Nanshan District in late September.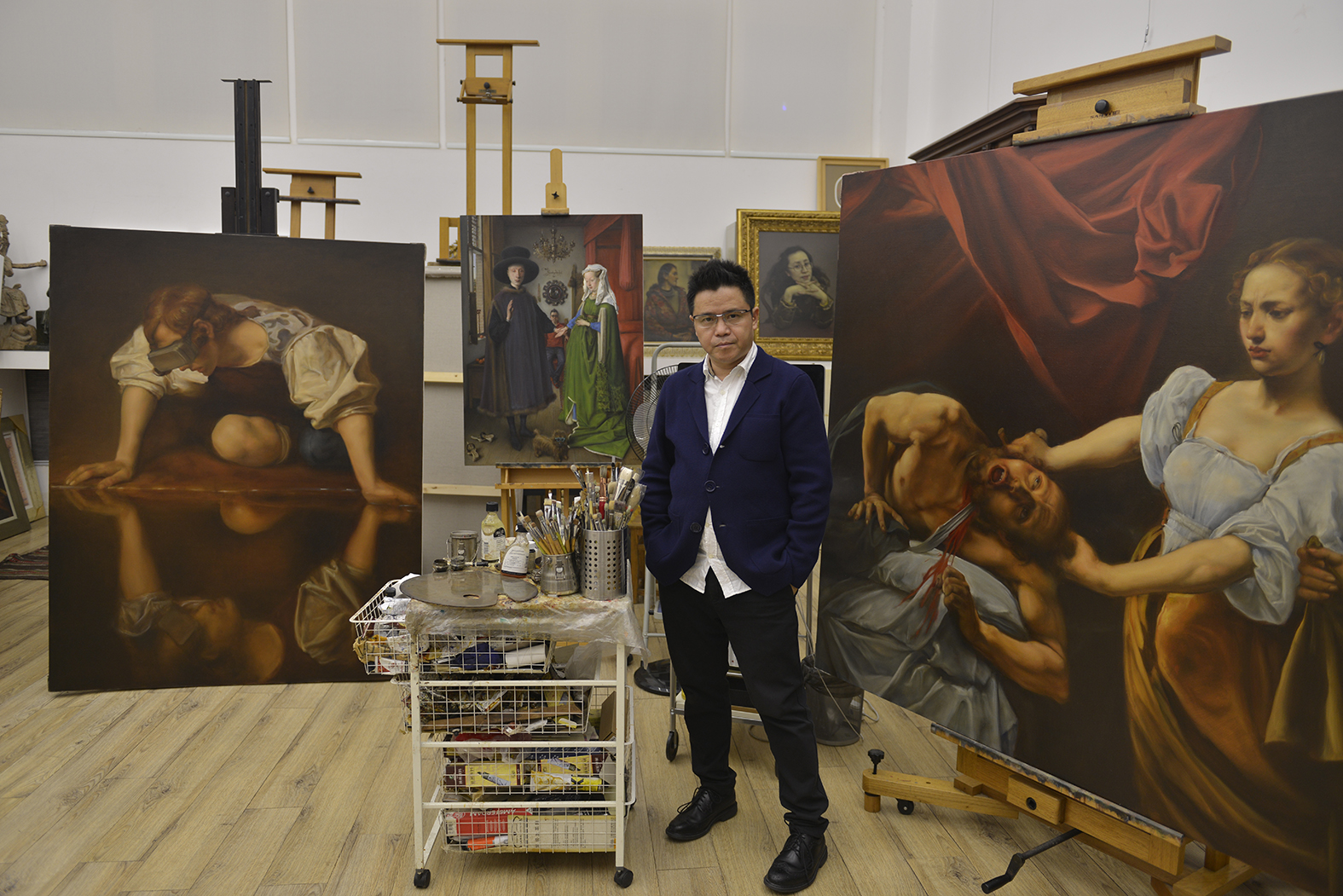 Oil painter Pang Maokun in his studio. Courtesy of J Space
"In my works I merge the classical and the contemporary, the past and the present, the West and the East, the characters in the classics and myself. And I'm trying to make dialogues with them," Pang said.
"'Fugue' is a term in music. A fugue is introduced at the beginning in imitation and recurs frequently in the course of the composition," explained Pang.
Pang said the idea to create his own works based on great classics first crossed his mind while he was doing imitations at galleries in Europe. "Imitation can be used as a means of creation when you add something new to it. This is a way to create conceptual art works," Pang said.
Armed with his expertise in classical Western oil paintings, Pang has re-elaborated the idea of the Mona Lisa with the mustache by the French artist in a personal way, supported by an impeccable technique.
"This series has a feature of Conceptual Art, but without its inherent criticism, that is the potential for reconstructing the classical paintings. The strategy of reconstructing the classical paintings opens up a door for Pang Maokun to a broader world," said Wang Duanting, another Chinese art critic.
Wang gives the term "Psychological Realism" to outline the inherent characteristics of Pang's art, because his artworks "always present the subjective reality. He builds up a performance stage to show the psychological plays, in which stories and scenes change with the era and the society but his own inner world is always the leading role."
Pang was born in Chongqing Municipality in 1963 and received a master's degree in oil painting from Sichuan Fine Arts Institute in 1988. From the age of 16, his works had been shown in major exhibitions, including the 1984 "Sixth National Art Exhibition" in Beijing, in which he won a prize for his work entitled "The Apples Are Ripe."
Pang did a great deal of figurative works with a touch of the classical way until the mid 1990s when he started exploring his "Vague" series and "Virtual" series to reflect modern society. In 2015 he exhibited his concept of "Mirror" images.
"I experimented with the 'Mirror' series, during which I found that we can try conceptual art on a basis of realism," he said. "My 'Mirror' works are trying to reproduce the complexity of how modern people observe the world by incorporating the self-portraiture and symmetric self-portraiture to imply the many perspectives in 'mirrored' viewing."
When asked by Shenzhen Daily where Chinese fine arts education should go facing the world's contemporary art trend, the institute president said Chinese art development is different from the outside world as the country just opened up 40 years ago and the classical, modern and contemporary are co-existing quite well in present China. With more art forms and concepts coming into China, its art scene is becoming more international, thereby providing artists with choices. He believes realistic training is still a foundation for art students no matter whether they will eventually go abstract, do installations or go into multimedia. He also believes hand-drawing and hand-painting will last forever "because it is a different experience."
The "Fugue and Replacement" exhibition in Shekou is co-organized by the Sea World Culture and Arts Center, Circle Art Center, and J Space.
Dates: Through Oct. 15
Venue: Circle Art Center (3/F) and Horizon Hall (4/F), Sea World Culture and Arts Center, 1187 Wanghai Road, Shekou, Nanshan District (南山区蛇口望海路1187号海上世界文化艺术中心三楼圆艺术中心和四楼视界厅)
Metro: Line 2 to Sea World Station (海上世界站), Exit A