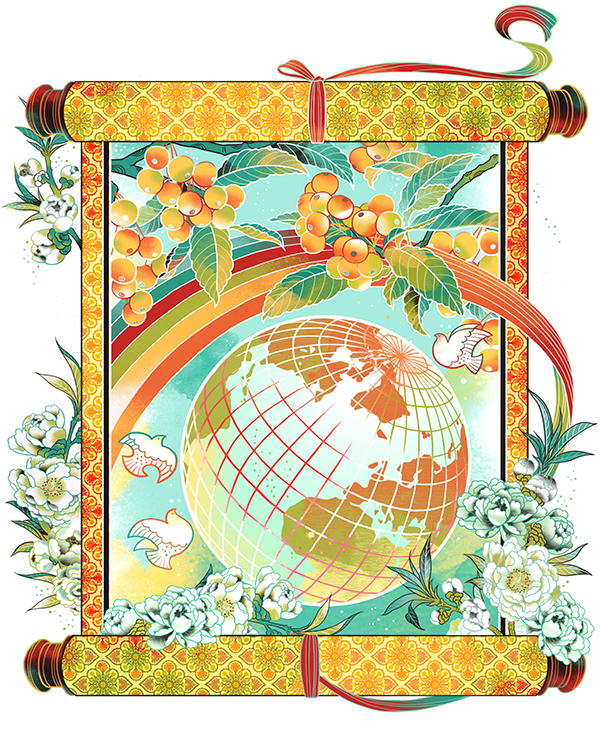 Editor's note: Luminaries from home and abroad in a wide range of fields are exchanging views on how to build a community with a shared future for mankind at the fifth annual conference of the Taihu World Cultural Forum being held in Beijing, Wednesday to Friday. The following are excerpts of the views of three participants:
Progress through cooperation
The world is experiencing complicated and profound changes and the futures of all countries are connected more than ever before. But the world is also faced with a choice of whether to keep the old international order or to transition to a new type of international relations.
To build a community with a shared future for mankind is China's proposal for a better world that inherits the ancient Chinese value of living in harmony with others. It proposes that all countries seek common ground and respect differences in institutions, development paths and national situations. To find a peaceful development path that leads to peace, countries need to respect each other, control disputes, and build partnerships that replace confrontation with equal dialogue.
A world with common security is a goal of building a community with a shared future. Some security views highlight confrontations, assuming a community based on military alliances against an imaginary enemy. With global challenges increasing, such thoughts will spread and may lead the world back to the Cold War, which, as a zero-sum game, will harm the world's development.
Instead of military alliances that encourage confrontation through exclusion, countries should cooperate and spare no efforts for a security mechanism based on mutual respect and equality in talks that can protect all. The Shanghai Cooperation Organization has become a constructive innovation for today's world security as it has established a security mechanism of nonalignment, no confrontation and no targeting of third parties.
Capital has propelled globalization since 19th century but only a few countries have had a leading place in the process, while many other countries have not made much progress in their economic level.
In the past four decades, China has achieved remarkable development without harming the interests of other countries, which has brought new possibilities for economic globalization.
In a community with a shared future, the global economic system will be improved so that globalization is more open, inclusive, balanced to benefit more countries and their peoples. At a time when the world is having doubts about globalization and countries are becoming more isolationist, China has taken a firm stance in upholding opening up and win-win cooperation.
Throughout history, different cultures have preserved their vigor by developing their cultural characteristics by means of communication and exchanges with others. A proper view of cultural communication makes countries respect and learn from each other instead of creating disputes due to mistrust and suspicion. Among different cultures, disrespect, belittling and exclusive groupings are impeding the development of all cultures.
Political culture is an important part of civilization, and countries should try to understand and learn from each other to coexist in peace.
Living on the Earth, our only home, human beings must adopt green development which is essential for a sustainable global community with a shared future. China has been proactively engaging in global environmental management since 2012 when it reflected on the environment price of its development path.
Only tangible joint efforts by countries and generations can make a difference. For a shared ecological future, countries should not only cooperate to deal with climate change but also enhance their ecological management and establish sustainable development mechanisms to carry forward the United Nations 2030 Agenda for Sustainable Development. Countries breaking promises of environment cooperation are beyond irresponsible.
Su Changhe is a professor and executive dean of School of International Relations and Public Affairs, Fudan University.

Promote equitable development
The gap between the North and South has been expanded rather than being reduced. The difference in per capita income between the richest country and the poorest country has enlarged from 30 times in 1960 to the current 70 times.
The conflict between the realization of an external economic equilibrium and that of internal economic equilibrium is a great constraint on the macroeconomic policies of developing countries.
Moreover, with continuous innovation of financial instruments, rapid expansion of financial assets and the trend of privatization of international capital, a large volume of international floating capital has had an enormous impact on the economic safety and financial stability of developing countries.
The huge amount of floating international capital may soon cause bubble economies and disorderly fluctuations in currency exchange rates. It may also weaken the monetary sovereignty of countries and bring about a dysfunction of monetary policies.
In order to prevent and dissolve the risks brought about by economic globalization to developing countries, and to calm the political fallout in the form of populist movements, a number of urgent measures with the aim of equitable developments for all should be adopted.
Mehri Madarshahi is a senior economist and vice-chair of the Asia Pacific Exchange and Cooperation Foundation.

Creative startups driving growth of digital economy
The rise of the digital economy and the growth of a technologically sophisticated creative workforce in countries such as the United Kingdom and Australia have allowed entrepreneurial artists and other creative workers to establish small businesses to develop new products and new modes for cultural expression and dissemination. It is these innovative startups that can provide the dynamism to fuel the growth of the creative industries, contributing to rising levels of output in the cultural goods and services sector, and stimulating employment and exports. This has already begun to happen in China, and there is every prospect that the Chinese economy will witness these sorts of developments to a greater extent over time.
It is appropriate to say that when culture meets technology, interesting things happen that are not just confined to the cultural sector. The sorts of adventures in the digital environment that creative artists undertake are providing essential content for the many new modes of cultural consumption that are expanding every day. And in the production economy, creative ideas generated by artists diffuse outward from the core arts industries to stimulate production and job creation in other industries in the cultural sector, and beyond in the economy at large. There is considerable scope for governments to implement well-planned cultural policies to facilitate this growth.
David Throsby is a researcher at Macquarie University, Sydney.