Note: The following is an edited translation of a commentary from the Chinese-language "Commentaries on International Affairs."
U.S. President Donald Trump sits down with journalist Lesley Stahl during the 60 Minutes interview in Los Angeles on October 14, 2018. [File photo: CBS/BACKGRID]
On Sunday night, United States President Donald Trump claimed in a CBS "60 Minutes" interview with correspondent Lesley Stahl that China "don't have enough ammunition to retaliate" in a trade war with the United States. (As an aside, on this occasion, he said it wasn't a "war", but a "skirmish". When Stahl reminded the president that he called it a "war" earlier that day, he said "actually I called it a battle. But, actually, I'm gonna lower that. I consider it a skirmish.")
Talking about the "ammunition" China has for its trade war (or skirmish, or battle) with the United States, President Trump said "We do 100 billion dollars with them. They do 531 billion dollars with us." (The United States actually exports 200 billion U.S. dollars of goods and services to China, but what's a hundred billion here or there.) Obviously, this numbers game was designed to highlight what President Trump sees as China's lack of countermeasures to American pressure. But the trade conflict can't be reduced to measuring the gap between these two numbers.
First and foremost, it must be stressed that China isn't looking to throw itself into conflict with the United States. But although it doesn't want this fight, it can't simply ignore it. This is why it is adopting a combination of quantitative and qualitative countermeasures using the tools it has available. Its responses are guided by the principle of rational restraint, which shouldn't be misinterpreted as meaning that it is running low on "ammunition".
China's economy has been running at a healthy 6.7 to 6.9 percent growth for 12 consecutive quarters, and in 2017 its total economic output reached 12.7 trillion U.S. dollars. Its exports reached 2.26 trillion U.S. dollars, of which around one-fifth went to the United States. The size of its economy, and the value of its exports, gives it a substantial throw weight when it comes to responding to attacks on its trade environment.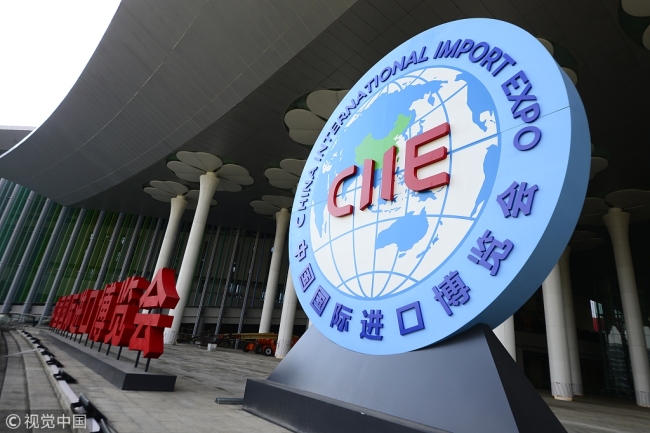 The first China International Import Expo will be held at the National Exhibition and Convention Center in Shanghai in November. [File photo: VCG]
At the same time, we've seen China's growth continue to shift from its heavy reliance on exports and capital investment towards domestic consumption fuelled increasingly by the growth in the services sector. But although China is weaning itself off its old model of export-led growth, it isn't standing still when it comes to pushing forward new reforms that make it a more attractive global trading partner. The government has shortened the list of sectors closed to foreign investment (the foreign investment negative list), substantially relaxed market access restrictions, strengthened intellectual property protections, and actively sought to expand its imports.
These reforms are already showing promise, with German automaker BMW recently announing that it would take a majority stake in its China joint venture and investing a further three billion Euros into its factories here. ExxonMobil has discussed plans to invest 10 billion U.S. dollars into China. Shanghai will be the home of Tesla's first "megafactory" outside the United States. And from November, China will reduce tariffs on 1,585 different imports, and the average tariff level will be reduced from 9.8 to 7.5 percent. These examples help to illustrate why a report released on October 15 by the United Nations Conference on Trade and Development showed that in the first half of this year, China had foreign direct investment inflows totalling 70 billion U.S. dollars, becoming the world's largest recipient of foreign direct investment.
Meanwhile, how are they holding up on the other side of the trenches? It would seem not well, judging from the 13 percent year-on-year increase in America's trade deficit, which reached an all-time high of 34.1 billion U.S. dollars in September. Ford Motor Company, an iconic American brand, said recently that the Trump administration's tariffs have slashed one billion dollars off its profits, and the company is preparing to make signficant cuts to its workforce. And the latest World Economic Outlook report released by the International Monetary Fund said global economic growth would soften from 3.9 percent in April this year to 3.7 percent next year, mainly because of uncertainty resulting from trade conflicts.
Shortly after winning the presidency in November 2016, Trump sat down for an interview with Lesley Stahl, in which he said "we're gonna do a great job for the country." As he faced her again nearly two years on, all signs point to President Trump's trade policies doing America more harm than good. China knows that it would benefit from the opportunity to work with the United States on resolving some of the concerns both sides have about their trading relationship. But it won't be held hostage by American demands. China doesn't want this fight, but it has the ammuition it needs if a fight can't be avoided.