Some 200 people watched as artist Cai Guoqiang ignited a 25-level staircase leading to a bookshelf packed with albums of his own artwork Oct. 15 afternoon at Artron Art Center in Nanshan District.
"While Artron has made huge efforts in preserving the human cultural legacy in the form of tens of thousands of art books, I'm here to remind people that incidents did happen in a contrary direction in history, where books were burnt and cultures destroyed," Cai said at the event.
The staircase with the burnt bookshelf was later moved next to the company's impressive 50-meter-wide, 30-meter-tall "wall of books" after undergoing preservation treatment.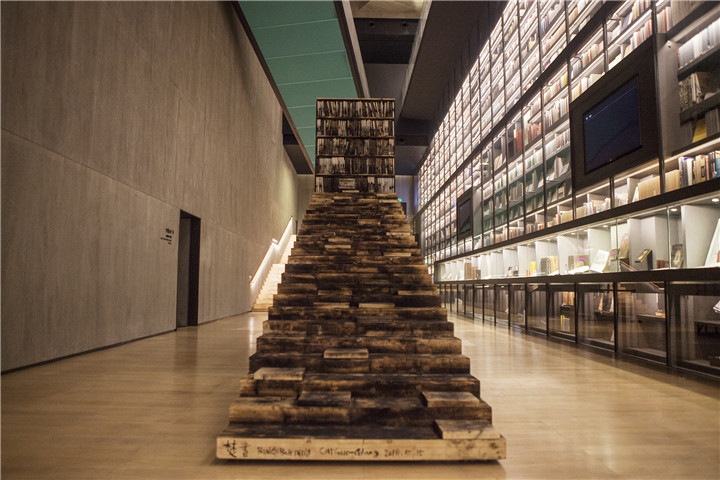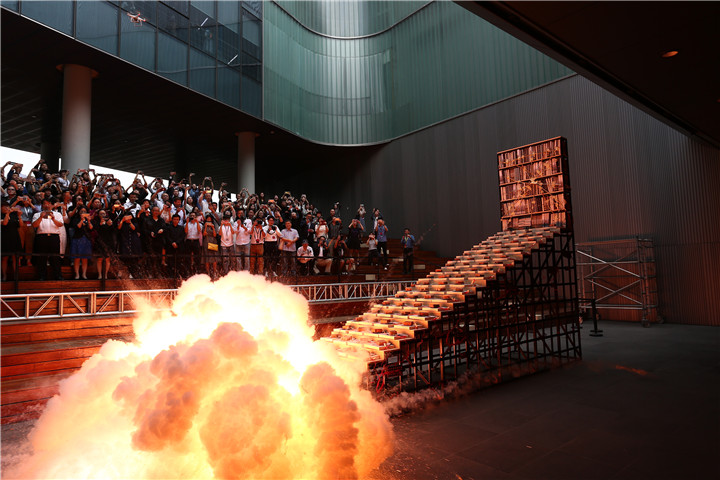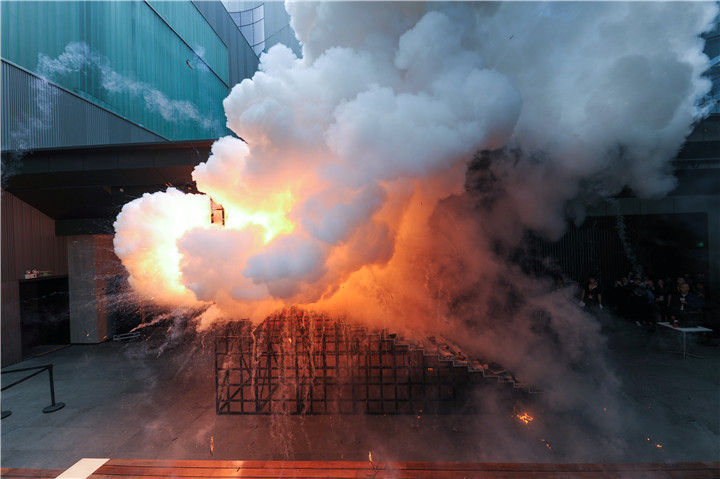 Artist Cai Guoqiang's live art project sets a staircase leading to a bookshelf on fire at Artron Art Center in Nanshan District on Oct. 15. Photos by courtesy of Artron

The event was held to mark the 25th anniversary of Artron Art Group, a printing firm-turned-cultural corporation focused on art printing, online collection, auction platform and artwork database.
"The live art project is also to celebrate the 40th anniversary of China's reform and opening," said Wan Jie, chairman of Artron.
"It's remarkable that we have ancient China's four great inventions channeled into this project — we have paper, printing, and explosives involved in it, and late Chinese president Deng Xiaoping served as a compass for the country's road ahead 40 years ago."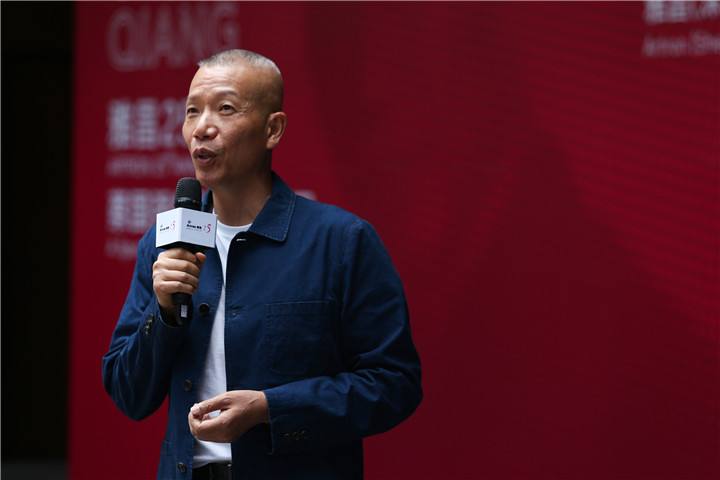 Cai Guoqiang
Cai, a native of Quanzhou, Fujian Province, initially began working with gunpowder drawings and ephemeral sculptures to foster spontaneity and confront the artistic traditions and social norms in China. While living in Japan from 1986 to 1995, he explored the properties of gunpowder in his drawings, an inquiry that eventually led to his experimentation with explosives on a massive scale and the development of his signature explosion events.
Burnt with the staircase and shelf were more than 300 copies of albums recording five of Cai's exhibitions: retrospective "I Want to Believe" at Guggenheim Museum in New York City, "Cai Guo-Qiang: Peasant Da Vincis" at Rockbund Art Museum in Shanghai and Brazil, "Spring" at Zhejiang Art Museum, and "The Ninth Wave" at the Power Station of Art in Shanghai.
On the fifth floor of Artron Art Center is also an exhibition of the company's contemporary art collections. The show, lasting until Nov. 2, features 44 painting and sculpture pieces from 41 artists including Jin Shangyi, Liu Xiaodong, Zhou Chunya, Fang Lijun and Zhan Wang.