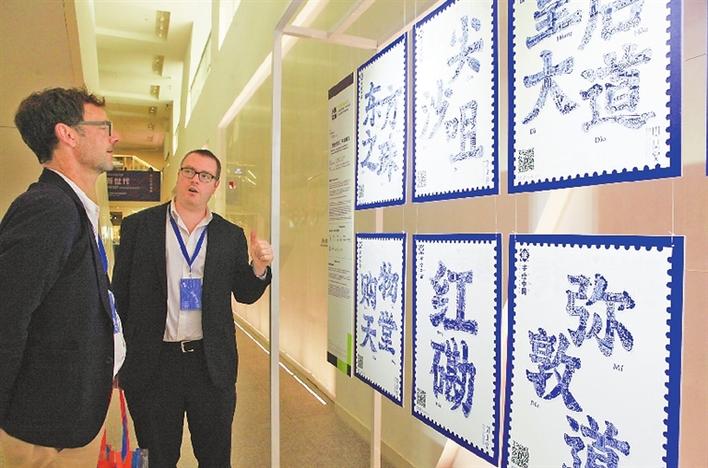 Expat visitors talk while appreciating an exhibit at Sea World Culture and Art Center on Friday when the 2018 Hong Kong-Shenzhen Design Twin-Cities kicked off. Sun Yuchen
Themed "Inheriting the Future," the 2018 Hong Kong-Shenzhen Design Twin-Cities was unveiled at Sea World Culture and Arts Center on Friday, kicking off a design festival lasting over two months with different events held at different cultural locations including the Sea World Culture and Arts Center, OCT Harbor, OCT Loft, Shenzhen University and Shenzhen Polytechnic University.
"The official opening of the Hong Kong-Zhuhai-Macao Bridge on Oct. 24 has greatly shortened the distance between the two shores of the Pearl River, and the official operation of the Hong Kong section on the Guangzhou-Shenzhen-Hong Kong Express Rail Link at the end of last month has also cut the travel time between Shenzhen and Hong Kong down to 15 minutes.
These projects have facilitated the integration of the twin cities and the development of the Greater Bay Area," said Han Wangxi, head of the Shenzhen City of Design Promotion Association (SDPA).
Chan Pak-li, under-secretary for Commerce and Economic Development Bureau of the Hong Kong Special Administrative Region, said that the design fair this year has continued with the original format established in the last session.
A total of 50 designers from Shenzhen and Hong Kong will create over 300 new products and will sell them in Hong Kong, Shenzhen and Macao as well as via online platforms. A series of public events will also be held to engage the public. Some five to ten side-events are also being held in Hong Kong at the same time, according to Chan.
The design fair this year has also welcomed the participation of designers from Macao, further strengthening exchange and communication between Guangdong, Hong Kong and Macao.
The design fair is presented to the public through over 100 events including exhibitions, pop-up shops, workshops, forums, business meetings, creative park visiting and personalized products from the fields of interior design, industrial products, graphic design, fashion design and animation design.
According to the theme of "Camping together," the "DESIGN Co-CAMP" held in OCT Loft on Friday night gathered ten designers from Shenzhen and ten from Hong Kong to implement 20 creative "camps." With one camp designated to each designer, the designers can set free their ideas and create a unique design.