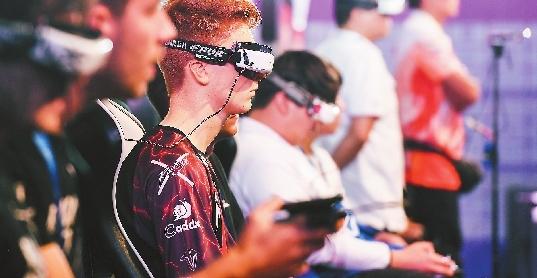 Rudi Browning (C) in action in the final of the first FAI World Drone Racing championship in Shenzhen on Sunday. Xinhua
Rudi Browning from Australia beat 127 other racers over four days of competition to win the first FAI World Drone Racing championship title in Shenzhen on Sunday.
The 15-year-old pilot stunned three other drone pilots in a fast-paced final. Bastian Hackl from Austria won the silver medal and Karlie Gross from Latvia took the bronze.
"I dreamed of this, and it is incredible that it has come true. I couldn't be happier," Browning said.
Wanraya Wannapong, an 11-year-old girl from Thailand, won the Women's FAI World Drone Racing Championship.
"I loved this track a lot," she said.
Oscar Nilsson from Sweden won the Juniors title. In the teams competition, Australia won the gold medal, with Sweden taking silver and South Korea settling for bronze.
Switzerland's Timothy Trowbridge clocked an average speed of 114.24 kilometers per hour over two separate runs on the 100-meter track, setting a new FAI world record.
As the inaugural edition of the FAI World Drone Racing Championships, the event was held in China's tech-hub and "Capital of drones" Shenzhen, attracting more than 10,000 spectators.
The race track, built in the shape of a "Chinese knot," is 650 meters long and features three levels. The track has been decorated with 7,000 meters of LEDs, creating a unique visual experience for both pilots and the audience.