Whether you are a design expert or simply curious about contraptions, you might be awed by "Craft: The Reset," a new major exhibition at the Sea World Culture and Arts Center in Shekou.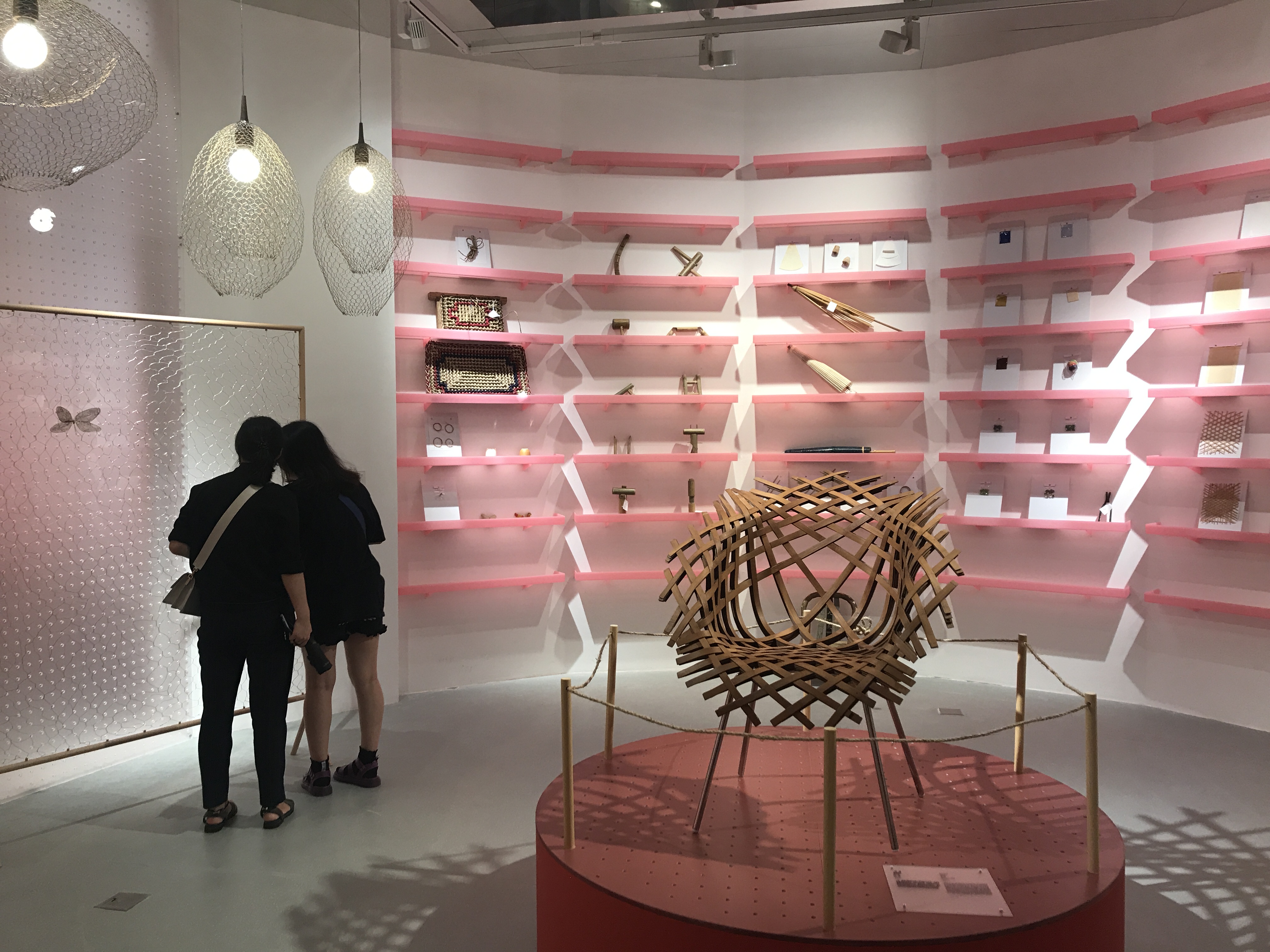 Visitors at the exhibition. Photos by Cao Zhen
Organized by Design Society, the large-scale exhibition, featuring over 100 local and international design practices, is about the reawakening of craftsmanship in contemporary design and explores the widening possibilities of skilled craft as an important creative impulse for China's future innovation.

Many designers at the exhibition agree that by understanding and deconstructing craftsmanship, they can explore the logic behind it. And with the help of modern design, they can reconstruct crafts, create something superb and finally break the boundaries of their crafts.
"Thanks to the most pioneering minds in the design field, the exhibition is not a nostalgia, but a presentation of the future-oriented and design-based ways of living. That's why we call it 'Craft: The Reset.' Craft is being re-energized by attracting the strongest talents for its act of rebirthing," said Ole Bouman, director of Design Society.
The exhibition is presented in four sections: "Craft Revival," "Craft Innovation," "Craft Methodologies" and "Crafting a Better World," showcasing the beauty of traditional craft, the smart integration of old craft with new digital technologies and raising the awareness of sustainability and environmental protection.
Items on display are mainly household products in a mix of classic Chinese styles and novel minimalist design. Traditional Chinese craft techniques such as tie-dyeing, bamboo-weaving and mortise are adopted and revived. The Light of Bamboo designed by Jamy Yang and Xu Qian is a floor lamp inspired by Chinese oil-paper umbrellas. With a lampshade made from Yunnan Tengchong xuan paper and three bamboo sticks for legs, the lamp is very elegant.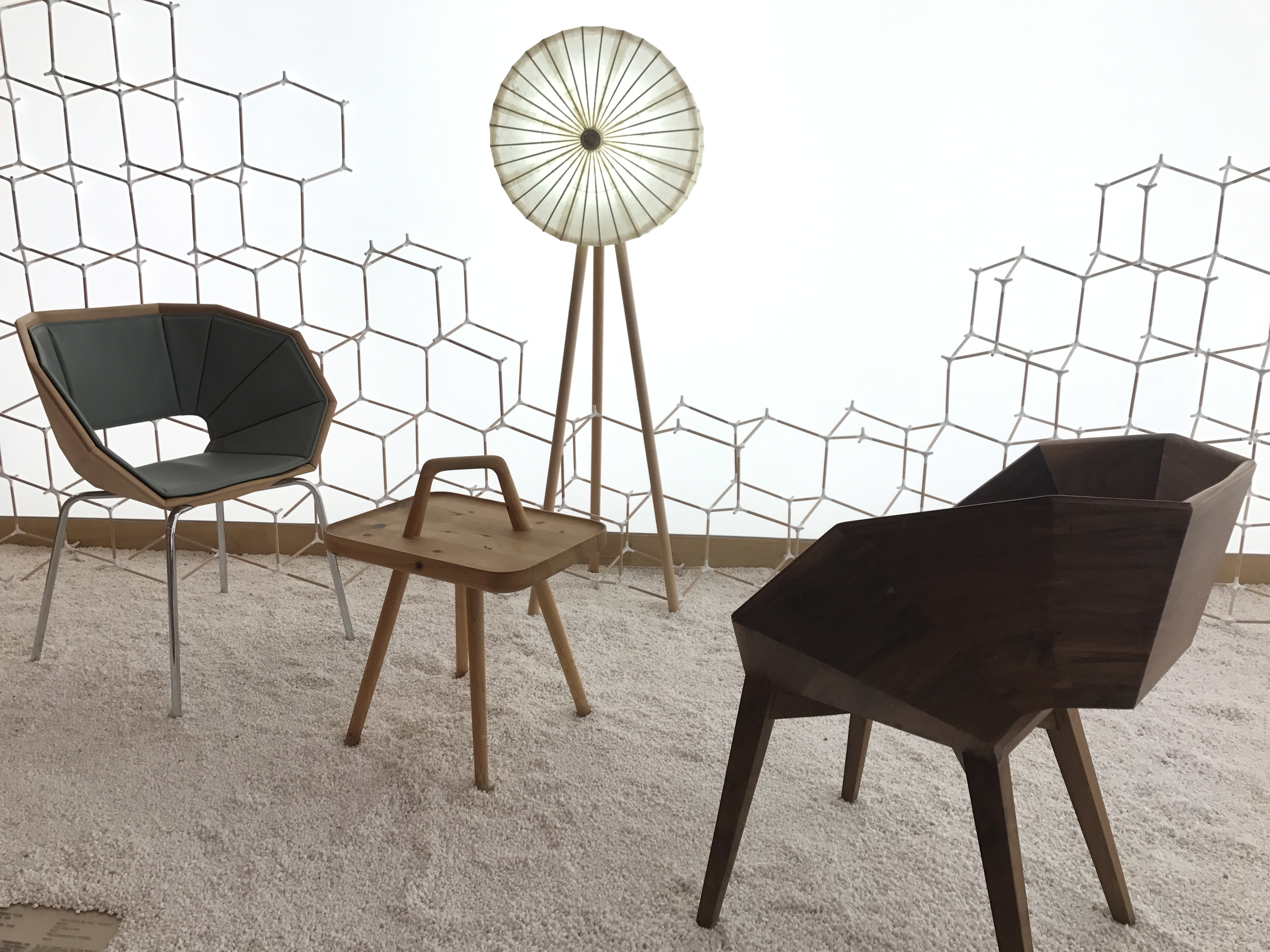 The Light of Bamboo and two armchairs using mortise and tenon joints by Jamy Yang and Xu Qian.
Meanwhile, Shao Fan's walnut wood chairs combine Ming Dynasty-style furniture-making techniques with a modern design approach. And Wu Yongping's ceramics are inspired by traditional Longquan porcelain crafts.

The exhibition also showcases designers' research on materials, especially traditional materials, such as bamboo and silk.
Nicole Goymann's Léi Zǔ Shoe Collection contains exquisite ivory-colored silk shoes. Lei Zu is a legendary Chinese empress who invented the silk reel. Goymann, who is exploring China's textile crafts heritage, made the shoes with reeled raw silk released from cocoons through boiling water. When the silk meets the air, it hardens.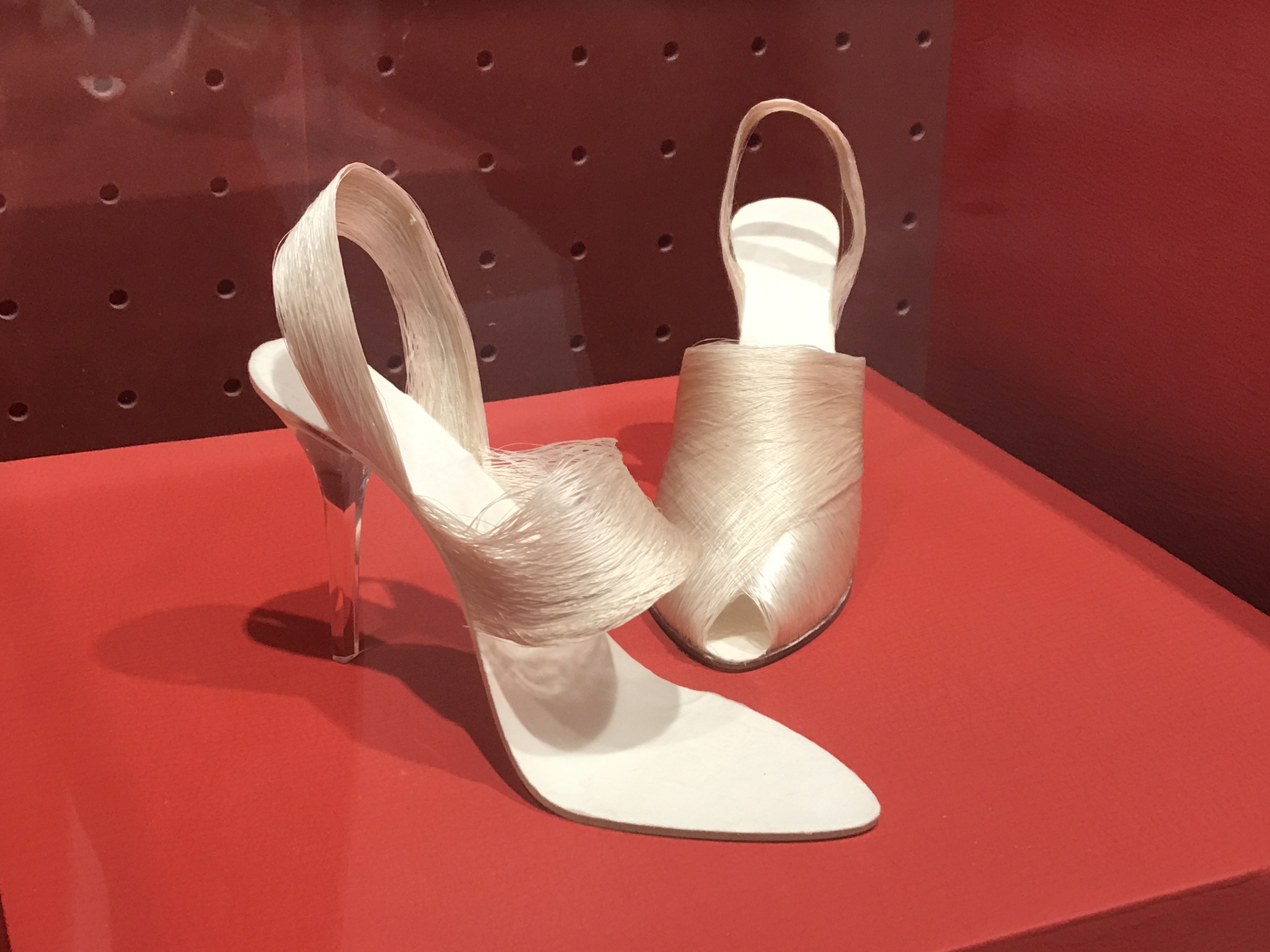 Shoes made from silk by Nicole Goymann.
The Air Chair created by PINWU Design Studio from Hangzhou is an unconventional interpretation of traditional Chinese bamboo weaving. The chair explores the limits of bamboo's strength, resulting in a significantly lightweight chair with solid durability.
Red Dot and iF winner Xin Yaoyao has an interest in ceramic fragility, and her ceramic plate is made up of extremely thin tiles and spray-painted in a subtle range of colors. The delicate tiles are then fired at a high temperature and carefully assembled to form a patterned plate.
Embracing new technology not only lets machines take over prevision-required handicraft but also generates creative design, which plays a critical role in the development of craft and design. Some items on display look like ordinary traditional Chinese crafts at the first sight, such as Michael Young's cloisonne ceramic Orzone Vase and Fu Xiutao's Time Travel gold hair accessories, but they were actually 3-D printed. The intricate and abstract pattern on Andy Yuk's rose wood pipa is also digitally generated.
The final part of the exhibition focuses on sustainability since the designers believe that craftsmanship is often considered a way of creating in harmony with people and nature. Through craft, people are inspired to seek more holistic and sustainable ways of creation.
Hong Kong-based designer duo Julie & Jesse, for example, used discarded plaster molds from Jingdezhen to create a slew of porcelain tea cups in unique shapes. "This porcelain collection is called 'Erosion' because the wasted plaster eroded but reshaped into various forms," said U.S. artist Jesse Mc Lin who established Julie & Jesse art and design studio with Swiss designer Julie Progin. "We work with the flaws, but the pieces we created can never be false," said Progin.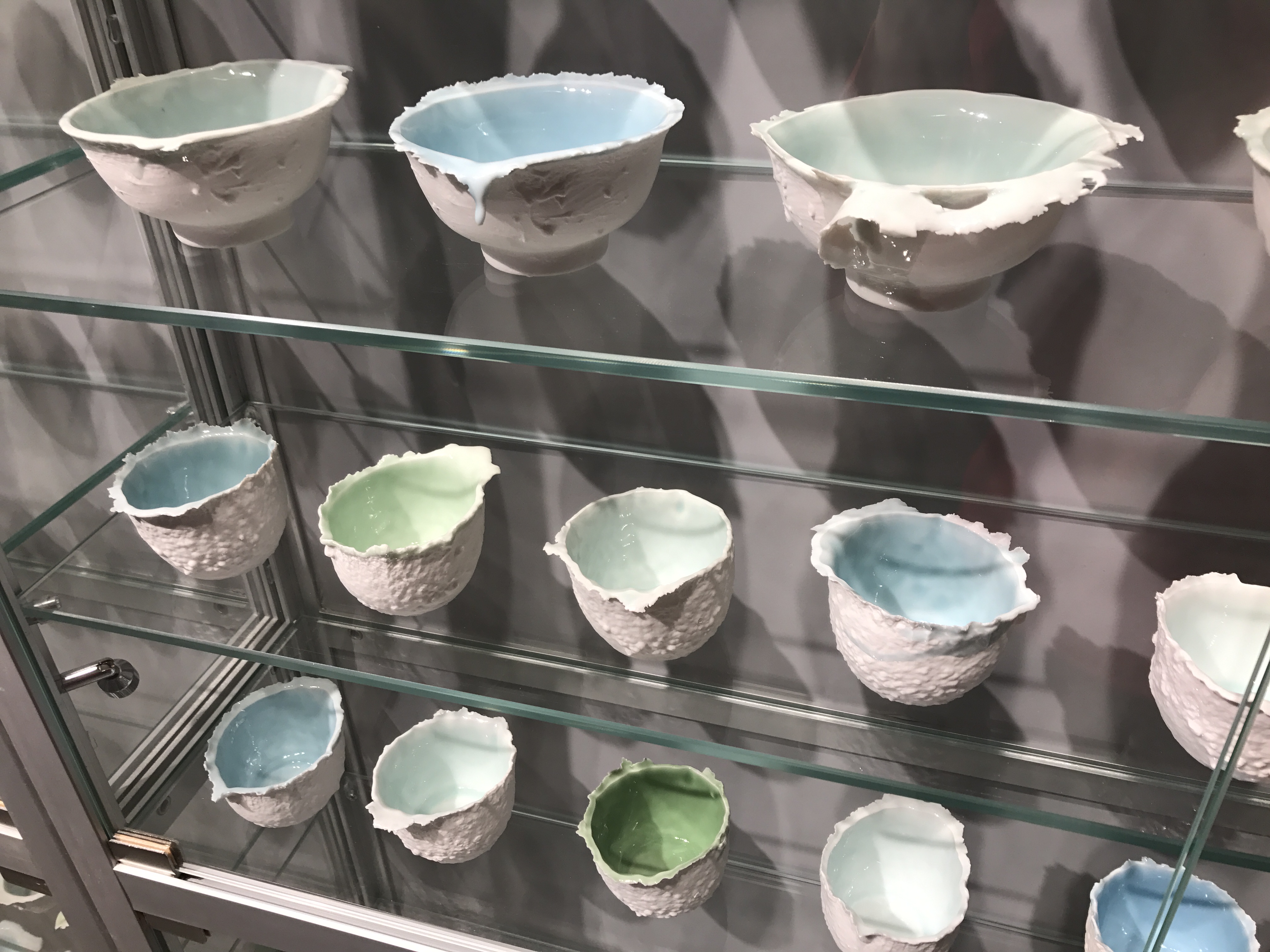 Erosion by Julie & Jesse.
The "Craft: The Reset" ticket is 50 yuan and visitors can buy a 80-yuan package ticket to visit the exhibition together with the "Values of Design" exhibition inside the center.