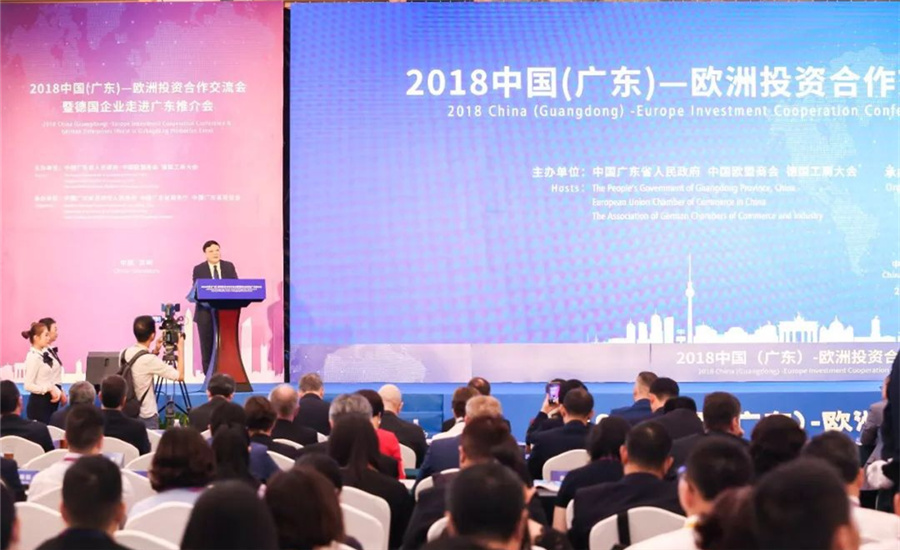 Shenzhen Party chief Wang Weizhong delivers a speech at the 2018 China (Guangdong)-Europe Investment Cooperation Conference (CEICC) & German Enterprises Invest in Guangdong Promotion Event.
Email of the writer: 654789759@qq.com
More than 900 high-level representatives from Europe and China gathered in Shenzhen yesterday to discuss potential areas of investment cooperation in Guangdong at the 2018 China (Guangdong)-Europe Investment Cooperation Conference (CEICC) & German Enterprises Invest in Guangdong Promotion Event.
The two-day event was hosted by the Guangdong Provincial Government, European Union Chamber of Commerce in China (European Chamber) and the Association of German Chambers of Commerce and Industry (DIHK).
Entrusted by Guangdong Party chief Li Xi and Governor Ma Xingrui, Shenzhen Party chief Wang Weizhong extended a warm welcome to the attendees at Wuzhou Guest House.
Wang said that Guangdong is the bellwether and test field of China's reform and opening up. It has grown from an agricultural province into the largest Chinese province in terms of GDP for 29 consecutive years.
According to Wang, Shenzhen is the first-established special economic zone in China as well as the most influential and best-developed one.
It will take the lead in the new era to build a demonstration area of socialism with Chinese characteristics and an exemplary city in a great modern socialist country.
Shenzhen will stick to reform and opening up, and grasp the major opportunities brought about by the Belt and Road Initiative and development of the Guangdong-Hong Kong-Macao Greater Bay Area.
It will implement the strictest intellectual property protection laws and regulations, build up a world-class business environment based on market principles and the rule of law, speed up the construction of important platforms for opening up, including Qianhai and Shekou Area of China (Guangdong) Pilot Free Trade Zone and Shenzhen-Hong Kong Scientific and Technological Innovation Special Cooperation Zone, and build a new open economic mechanism to create a global city.
Wang said Guangdong, and Shenzhen in particular, has strengthened its economic cooperation with Europe in recent years and will continue to strengthen it. It will implement the decisions and deployment of the CPC Central Committee and stick to an open and win-win path.
(From Page 1)
He hopes more European enterprises will get to know and fall in love with Guangdong and Shenzhen and settle down and invest here.
Huang Wu, vice chairman of Guangdong's top political advisory body, said that the province will intensify its efforts to accelerate the construction of the Greater Bay Area, to push forward the establishment of a modern industrial system, the building of an international scientific and technological innovation center, the creation of an international first-class business environment and the building of major cooperation platforms. All of these will definitely offer a significant development opportunity for investors from Europe and around the world.
"Since the end of the 1970s, South China has taken up the role of being a vanguard of reform and opening up, an important policy introduced by Deng Xiaoping to reform the Chinese economy. It has contributed much to the economic miracle in China during the past 40 years and has continued to serve as a cornerstone for China's future economic development," said Massimo Bagnasco, vice president of the European Chamber.
"Moreover, what makes Guangdong so unique is not just its past success but its deeply rooted spirit of mass entrepreneurship and innovation. Being dubbed the next 'Silicon Valley,' the Innovation Corridor between Shenzhen and Guangzhou is highly dynamic and the source of state-of-the-art technology and robust manufacturing," said Bagnasco, adding that South China is equipped with the synergies needed to create the world's next great competitive city cluster.
"You zhi zhe, shi jing cheng, or in English: Where there's a will there is a way. Whenever I visit China, I can feel the sheer force of will across the country to affect sustainable and long-term change, to improve the life of its citizens and to fuel the powerhouse that is the Chinese economy," said Eric Schweitzer, president of DIHK.
Schweitzer is delighted to celebrate the latest accomplishment of the Chinese force of will: The Greater Bay Area. "The Greater Bay Area, which includes the Pearl River Delta, Hong Kong and Macao, and is home to over 70 million people, will offer endless opportunities for growth and cooperation."
Schweitzer said DIHK will dedicate itself to pushing forward the practical cooperation between the two sides to facilitate win-win cooperation.
Today, the representatives will visit Shenzhen Bay Eco-Technology Park, Nanshan Intellectual Property Protection Center, Mindray Biomedical Electronics Co. Ltd. and DJI-Innovations Technology Co. Ltd.