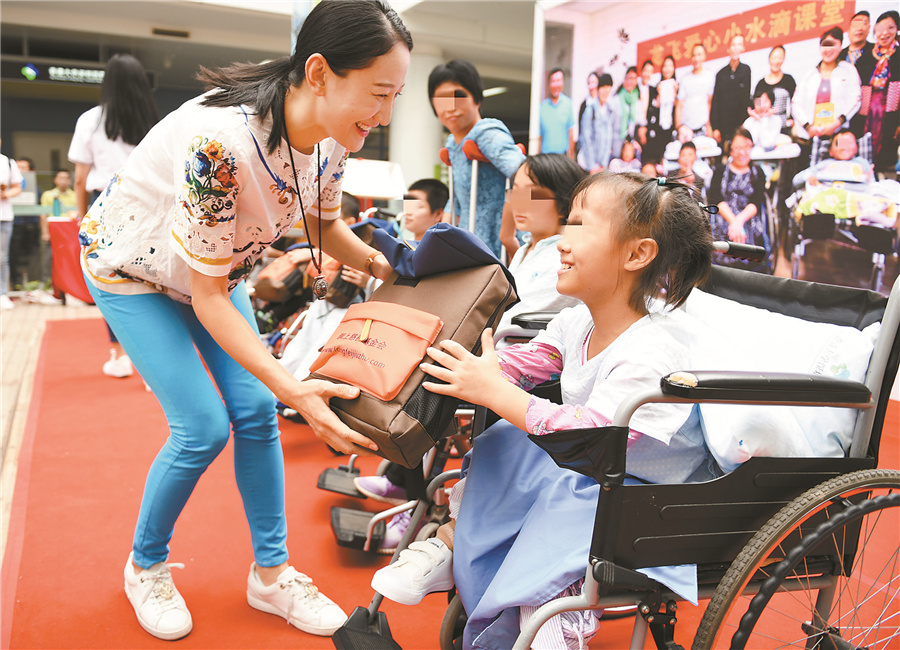 Zeng Yongyi, an actress and the ambassador of Chongshang Charity Foundation, sends gifts to sick children at the University of Hong Kong-Shenzhen Hospital on Tuesday. Zhang Yiling
Email of the writer: zhangyiling_10@163.com
An unveiling ceremony was held for the Chongshang-Droplet Charity Education Program at the University of Hong Kong-Shenzhen Hospital on Tuesday.
The program was co-organized by the University of Hong Kong-Shenzhen Hospital, Chongshang Charity Foundation (formerly Longfei Children's Aid Society) and College of International Exchange of Shenzhen University.
The program not only includes academic classes but also interest-oriented classes taught by charity institutions and foreign student volunteers. It also organizes various activities during public holidays. Guiding sick children to broaden their horizons, express their inner feelings, cultivate an interest in learning and better adjust to society, is the mission of the program.
"My favorite is nature class, where I can learn a lot about nature. I attend every class. These classes bring me happiness," said Zheng Ziyi, one of the students in the program. Zheng and his sister both suffer from porcelain doll disease.
Zheng's mother expressed her gratitude to the Longfei charity foundation and Professor Du Qijun who helped them apply to Chow Tai Fook Charity Foundation, which helps them cover some of their medical expenses.
At present, the Droplet Charity Education Program has opened two routine classes at the hospital, mainly serving children suffering from porcelain doll disease and blood diseases like leukemia and neuroblastoma. Since 2016, more than 120 sessions have been given, benefiting more than 700 attendees.