Email of the writer: 654789759@qq.com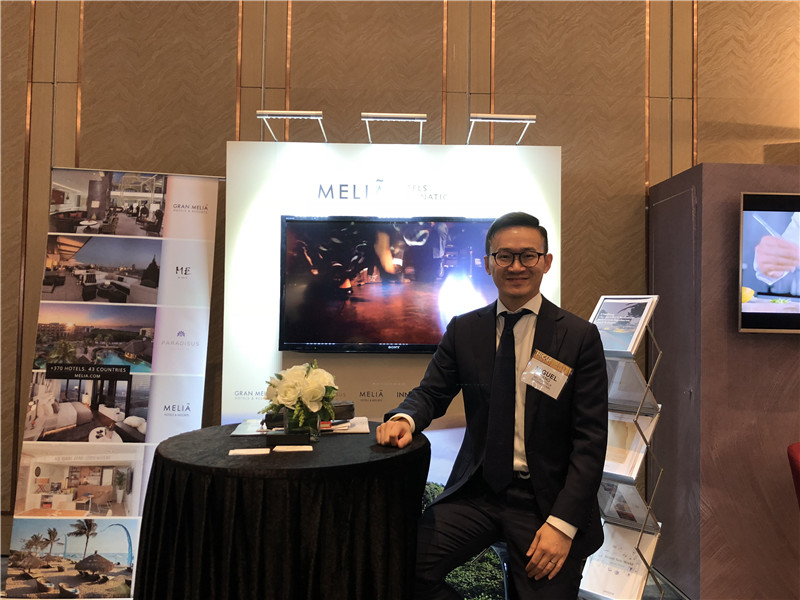 Miguel Wang receives the interview with Shenzhen Daily. Chen Xiaochun
Miguel Wang, head of development for China, Korea and Japan, for Meliá Hotels International, had an exclusive interview with the Shenzhen Daily during the Hotel Investment Conference Asia Pacific (HICAP) at Kerry Hotel Hong Kong on Oct. 19, sharing about the hotel group's goals in South China and its growth as a resort operator to date.
"We are actively looking for opportunities in South China and speaking to potential partners and developers in Shenzhen. In South China, we certainly want to get into Shenzhen and Guangzhou because they are the key markets. Key markets allow us to increase our awareness and attract more customers," said Wang.
The hotel group considers Guangdong Province their top priority and Guangxi their second priority in developing the South China market. "Having a hotel in each key city like Shenzhen, Guangzhou, Haikou, or Sanya will be our first step. We want our most well-known brands under the Meliá Hotels International group to be placed in those destinations first."
According to Wang, Meliá is well-known as a resort operator that owns and manages a lot of beachfront resorts in the Mediterranean region, Caribbean, South African region, and Southeast Asia. It is one of the largest leisure destination resort operators in the world.
"Spain is one of the major destinations for Europeans for leisure. We started our business in Palma de Mallorca, and it remains the location of our head office. Our origin and genes are firmly in resort operations. South China has the most beautiful coastlines, like in Hainan, Guangdong and Guangxi. So we are actively looking for opportunities along the coasts," said Wang.
Looking back over its 60-plus years of history, the hotel group has also added more urban destinations that include business components, resulting in a "bleisure" approach to travel, or "business plus leisure."
Wang explained that the Chinese market is a bit different from the Southeast Asian market. "Southeast Asia is mainly for leisure destinations and less about business. In China, if you are looking into Beijing, Shanghai, Guangzhou and Shenzhen, you will find that they are very much business destinations. Within these business cities, we have to implement very bleisure-focused model; also we also call them 'urban resort destinations,'" said Wang.
One good existing example of the bleisure model is the Meliá Shanghai Hongqiao in Shanghai. The hotel lies on the edge of CBD, near the surrounding suburban areas, which provides an ideal setting for bleisure travel. People usually stay in the hotel as a weekend getaway.
Meliá Hotels International differentiates its hotels from others through its unique Spanish touch. "Our hotels have special Spanish features. Our premier brand, Gran Meliá, delivers Spanish-touch service culture to all our guests. When you first step into the Gran Meliá hotel, you will see a very typical Spanish gesture: putting your hand on your heart to show that you are welcomed. All the decoration, food and beverages also demonstrate the very essence of Spanish culture," said Wang.
In addition to its signature Spanish touch, Meliá Hotels International also weaves local host cultures into its designs. "Our Gran Meliá Xi'an is a very successful example of combining Spanish culture and Spanish service with Xi'an local culture. Gran Meliá Xi'an has been open for almost four years and is making a tremendously successful business case in the Xi'an market. If you go to Xi'an and talk to people about Gran Meliá, most will know about it," said Wang proudly.
"Currently in China we have opened four hotels, and seven are in pipeline, meaning they will open in the following three years. The existing hotels are in Xi'an, Jinan, Shanghai and Zhengzhou. We will also open another hotel in Shanghai, which is very close to Disneyland. And we are going to open another one under Gran Meliá, in Zhengzhou, and another one in Chongqing under the Meliá brand," explained Wang.
Founded in 1956 in Palma de Mallorca, Spain, Meliá Hotels International is one of the largest hotel companies worldwide, as well as the absolute leader within the Spanish market with its more than 380 hotels in the current portfolio and pipeline throughout over 40 countries on four continents operated under the brands of Gran Meliá Hotels & Resorts, Paradisus by Meliá, ME by Meliá, Meliá Hotels & Resorts, INNSIDE by Meliá, Sol by Meliá and TRYP by Wyndham.