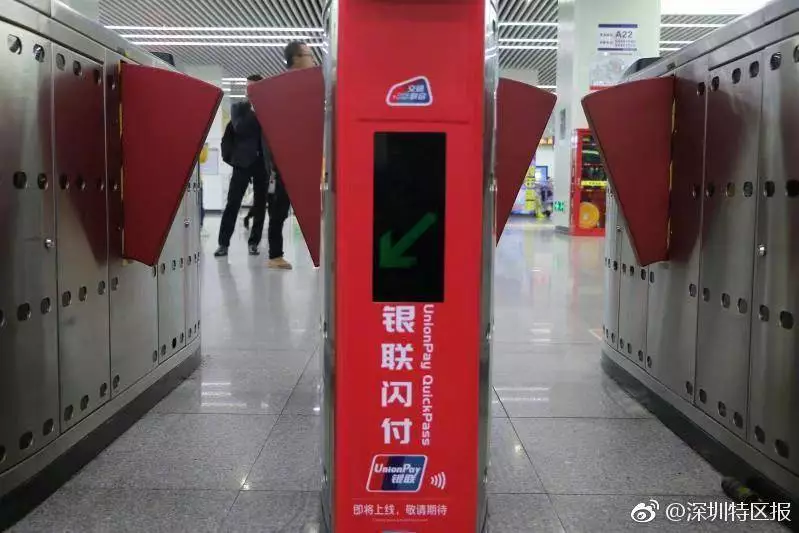 A turnstile at the Futian Metro Station has had a scanner installed for Union Pay card payment.
Holders of Union Pay bankcards with a Quick Pass chip or national transport cards will be able to use the cards to pay for Metro rides at the turnstiles in Shenzhen Metro stations.
The introduction of the use of the two types of cards will add two more options to the present variety of payment methods.
Metro riders will be able to pay for their rides with mobile phones which are tied to Union Pay bankcards at turnstiles even if there is no Internet connection at the stations.
"The card users will need to turn on the small amount pin-free payment function before taking Metro trains and ensure there is at least 14 yuan (US$2) in their account," according to a release from Shenzhen Metro Co. After they scan their cards at the turnstile, the card-issuing bank will freeze 14 yuan, the maximum fare for a single-trip ride, and deduct the fare when the card holders exit their destination stations.
The national transport card, or China T-Union, can be used for the Metro service in different cities. Passengers with China T-Union cards issued in other cities will be able to use the Shenzhen Metro service once Shenzhen Metro has upgraded its system.
At the initial stage, Shenzhen Metro will ensure there are at least four turnstiles (two entrances and two exits) at each station for the use of Union Pay bankcards and China T-Union cards. Some stations with heavy passenger flows like Chegongmiao, Laojie and Shenzhen Bay Park will have at least 10 such turnstiles (four for entry and six for exit). Before October 2019, all stations will support payment by the two types of cards.
Riders who pay with the two cards won't be able to gain access to the business carriages on Line 11 and Longhua trams. The use of the two cards can't be mixed with other payment methods.
There are five methods to pay for Metro rides: token tickets, Shenzhentong cards, day tickets, time tickets and QR codes.