In the foyer of the main exhibition hall of Sea World Culture and Arts Center, elegant white leaf-shaped pieces of porcelain float in a giant transparent container. The "leaves" are separated from the outside world and can't "breathe," resembling people when they are perplexed or confused.
Liu Jianhua's "A Unified Core" at Sea World Culture and Arts Center in Shenzhen. Cao Zhen
The installation, titled "A Unified Core," was created by sculptor Liu Jianhua for the ongoing "Craft: The Reset" exhibition at the center organized by Design Society. According to Liu, he makes every sculpture or installation based on the exhibiting space or the environment, creating not only a piece of work, but also a scene, an atmosphere and a mood.
"As a sculptor, I have a sense of space, so when I'm doing contemporary art creation, I connect sculptures and installations with the space to convey emotions. I hope visitors will enter the 'scene' I create, calm down and feel the mood I give them," said Liu during a lecture at the center Dec. 30.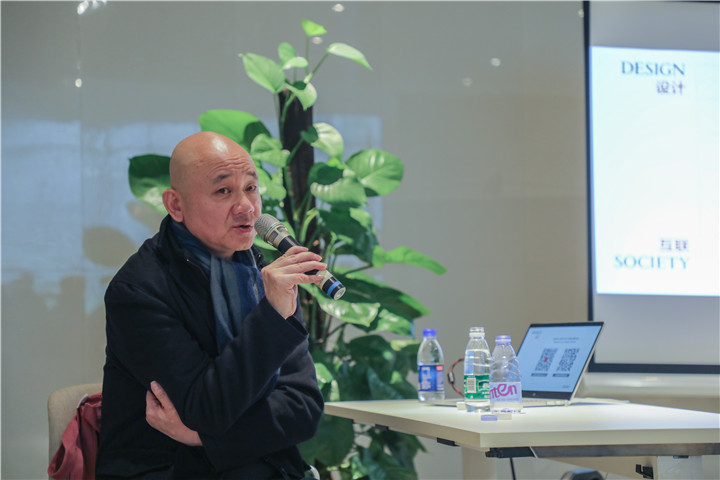 Liu Jianhua gives a talk in Shenzhen on Dec. 30. Courtesy of Design Society
Born in Ji'an in Jiangxi Province, Liu began to learn about producing ceramics at a factory in the "Porcelain Capital" of Jingdezhen at age 14. Eight years later, unwilling to be a craftsman while dreaming to be Auguste Rodin or Phidias, Liu furthered his studies in sculpture in the Fine Arts Department of the Jingdezhen Pottery & Porcelain College. After graduating in 1989, he taught at the College of Fine Arts at the Yunnan Institute of the Arts in Kunming. Now, Liu teaches in the Sculpture Department of Shanghai University's Fine Arts College. His works have been collected by Victoria and Albert Museum in London and the Museum of Modern Art in New York City and were exhibited at the 2017 Venice Biennale.
"My experiences at universities and my artist friends have influenced me a lot, so I began to do contemporary art with porcelain to convey my thoughts, not just to create ordinary crafts for decorations," said Liu.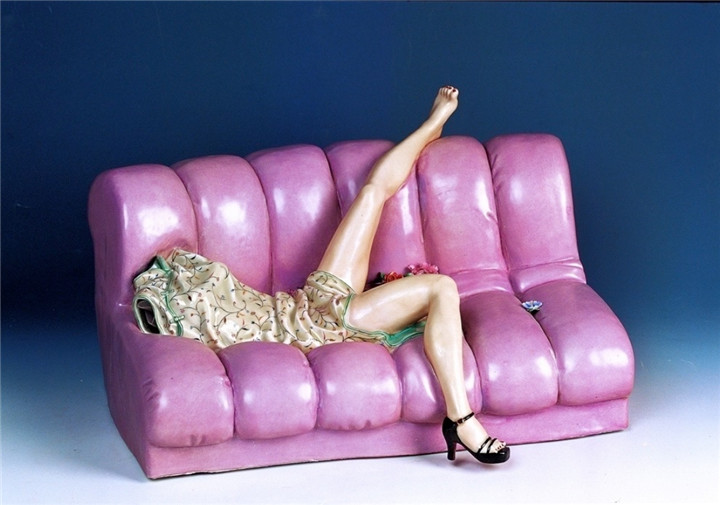 Liu Jianhua's "The Painted Sculpture Series — Memory of Infatuation" (1996-1998). Courtesy of Liu Jianhua
His color porcelains "The Painted Sculpture Series — Merriment" (1999-2001) and white porcelain series "Boxing Time" (2002) are flawless works, with the former a response to Chinese culture within the context of globalization and the latter reflecting his thoughts on cultural confrontation. His later works, such as "The Transformation of Memories" (2003), "Regular/Fragile" (2001-2003) and "Dream" (2004-2005), however, are ceramic fragments or porcelains with cracks, using the material's fragile nature to convey a helpless and vulnerable mood.
Liu developed his "no meaning, no content" concept in 2008, referring to the present lack of human spirit, and ignorance of social history and culture, around the world. At the same time, he intended to explore the original power of art from the visual and material perspective.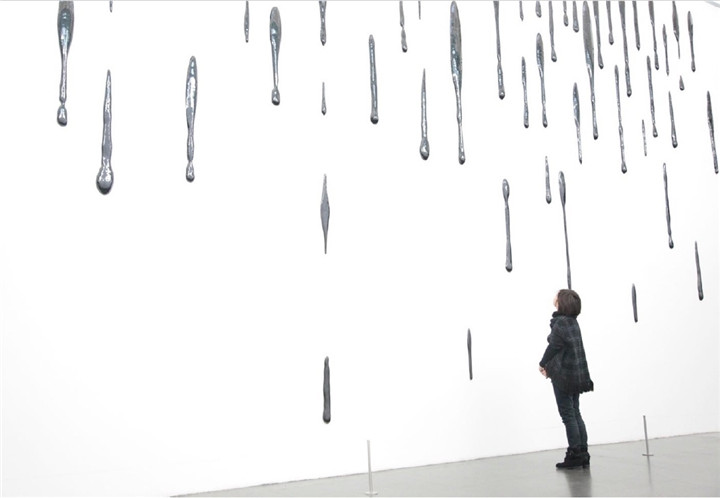 Liu Jianhua's "Trace" exhibited at the Ullens Center for Contemporary Art in Beijing in 2011. Courtesy of Liu Jianhua
His "Trace" (2011) is inspired by calligraphy strokes. By making strokes with a black ceramic and placing the drops on walls inside large exhibition rooms, Liu transforms the traditional perception and aesthetic experience of calligraphy, magnifying and giving body to the fluid strokes.
Liu's installation "A Unified Core" is being exhibited at the "Craft: The Reset" exhibition at Sea World Culture and Arts Center in Shekou. The exhibition ends Feb. 19.