At the first OCT Art salon of 2018, Chinese science fiction writer and researcher Wu Yan told Shenzhen readers that "If sci-fi writer Liu Cixin is discovering outer space, Han Song is digging to the innermost of the world." At the last OCT Art salon of 2018, sci-fi writer Han shared his life as a Xinhua News Agency journalist and his thoughts on writing.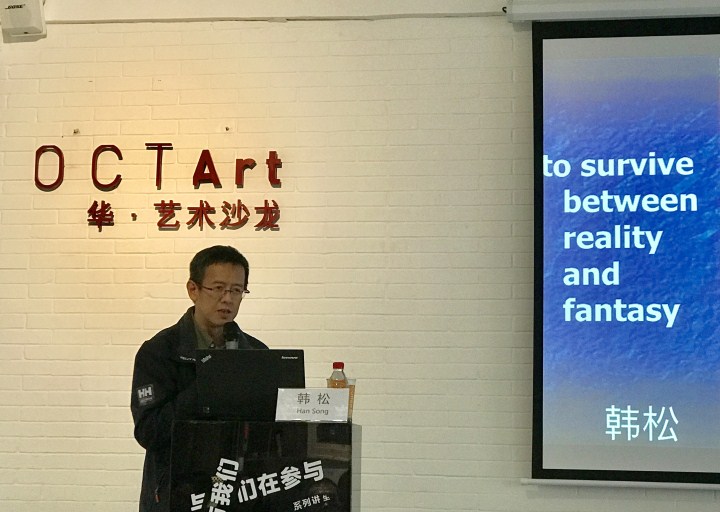 Han Song
"Everyday I cover big news, such as the Bo'ao Forum for Asia, Forum on China-Africa Cooperation and China International Import Expo. Meanwhile, I have to deal with trivia everyday, such as the crowded Beijing subway, the hazy weather in Beijing, my 80-square-meter apartment that is always leaking water, my poor health and my sick colleagues," said Han at the salon Dec. 22.
"These problems made me think of the relation between the macro and micro worlds," he added.
Born in Chongqing, Han studied English and journalism at Wuhan University and has been a reporter at Xinhua News Agency for 27 years. He wrote science fiction in his spare time and won several Chinese Galaxy Awards in the 1990s. His short story "Subway" features alien abductions and cannibalism on a never-ending train ride. "The Rebirth Brick," inspired by the 2008 Wenchuan earthquake, is about a kind of high-tech brick that is made of earthquake debris, including human corpses. And his thrilling "Hospital" trilogy focuses on the doctor-patient relationship since the advent of artificial intelligence.
Wu once commented that "Han writes darkly satirical novels and short stories which lampoon modern social problems. His narration is avant-garde and his themes are thought-provoking. He questions the fast development of the world."
"The nature of science fiction is fear. If we have nothing to fear anymore, it would be the most horrible thing. I'm still thinking of how to remain in a state of fear of the world and the future," said Han.
As a current affairs journalist, Han believes that good science fiction should have humanistic values. "Mary Shelley's 'Frankenstein' has been published for 200 years, and the author's dream can be achieved today through DNA technology. So, why is this book still popular? It's because of its humanistic thoughts. There are still no answers to the question today," said Han.