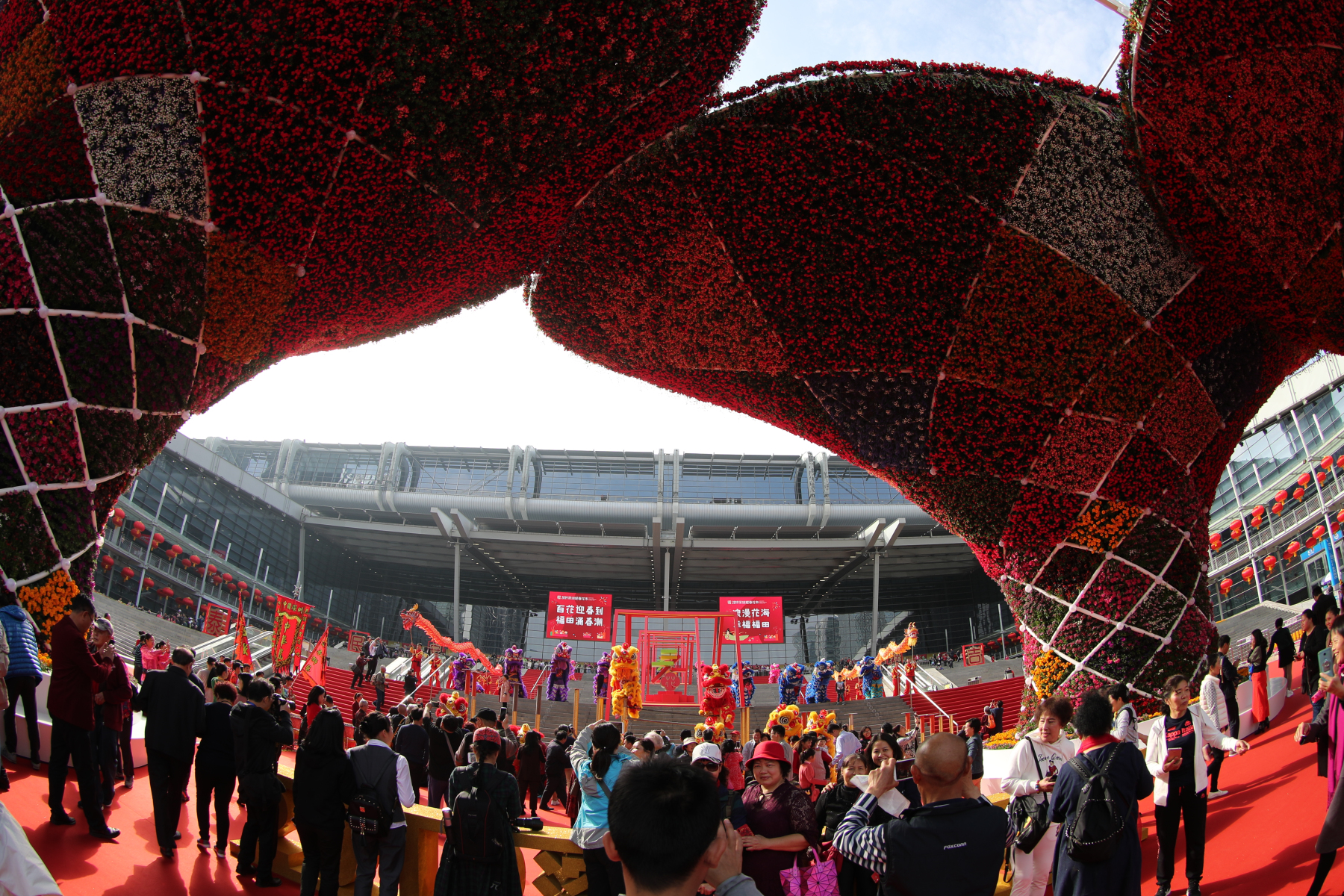 Visitors watch a lion dance that opened the 2019 Shenzhen Spring Festival Flower Fair at the Shenzhen Convention and Exhibition Center in Futian District on Thursday.
With a lion dance, an opening ceremony was held at the Shenzhen Convention and Exhibition Center in Futian District on Thursday morning to mark the return of the Shenzhen Spring Festival Flower Fair, which had been closed for the past three years.
The fair is currently being held in Hall 1 and Hall 6 of the center through Feb. 4, with around 500 booths.
Attending a flower fair during the Spring Festival is a tradition in Lingnan Area, which can be traced back to the Ming Dynasty (1368-1644). Flowers, a necessity for New Year decorations, are regarded as the epitome of fortune, prosperity and blessings.
This is the first time that the annual fair has been held indoors for weather reasons as well as its first time in Futian. 
A resident surnamed Zhang told the Shenzhen Daily that he thought the venue for this year's flower fair is very convenient. "It also makes good use of public facilities as the center is normally left vacant during the Spring Festival," said Zhang.
In order to meet the demand for different flowers, an array of flower suppliers have been invited to the fair. Booths are allocated based on flower types, such as orchid, peach blossom, large bonsai and citrus.
"I really like daffodils because they smell nice," said a resident surnamed Wu who attended the fair with her grandson. When asked about the price, Wu said that the price was reasonable given the quality of the flowers.
Apart from flower booths, residents can also buy other Spring Festival decorations like Chinese couplets and handicrafts with Chinese characteristics at the fair.
Since the city-level fair made its debut in 1982, it was held on Aiguo Road in Luohu District until 2016 when Shenzhen discontinued the tradition due to "disturbing the neighborhood" and encouraged districts to organize flower markets locally.
It is worth mentioning that a charity sale is being held at the fair, where a group of young students are selling flowers. They told the reporter that they will donate the money earned from the flowers to children living in remote mountainous areas in China.
There are also students from junior high schools working as volunteers at the fair. "I feel delighted to offer help to people," said a 13-year-old girl.
The fair was hosted by the Shenzhen Municipal Government and sponsored by the Futian District Government.
District-level flower fairs have also opened. Additionally, other flower- or Spring Festival-related activities have been held in public parks, such as Shenzhen Bay Park, Shenzhen Children Park and Shenzhen International Garden and Flower Exposition Park.