Themed "Think out of the box, unleash the boundary," the spring reception organized by Shenzhen Industrial Design Profession Association (SIDA) invited 12 elites from the design, technology and commerce industries, and gathered over 500 representatives from its member companies at a Futian hotel Friday.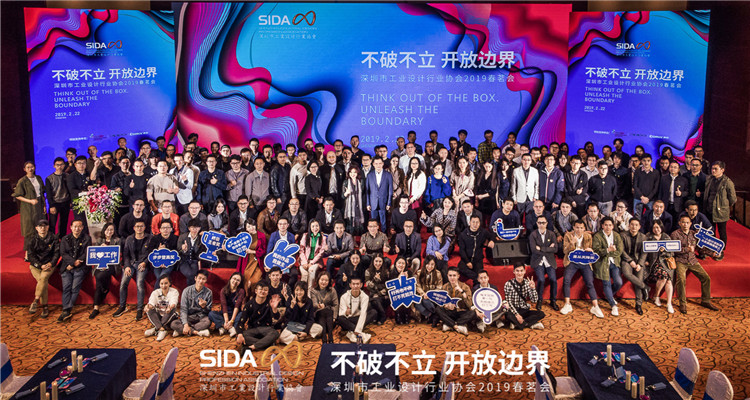 Last year marked the 10th anniversary of Shenzhen being granted the status of UNESCO City of Design in 2008, as well as the 10th anniversary of SIDA.
SIDA has grown from its original 48 members to a total of 851 members across the country, according to Feng Changhong, executive vice president and secretary general of SIDA, who gave a summary on the development and progress SIDA has made over the past 10 years at the gathering.
"Our development over the past 10 years can be divided into three phases. Initially we served the industrial design sector, then we served more industries and now we are heading toward serving the city," said Feng.
"In the following 10 years, SIDA will focus on three main tasks to build a quality ecosystem for the design industry: firstly, further integrate resources and set up platforms to build a design 'Silicon Valley'; secondly, establish a creative design fund to support the incubation, acceleration and detection of the industrial design industry, thus cultivating new talents for innovation and entrepreneurship in the industry; and thirdly, build an innovative collectivity for the whole industry chain," said Liu Zhixiong, president of SIDA.
According to Liu, the progress of Shenzhen's industrial design industry wouldn't have been possible without the strong support of the city government.
Statistics showed the production value of Shenzhen's industrial design industry totaled 10 billion yuan (US$1.49 billion) in 2018, representing a 20.48-percent year-on-year growth.
Shenzhen is home to five State-level industrial design centers, namely FIYTA, Artop Innovation, ZTE, Skyworth Group Co. and Hytera, 15 provincial-level industrial design centers and 86 municipal-level ones.
Since 2012, Shenzhen has ranked first in the country in terms of the number of iF and Red Dot design awards wins. A total of 120,000 people in the city are involved in industrial design.