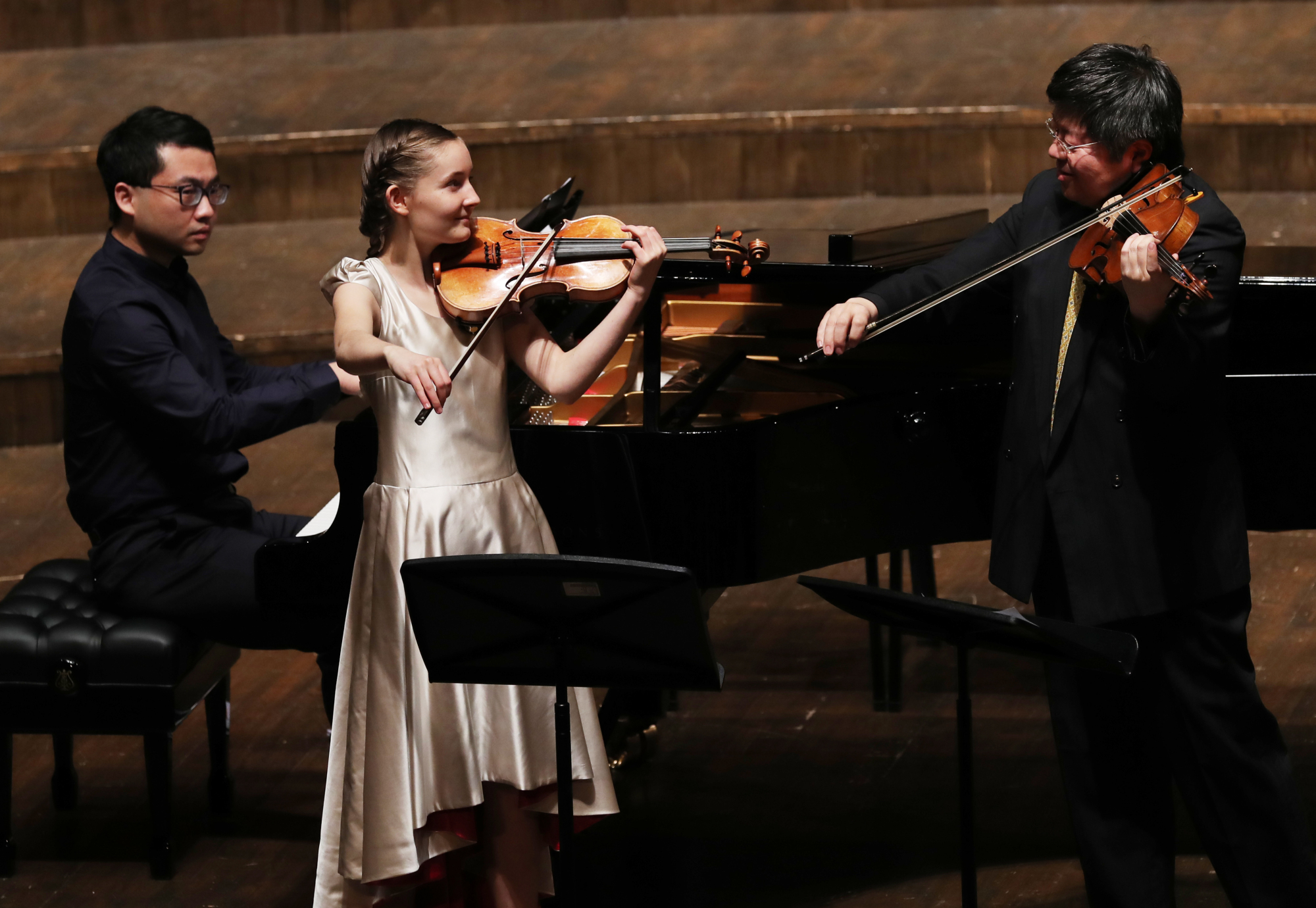 British music prodigy Alma Deutscher (C) performs with Chinese viola professor Ming Pak (R) and Chinese pianist Shen Lu at her solo concert at Shenzhen Concert Hall in Futian District on Wednesday night.
British music prodigy, Alma Deutscher, finally came to town and staged a concert for the 2019 Shenzhen Belt & Road International Music Festival on Wednesday night at Shenzhen Concert Hall in Futian District.
Probably due to the similarity in age, the concert has drawn much attention from the younger generations. A crowd of children wearing school uniforms accompanied by their parents gathered at the entrance before the concert, some of whom were even rushing to finish homework so they could enjoy the concert.
"We came here directly after school, as we don't live nearby. She just finished her homework," said a mother while being interviewed by the Shenzhen Daily.
Dressed in a champagne-colored gown and amid a warm round of applause, Deutscher walked up to the stage with a glowing smile. She first played the piano piece, "Piano Sonata in F-sharp minor K.25 L.481" by Domenico Scarlatti.
"This sonata always reminds me of water rippling in the sea, so I thought that was perfect to Shenzhen because Shenzhen started as a fishing village," said Deutscher.
Deutscher then performed a string of self-composed works, including "Variations in E-flat Major on an Own Theme," "Fantasia on a Russian Theme," "Trio Movement in D," where she cooperated with Chinese viola professor Ming Pak and Chinese pianist Shen Lu, and arias from one of her representative masterpieces, "Cinderella."
Before playing "Fantasia on a Russian Theme," Deutscher said that the piece was written at the request of the Austrian president for a visit by the president of Russia in Vienna.
"The Austrian president asked me if I could compose a piece that has both Russian and Austrian melodies. I only had three days to compose the piece. This is not very easy because Russian music is usually quite sad and melancholic, while Viennese music is jolly and happy," said Deutscher.
Ahead of the performance of arias from "Cinderella," Deutscher said that her Cinderalla is actually a composer, who wins the prince, a poet, with her talent rather than the size of her foot.
Following the performance, Deutscher shared stories about her music with the audience and improvised a short piece based on four notes randomly picked by four children on the scene, which left audience members enamored with Deutscher's charm and talent.