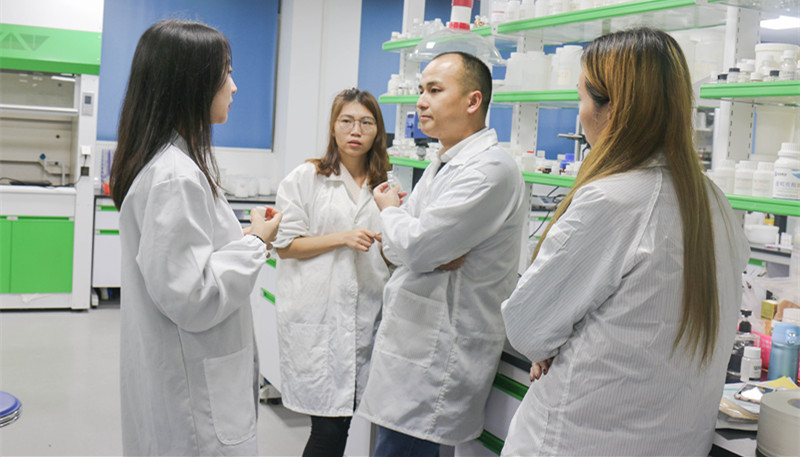 Mu (L), talks with the research team of Elneque.
The cosmetics industry is probably one of the most promising fields for businesses in China for the near future, as the total retail sales of skincare products and makeup products in China reached 186.7 billion yuan (US$27.79 billion) and 34.4 billion yuan in 2017, respectively, according to market intelligence firm Euromonitor.
Although the industry worldwide is largely dominated by a small number of multinational corporations, like L'Oreal Group, Procter & Gamble Co., Unilever and Shiseido Co. Ltd., a beauty startup in Nanshan District called Shenzhen Elneque Biotechnology Co. Ltd. has ambitions to take a bite out of the lucrative and thriving industry.
"Many Chinese people seemed to prefer foreign brands at first, but later we found that the domestic cosmetics market in fact had huge potential. So we decided to create our own brand," said Mu Pengyu, founder of Elneque.
Mu went to Hong Kong for her postgraduate studies in 2014. With the entrepreneurial spirit deep-rooted in her heart, Mu embarked on a business venture in 2017.
According to Mu, if customers keep buying a product and become the brand's loyal fans, "that's what makes a successful brand."
Mu said Elneque focuses on floral-inspired skincare products. The company extracts the nourishing ingredients from flowers and adopts internationally advanced technologies to retain the essence of the flowers to the greatest extent.
Elneque set up an office at the incubator Weyoung Public Space in Nanshan District in October last year.